Anton Yelchin, an actor most famous for playing Chekov in the rebooted Star Trek series, was found dead Sunday after he was crushed by his own car.
This is how the Star Trek cast and crew — from the original TV series in the 1960s to the 21st-century movie reboots — have remembered the 27-year-old star.
J.J. Abrams, director of the Star Trek reboots, said Yelchin was "funny as hell, and supremely talented," in a hand-written note that he shared on Twitter.
Actor Zachary Quinto, who plays Spock, tweeted this: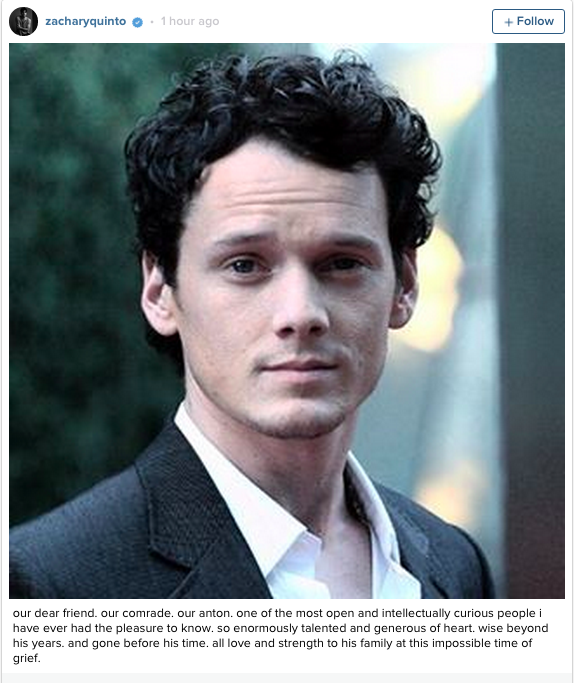 The caption reads:
"our dear friend. our comrade. our anton. one of the most open and intellectually curious people i have ever had the pleasure to know. so enormously talented and generous of heart. wise beyond his years. and gone before his time. all love and strength to his family at this impossible time of grief."
George Takei, most famous playing Sulu in the original 1960s series, said the "Star Trek family has lost one of its own."
John Cho, who plays Sulu in the new films, also shared his grief on Twitter.
LeVar Burton, known for his role of Lieutenant Commander Geordi La Forge in the Star Trek: The Next Generation TV series, was in disbelief.
Karl Urban, who plays Leonard "Bones" McCoy in the reboot movies, was also struggling to comprehend the loss.
Jonathan Frakes, who played Commander William T. Riker in The Next Generation, described Yelchin as a "family member gone too soon."
Yelchin died after being struck by his own car in a freak accident at his Los Angeles home.
"His family requests you respect their privacy at this time," his publicist, Jennifer Allen, told BuzzFeed News.
This post will be updated as more Star Trek cast and crew react to Yelchin's death.