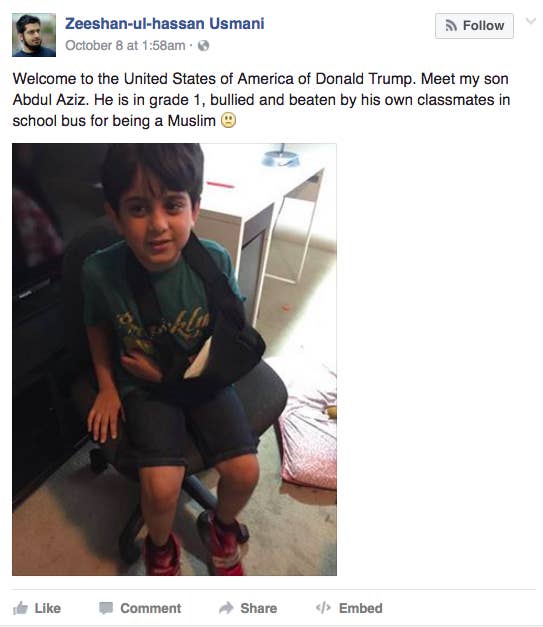 The parents of a 7-year-old boy say he was beaten by five students on a school bus, allegedly while they made references to Muslims and the boy's Pakistani heritage.

Abdul Usmani's father, Dr. Zeeshan-ul-hassan Usmani, told BuzzFeed News that his wife and three sons have left the US for Pakistan after this latest incident in a long history of discrimination towards his children and family.

"These are six and seven year old kids calling him names, with one kid punching him in the face, while two other kids attacked him, kicked him, and held his arms back," Usmani said of his son.

He described his son "as American as you can get."
"They keep beating him all the way from school to home on the bus," Usmani said of the ride home from Weatherstone Elementary School in Cary, North Carolina, last Friday. Abdul, his father said, is traumatized by the attack and has a sprained arm.
Lisa Luten, a spokesperson for the Wake County Public School System, told BuzzFeed News that the principal of the school immediately began investigating the alleged incident after the family told them about it.
"[The principal] interviewed seven students sitting near this child, and none of the students, nor the bus driver, witnessed any type of altercation or incident," Luten said, adding that the principal has one more child to interview and has not been able to get in contact with the Usmani family since Friday.
Speaking about allegation of discrimination based on religion or race, Luten said, "When [the family] originally shared the information, they didn't share any info about religion or race, and just that their child was bullied."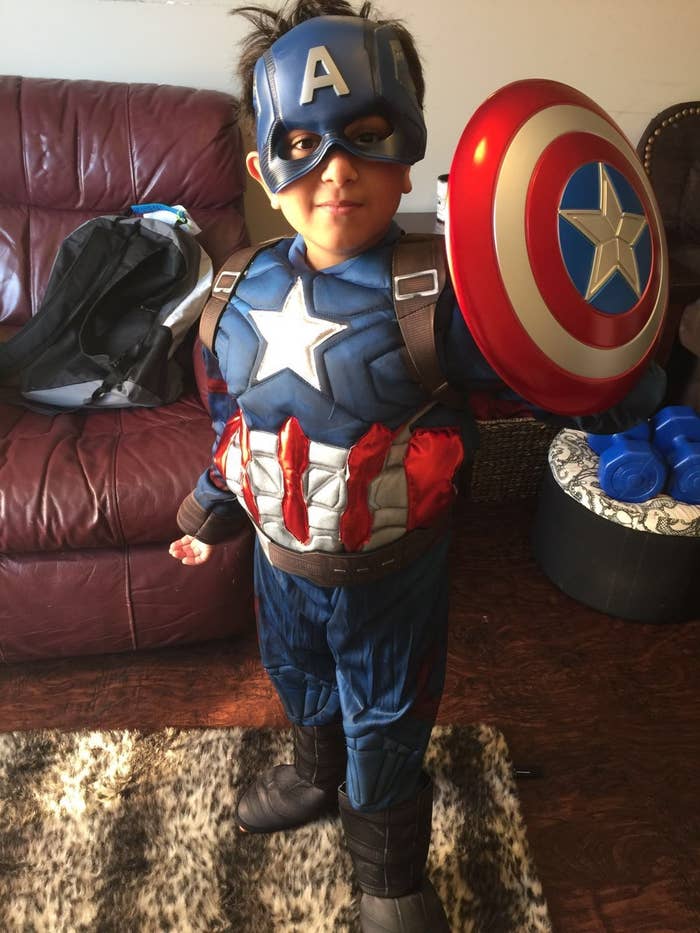 Usmani, 38, first came to the US as a Fulbright Scholar from Pakistan and currently works as a Chief Technology Officer of a Silicon Valley data software company. He told BuzzFeed News that his two elder sons and his family have been the targets of discrimination for years because of their religion and nationality.
Usmani said his family was harassed by a neighbor for months because of their religion, and that his other son has been called a terrorist. At one point, he claims a fellow student tried to force food in his son's mouth after learning that he only ate halal food — meat slaughtered and prepared according to Islamic law.

"Times are changing and it's not the America we always thought of and believed in. It's not the America that I studied in," Usmani said. "If Trump wins, America will be great again, but a great that nobody will care about."
School bullying of Muslims has risen dramatically in the last few years — as high as to twice the national average, according to a report by the Council on American-Islamic relations in 2015 . Fifty-five percent of Muslims students in California reported some form of bullying based on their religion, the report found.

In early October, California Gov. Jerry Brown signed "The Safe Place to Learn Act" — an anti-bullying law that aims to provide schools and teachers with resources to help combat bullying against Muslim, Sikh, or South Asian students.
Usmani said the irony of the alleged discrimination is he has been working to combat the effects of terrorism and has worked with the UN's Special Envoy for Global Education on a safe school initiative in Pakistan. In fact, Usmani has developed software to "model the effects of suicide bombings" in order to create safer environments and reduce injuries in the event of an explosion, according to the Wall Street Journal.

Usmani said his family will stay in Pakistan until after the election to see if Donald Trump is elected to determine if his family feels safe enough to return.
"All of these events, by the neighbors and everything skyrocketed since the beginning of the presidential campaigning last year. That's why I'm coming back from Pakistan to empty my apartment [in North Carolina] and wait and see what happens," Usmani said.