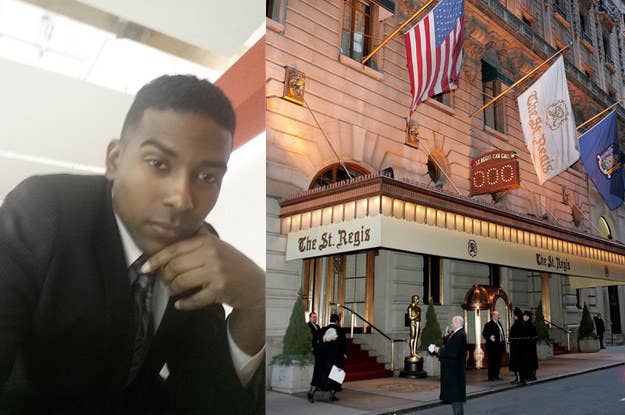 After four months into his job at the lavish St. Regis Hotel in Manhattan, Branden Gleason said he was called into an office by a hotel manager. A hotel union representative was already waiting inside, and Gleason knew something was not right.
The manager, who Gleason said was fairly new to the position, told him during the Oct. 2014 meeting that he was fired because he didn't "meet the St. Regis standard," that he didn't "fit in," and that his "co-workers were complaining" about him.
Earlier that year, in June, Gleason filled a temporary position at the hotel making coffee and stocking food at the bars and restaurant. He got a full time job at the urging of his former manager when a new position opened up as host at the hotel restaurant.
Then the new manager — who Gleason said had barely been on the job long enough to know what kind of worker he was — fired him. It shocked him because he thought he got along with everyone and worked hard.
Gleason believes he was fired because the new manager and human resources officials at the hotel wanted to maintain a certain, whiter image — especially among the staff that has interactions with hotel guests.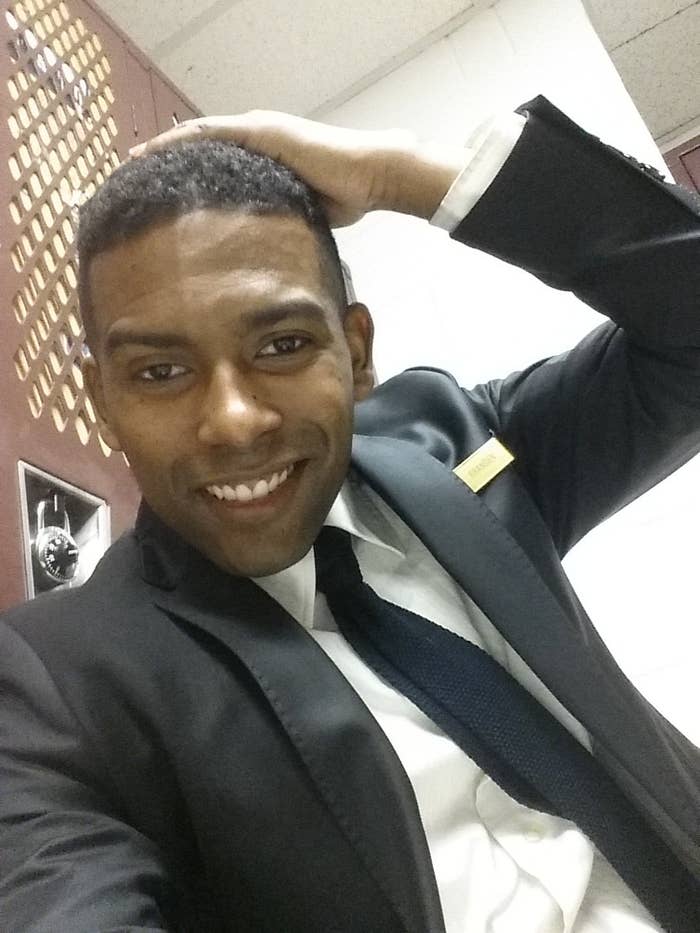 Gleason, who is black, reached out to BuzzFeed News after reading about Rachel Sakabo — an black woman who worked at the St. Regis Hotel's front desk and claims she was fired for her hairstyle. Gleason said the phrasing and words said to him during his firing were similar to those said to Sakabo.
"When I read your article," he told BuzzFeed News, "I was like, 'What, is there a script'" for firing people of color?
"I understood everything that [Sakabo] was saying," he said, adding, "I know" the hotel management's "racist tactics."
A statement from Simon Neggers, a spokesperson for St. Regis hotels, said they "categorically deny" any allegation of a biased culture at the hotel.
"We take such accusations seriously as we are proud of our record of diversity and inclusion in every aspect of our business, including associates and guests," Neggers wrote in an email to BuzzFeed News.
In regards to Gleason's firing in October 2014, Neggers said they would not get into specifics for "privacy reasons" and said that "at no time during his employment or eventual separation did Mr. Gleason ever allege racism issues."

"I was like, 'What, is there a script?'"
A longtime employee with St. Regis who spoke with BuzzFeed News on the condition of anonymity because the person still works there said that racism has been an issue at the hotel for some time.
"It's in the culture. You can see that any dark skin person will not get a position where the guest will see them. Even front desk agent, if they are a dark color, they will work overnight shifts," the employee said, mainly referring to black employees or potential employees.
The employee, in addition to Gleason, told BuzzFeed News that black people usually work "back of house" positions — where customers will not see them — even when they are qualified for other positions that would usually go to their white or other colleagues.
Gleason said of the day he was fired, "There was no paperwork — nothing. It was just sudden; you don't fit in, you don't have this professionalism about you."
At the end of the meeting, Gleason said he was told, "'Just go. Get your stuff from your locker and leave now.'"
"In my head I knew that I'm in a union, and they couldn't just fire me like that," Gleason said.
Gleason believes the new manager, because of his new position as a host at the restaurant, probably thought he was a new employee. And being a new employee meant that he could be fired within a 60-day probationary period where the New York Hotel Workers Union could not represent a worker. But Gleason had been on the job for nearly five months and was a hotel union member prior to joining the St. Regis.
The day after he was fired, Gleason said he went to the union and explained what happened.
The representative called the hotel and that evening, Gleason said, a human resources representative from the hotel called him and said he was welcome back. The representative "was nice to me at that moment and said he wanted to apologize on behalf on all the management," Gleason said.
John Turchiano, a spokesperson for the New York Hotel Workers Union, confirmed with BuzzFeed News that Gleason had reached out to the union after he was fired, and met with a representative who, in one phone call, was able to get Gleason's job back.
"They were trying to pull a fast one on this kid. They were trying to say he didn't pass his probationary period," said Turchiano.
"They were trying to pull a fast one on this kid."
Gleason continued to work as a host for the hotel restaurant for nearly another year, and said during that time he experienced other instances of bias and racism.
Gleason said he started to grow out his hair, and had it tied back in a small bun. One day, someone in the human resources department, in a chance meeting, noticed it.
"I remember him asking 'What was that?," in reference to his hair, Gleason said, urging him to immediately change it or find a job at the W Hotel — another property within Starwood Hotels, the parent company of St. Regis, known for its stylish, youthful and more contemporary appearance. Gleason, after briefly arguing that women pull back and tie their hair all the time, eventually complied and cut his hair.
"The whole time you're working, you understand the racist undertone. You understand you're not wanted," Gleason said.
"I was sad. Everyday I knew people hated me, they hated my race — it was messing with me. It was just not for me."
Gleason quit in December of 2015 and now works filling temporary positions at hotels in the New York City area.
"Of course it's rockier," he said, "but I am so much happier."