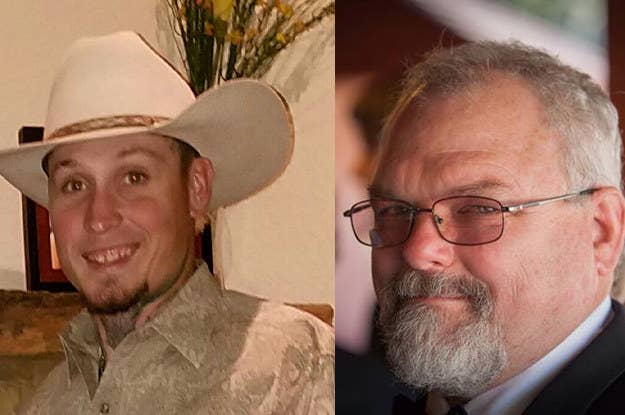 Johnnie Langendorff was driving on his usual route to his girlfriend's home on Sunday when he saw a masked man exchanging gunfire with a barefooted person outside the First Baptist Church in Sutherland Springs, Texas.
Devin Kelley, the gunman who killed 26 people during church services, then got into his Ford SUV and began to flee the scene. That's when Stephen Willeford, a plumber who lived near the church, approached Langendorff's vehicle holding an AR-15 rifle but with no shoes on.

"The gentleman with the rifle came across the street, opened my door, and said, 'He shot up the church and we got to chase him,'" Langendorff recounted during an interview on CNN Monday. "I said, 'Let's go.'"
The two men, who had never met, chased Kelley for about 15 minutes at speeds nearing 100 mph, according to Langendorff, before the chase ended with Kelley crashing his vehicle in a ditch.

"I didn't know if anyone had a clue or not which direction he had gone," Landendorff said. "I know that all the police were coming to the church to help, but, you know, I wanted to pursue him to make sure he got caught."
Landendorff said the men called the authorities and informed them of Kelley's location as they drove.
Although the two men had never met, Langendorff said he didn't hesitate. "That's what you do," he said. "You, you chase a bad guy."
According to multiple reports, Willeford, a former NRA instructor, was woken from a nap and told of the shooting by his daughter while at his home close to the church. His immediate reaction was to grab his rifle and run out the door.
"I kept hearing the shots, one after another, very rapid shots — just 'pop pop pop pop' — and I knew every one of those shots represented someone, that it was aimed at someone, that they weren't just random shots," Willeford told 40/29 News Monday.
"They engaged in gunfire here at the church," Freeman Martin of the Texas Department of Public Safety, said of Willeford at a news conference on Monday. "We know that the suspect was shot. When he dropped his assault rifle, jumped in his Ford Expedition, and fled the scene, this good Samaritan, our Texas hero, flagged down another young man and jumped in his vehicle and they pursued the suspect."

In an interview with 40/29 News, Willeford said he began firing upon seeing the gunman outside of the church, taking cover behind a pickup truck.
"He saw me and I saw him," he said. When the shooter got into a vehicle, he managed to fire a couple of rounds through the car's front side window, Willeford added, before flagging down Langendorff's passing car.

Kelley's vehicle crashed into a ditch as Langendorff and Willeford closed in on his SUV. Langendorff said Willeford exited the vehicle, aimed his rifle at Kelley's car, and told him to get out.
"The shooter never got out. But we barricaded behind my truck until police showed up and I directed traffic to stop in case there was gunfire until police showed up," Langendorff told CNN. "It was pretty much at a standstill."
Kelley is believed to have died of a self-inflicted gunshot wound.

Langendorff said he didn't get to talk with Willeford after the police arrived on scene, and he hasn't seen him since.
"Police showed up and after everything was taken care of after the man was confirmed dead, they pretty much separated us," Langendorff said.
BuzzFeed News has reached out to Langendorff and Willeford for comment.