There Was A Huge Increase In Attacks On Mosques Last Year
A new report covers a three-year period and tracks a host of anti-Muslim and anti-Islam incidents, from attacks on mosques and the bullying of Muslim students, to incidents of hate crimes and discrimination.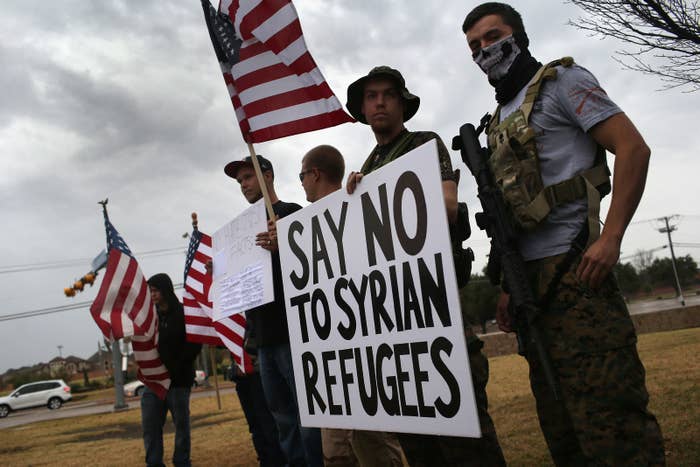 There were nearly four times as many attacks against mosques in 2015 compared with 2014, with many coming at the end of the year in the wake of the Paris and San Bernardino attacks and amid and a sharp rise in anti-Muslim rhetoric from Republican presidential candidates, according to a report published Monday.
There were 78 instances where mosques were targeted — counting vandalism, arson, and other destruction — in 2015, according to the report compiled by the Council on American-Islamic Relations. Thirty-four of the incidents from 2015 came in November and December. There were 20 total in 2014, the group counted.
Some of the incidents from December 2015 include the firebombing of a mosque in Coachella, California and the discovery of a severed pig's head at a mosque in Philadelphia, Pennsylvania, according to the report, which also detailed and tracked a wide array of Islamophobic incidents and trends around the U.S. from January 2013 to December 2015.
"The targeting of mosques is an act of collective lynching directed at a targeted minority," said Dr. Hatem Bazian, who contributed to the report and is the director of the Islamophobia Research and Documentation Project at the Center for Race and Gender at U.C. Berkeley, which collaborated with CAIR on the report.

The report documents various mutations of Islamophobia in the U.S.; including the tracking of anti-Islam legislation, the funding and rise of anti-Islam groups, anti-Muslim law enforcement trainings conducted by noted anti-Muslim activists, incidents of mosque attacks, as well as hate crimes and discrimination committed against Muslim-Americans.
The report also reveals the relatively new phenomenon of private businesses declaring themselves "Muslim-Free" zones and the rise of armed anti-Islam demonstrations outside mosques.
The 92-page report, titled "Confronting Fear: Islamophobia and Its Impact in the United States," follows a sharp rise in anti-Muslim incidents that began last year. The sudden increase in anti-Muslim and anti-immigrant sentiment has in part been attributed to rhetoric from presumptive Republican presidential nominee Donald Trump, who has called for a banning of all Muslims entering the U.S.
Many observers also believe that the attacks in Paris in November, the San Bernardino shootings in December, in addition to the Syrian refugee crisis, have also played a role in the rise in anti-Muslim incidents.
"This report contains evidence that Islamophobia is more than hate crimes, it involves the passage of biased laws. We also document efforts of anti-Islam groups to manipulate educational standards away from an objective set of facts about Islam and toward their hateful political viewpoints." said Corey Saylor, Director of the Department to Monitor and Combat Islamophobia at CAIR who was the primary of the report.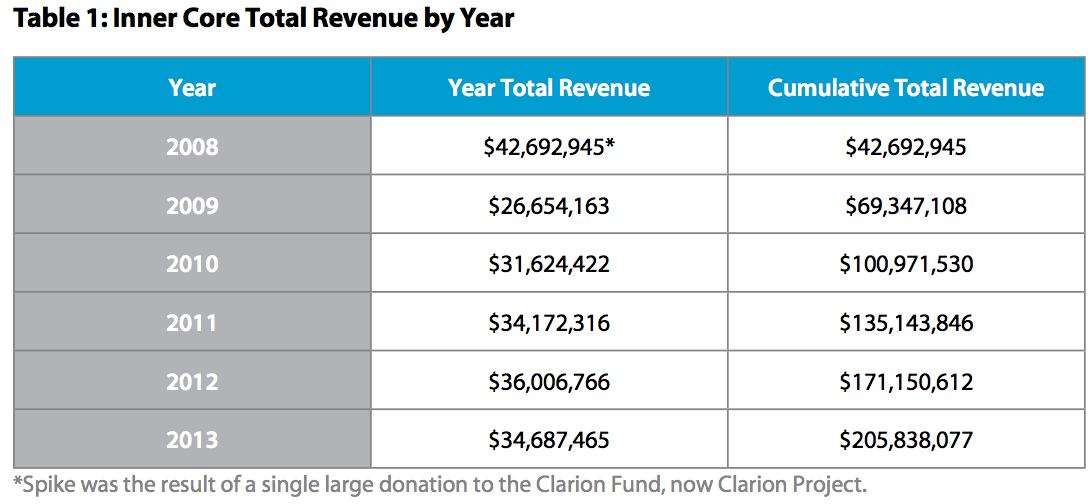 The report identified 33 groups operating in the U.S. it deems part of the Islamophobic network's "inner core." The report found that these groups — defined as groups "whose primary purpose is to promote prejudice against or hatred of Islam and Muslims" — had access to "at least $205,838,077 in total revenue" between 2008 and 2013, according to publically available tax filings.
In 2014, the report found a total of 74 Islamophobic groups, up from 69 in 2013, when the report's tally included a count of the Islamophobic network's "outer core."
The "outer core" is defined as groups whose primary purpose does not "include promoting prejudice against or hatred of Islam and Muslim" but groups "whose work regularly demonstrates or supports Islamophobic themes."
Some of the outer core groups include TV shows and channels, including the Rush Limbaugh Show, the Fox News Channel and the Glenn Beck Program.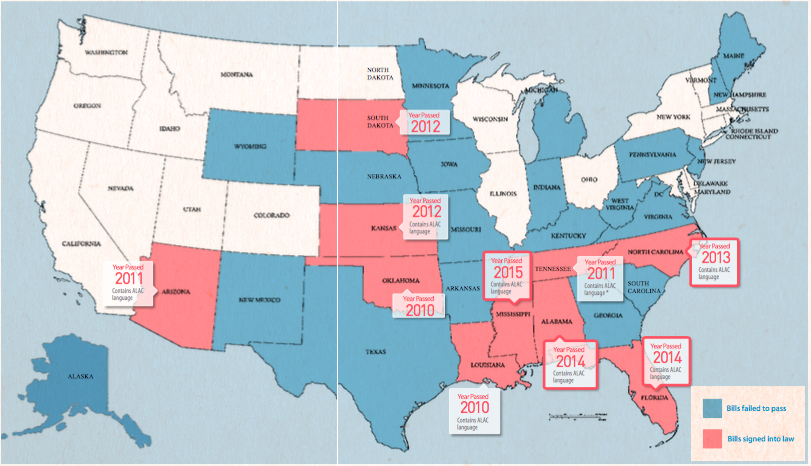 The new report also said that bills that are anti-Islam in nature became law in 10 states over the last 3 years. Many of these bills primarily focus on the idea that "foreign law" — in particular Islamic law, commonly referred to as Sharia law — is "creeping" into the United States and infringes on the constitutional rights of Americans. The bills and laws seek to ban foreign law from taking root, even though there is no evidence that foreign laws have been implemented anywhere in the U.S. to date.
"To date, none of these laws has been invoked in legal proceedings," the report also points out. Most notably, the report finds that a group called the American Laws for American Courts (ALAC) has been providing the template for these foreign law bans around the country and found that all 14 bills or amendments introduced in 2014 contained "language that was extracted from ALAC."
Another major report, released in May of this year by Georgetown University's Center for Muslim-Christian Understanding, focused solely on violent Islamophobic events. Their research found a total of 180 incidents of anti-Muslim violence between March 2015 and March 2016.
Those incidents included 12 murders, like the fatal road-rage incident where Ziad Abu Naim — a 42-year-old Muslim man of Palestinian descent — was shot after allegedly being told to "Go back to Islam."
"How America deals with Islam and Muslims is currently the most significant test of our national ideals about religion," said Saylor, the CAIR director. "If we ban Muslims from the nation or pass more laws aimed at vilifying Islam, who knows what group will be next?"