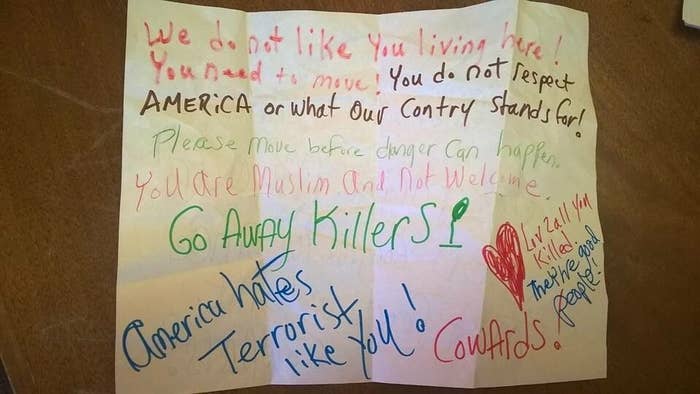 Three months after escaping the prolonged Syrian civil war and finding refuge in the U.S., a family of four said they received a handwritten message of hate taped to their Tucson, Arizona apartment door.
The note, written in multiple colors, contains hate speech and threats such as "Please move before danger can happen" and "You are Muslim and not welcome."
Other parts of the note read, "America hates terrorist [sic] like you!" "We do not like you living here! You need to move!," and "May our God forgive you since most people will not. Cowards!"
The family alerted their apartment complex's management and the Tucson Police Department. The family did not want to be identified saying they were afraid and were wary of further harassment.
The spokesperson from the Tucson Police Department said a detective has spoken to the family and are investigating the incident but "no suspect has been identified."
The spokesperson also said this is the first reported incident of harassment or threat from anyone in the city's refugee community, including Nepali, Somali and Syrian refugees, among other nationalities.
The family has also fled their home again — this time to stay with family friends until they can find a new place to live.
"They are staying with another family of seven in the meantime," said Liban Yousuf, Civil Rights Director for the Council on American-Islamic Relations in Arizona, a Muslim-American civil liberties organization.
"It's an extremely cramped environment but the family is afraid for their safety and do not want to take the risk of returning home."
One portion of the note contains a crude drawing of a red-colored heart with the words "Luv 2 all you killed. They were good people."
Imraan Siddiqi, CAIR Arizona's Executive Director, said in a statement that the incident was extremely troubling for its "vicious" nature but also because it "targets some of the most vulnerable people in the world, refugees."
"These are people who are fleeing oppression and war, only to arrive here and have their safety threatened once again. This threat has forced them to relocate and fear going back even to collect their belongings — clearly highlighting just how traumatizing this situation is for them," he added.