This Children's Mural Kept Being Vandalized With Pro-Trump Messages
A whodunnit fit for 2016.
Two days after the presidential election, Hakika DuBose noticed the words "Lock her up" scrawled on the boarded windows of the stretching studio she owns in Montclair, New Jersey, a suburb 20 miles west of Manhattan.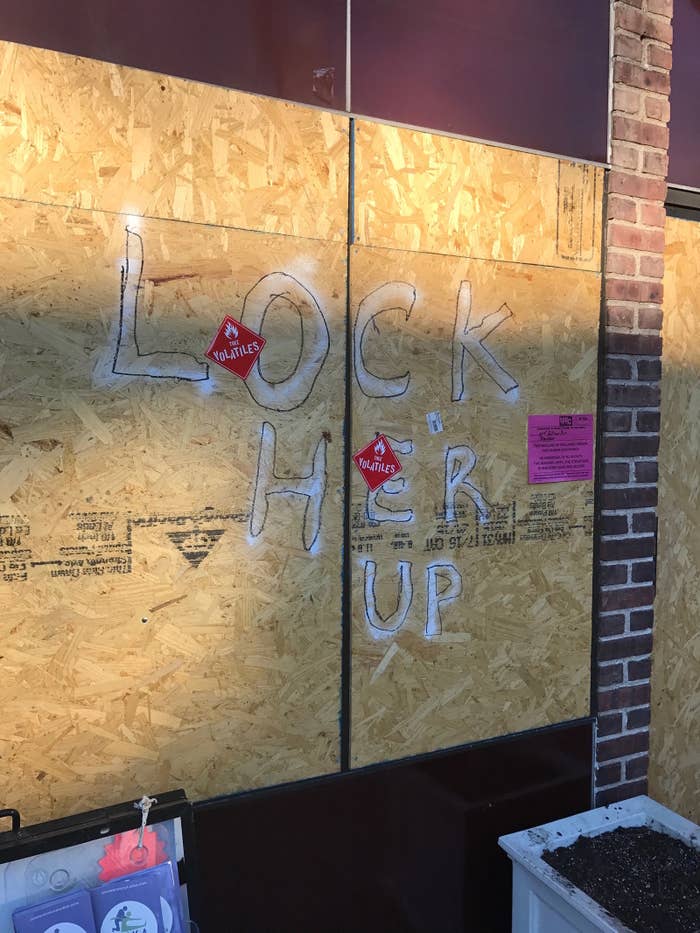 "At first someone told me it was there, but I thought they were joking. But I drove by and saw it," DuBose told BuzzFeed News. "I was shocked."
She decided to paint over the phrase — a common expression amongst Trump supporters against Hillary Clinton — with white paint.
Then the following day the words "American has spoken. Thank you," appeared on the plywood of her studio, which was undergoing renovations.
Again, she painted over the words with white paint.
The next day, a drawing of President-elect Donald Trump's face appeared next to the words "America has spoken. Thank you!!"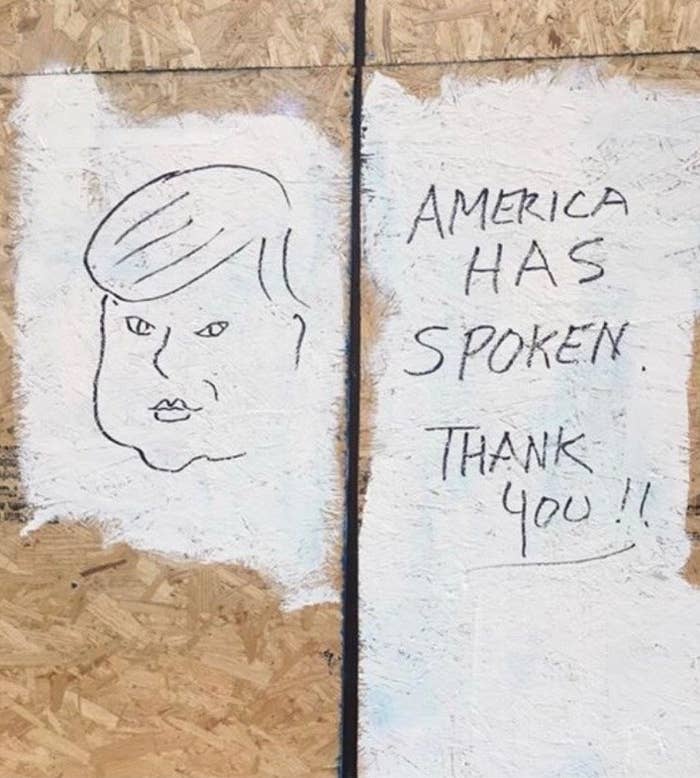 But DuBose wasn't offended; she found the entire incident amusing.
A friend of DuBose suggested that local kids from the Montclair school system make a mural on the store's plywood as part of efforts to beautify the streets.
The kids decided to paint "Make America Love Again" on one boarded window, and a rainbow-colored heart with handprints and stars on the other.
But the vandalism-free mural was short-lived. Two days later, DuBose discovered someone had written "Make America great again" on the rainbow heart.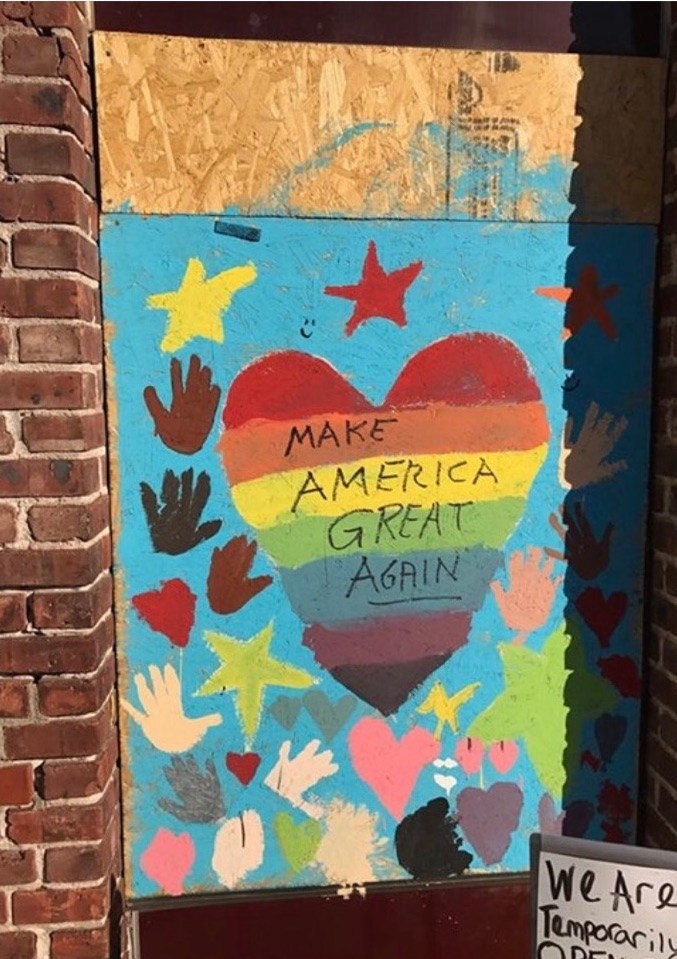 "The kids' parents painted over the mural again because they didn't want to make the kids sad and tell them that someone drew over their stuff," DuBose told BuzzFeed News.
Another day passed. In the morning, the nocturnal vandals had struck again. This time, over the word "love," they had written "great," and over the rainbow-colored heart someone had written, "Suck it up, buttercup."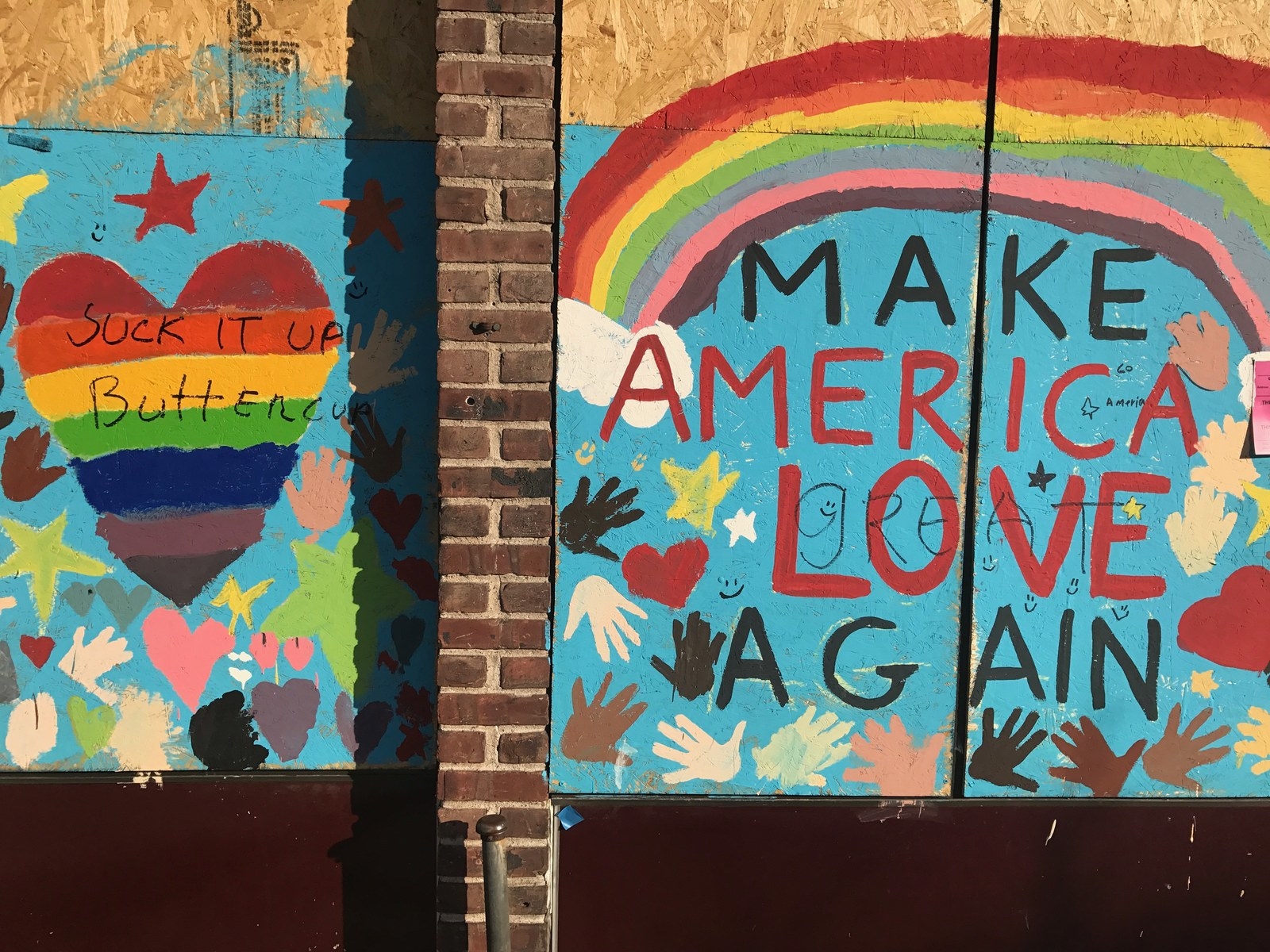 A few smiley faces were added as well.
DuBose had finally had enough and went to the Montclair Police Department. Though DuBose described the police as "helpful," she also said it was a "process" and catching the people behind the vandalism would take time.
"We didn't have any cameras because we didn't have our awning up, and none of the other businesses had cameras either so my friend and I came up with a plan," DuBose said.
On Thursday night, starting at 11 p.m., DuBose and her friend waited in a car across the street from her studio, hoping to catch someone in the act.
Hours passed. At 3:30 a.m., DuBose said they were close to calling it a night.
"At, like, 4:07 a.m. I saw two people jogging and they jogged right up to the board. They had bright yellow reflective jackets on," DuBose said, laughing. "I got a closer look and I saw it was an old man and an old woman."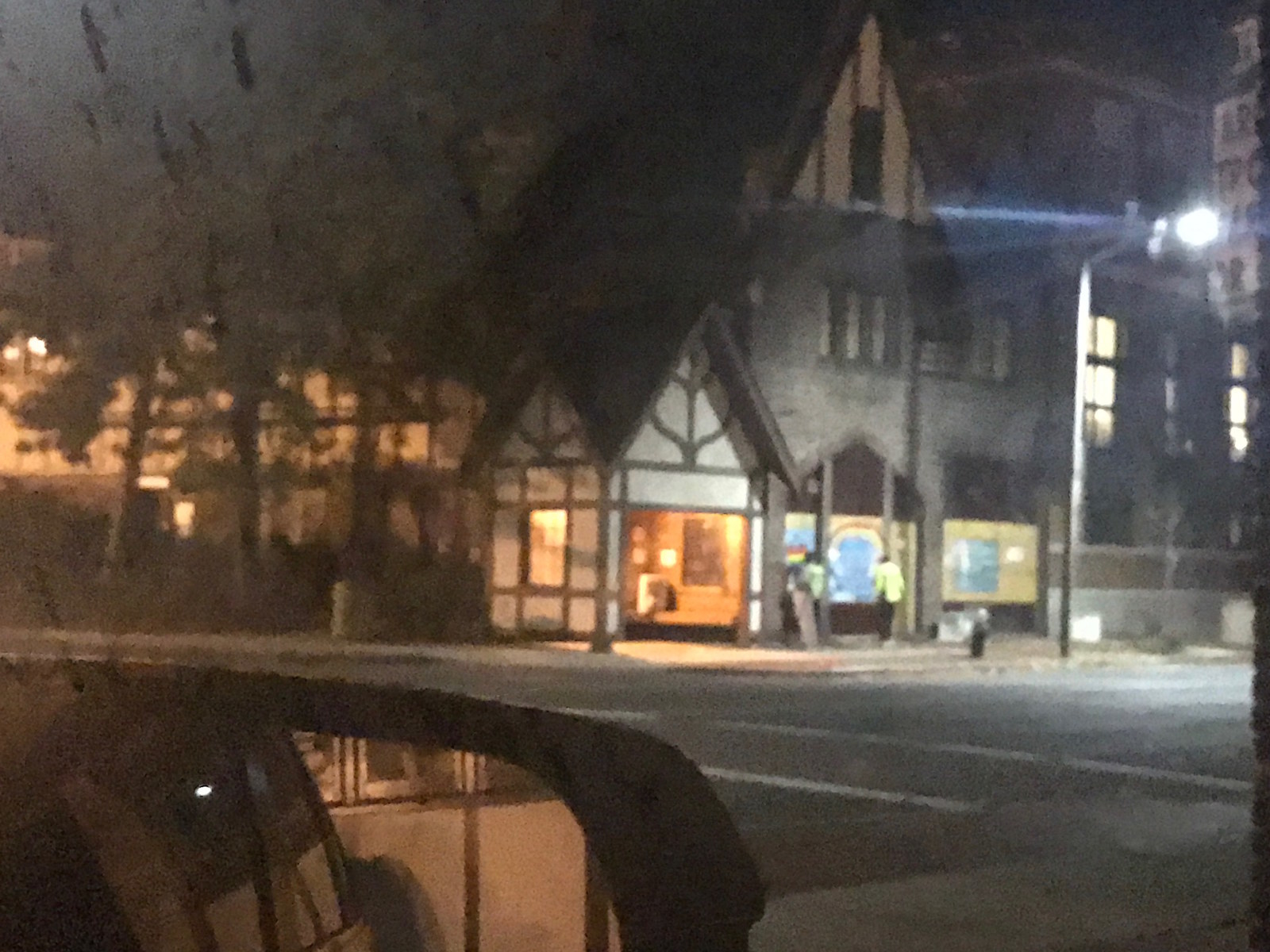 She took a photo, called the police, and followed the elderly joggers.
When the police arrived, DuBose said the joggers denied using paint to vandalize the store front.
"So, I gave the police the photo of them doing it and that's when the man said, 'We didn't use paint, we were using markers,'" she recalled.
The female jogger said their words were placed on the plywood first, implying that they were being wronged, DuBose said. That's when the elderly couple were informed that the store was owned by DuBose, and not a rival political graffiti group in suburban New Jersey.
"They were shocked. Maybe because I'm young and an African-American. They didn't expect that," she said.
"Then, she looked directly at me and said, 'We're still going to make America great again,'" DuBose said.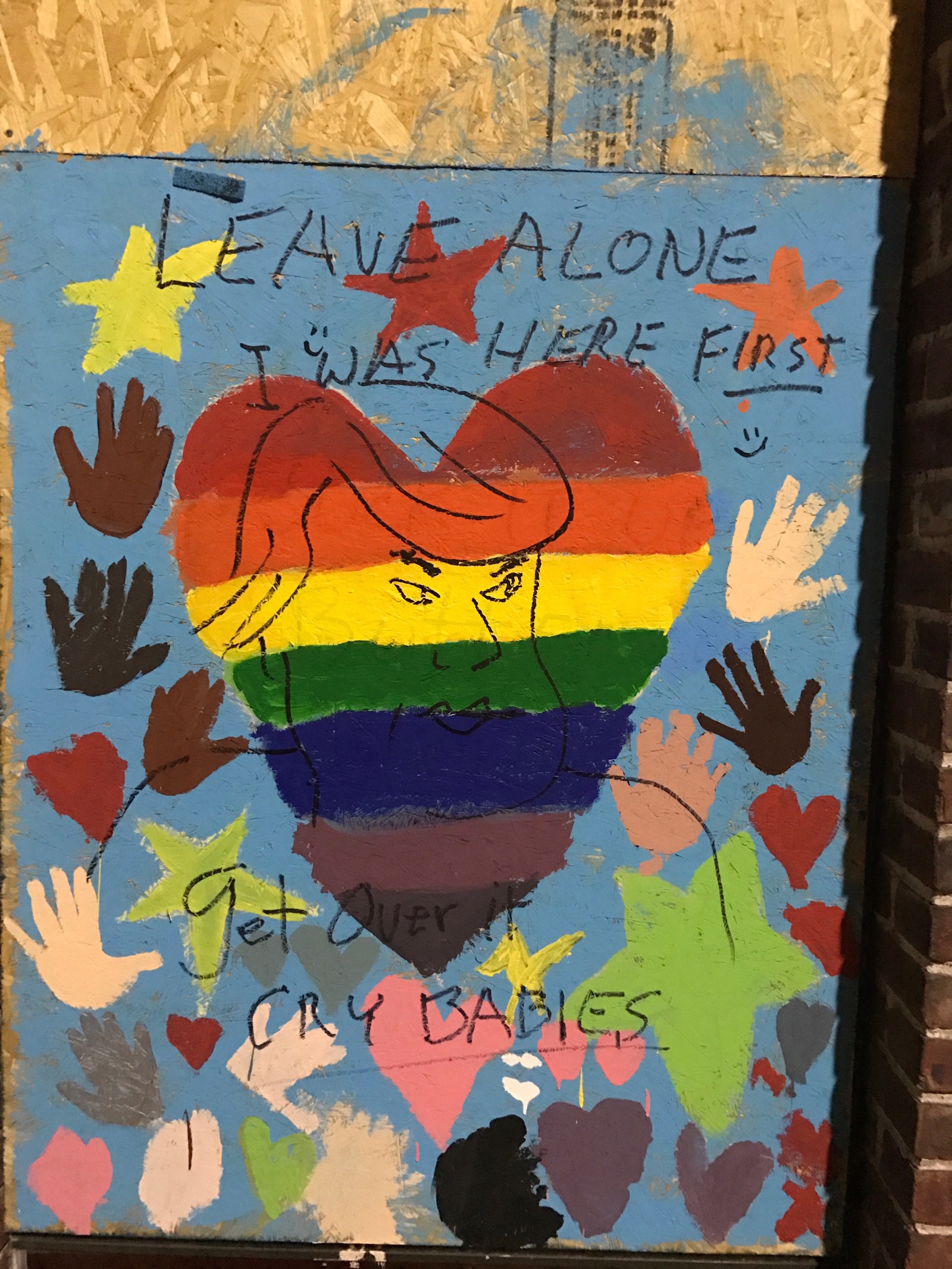 DuBose was then given the option to have the the couple arrested or simply file a complaint.
"I had a sense of compassion right then. I looked at her and I thought of a grandmother being locked up," DuBose said.
She decided to file a complaint, saving the elderly couple from being arrested.
Anthony DiNapoli, 79, has since been charged with prohibited acts of graffiti due to "multiple reported incidents of vandalism," according to a police statement obtained by People magazine.
Request for comment from the Montclair Police Department and DiNapoli were not immediately returned on Sunday.
"I was shocked by the graffiti but when it kept happening every day I was like, 'Who has the balls to keep doing this?' I was truly shocked to see how old they were," DuBose said.
She said that the female jogger was the one drawing the Trump portrait, and said she "has a great hand."
"And the fact that they did this at their age, jogged to and from — amazing. And when the police let them go they just started jogging again," DuBose said.