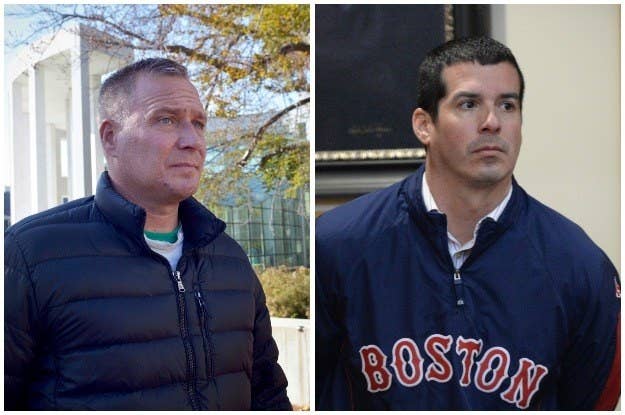 A police officer from Springfield, Massachusetts, is accused of using excessive force against two Latino teenagers.
"Welcome to the white man's world," Officer Gregg Bigda allegedly said while beating one of the teens in February 2016.
In federal court Wednesday, Bigda pleaded not guilty to five counts of using excessive force, conducting an abusive interrogation, and filing a false report.
He is accused of interrogating the two teens — called E.P. and D.R. in the indictment — outside of the presence of their parents and without reading them their Miranda rights.
The indictment also states that Bigda "kicked juvenile suspect E.P. in the head, spat on him and said, 'Welcome to the white man's world,'" during the arrest.
Bigda is also accused of conducting an interrogation that was "so abusive that it shocks the conscience," according to the indictment.
During an interrogation at the police station, Bigda is accused of saying he would "crush [D.R.'s] skull and fucking get away with it" and "stick a fucking kilo of coke in [D.R.'s] pocket and put [him] away for fucking 15 years," among other statements.
The interrogation, captured on surveillance video from the Palmer Police Department, reveals Bigda's threats to the teenagers.
At another point in the interrogation, Bigda points to blood on his boot and states to J.D., "Look at that, you know what that is? That's his mother fucking blood right?"
"At several points during the interrogation, Defendant Bigda pointed to blood on his boot and told J.T. that if he lied to Defendant Bigda, J.T.'s blood would be on his boot next," the federal indictment reads.
Another officer, then-detective Steven Vigneault, is also accused of using excessive force during the arrest.
The details of the 2016 encounter were revealed in a recently unsealed federal indictment.

After Bigda and Vigneault pleaded not guilty Wednesday morning, the judge released them without bail.
Separate lawyers for the two men did not immediately respond to a request for comment.
But outside court Wednesday, Vigneault's lawyer, Daniel D. Kelly, said Vigneault is innocent.
"He said it to me and I can't say it any better: He said, 'I did nothing wrong.' He looks forward to his day in court," MassLive.com reported.
The two teens are accused of stealing an unmarked police vehicle that Vigneault left running outside a pizza shop, MassLive.com reported.
Bigda has been suspended from the force without pay and Vigneault has resigned from the force.
CORRECTION
Former detective Steven Vigneault's name was misspelled and title misstated in an earlier version of this post.