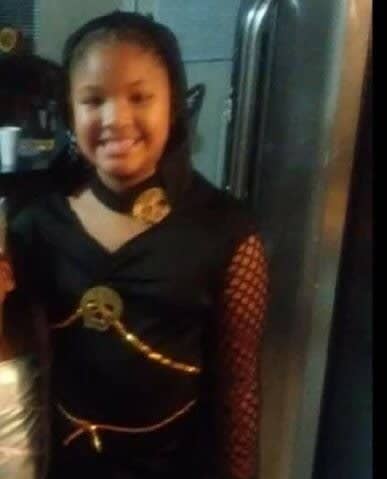 Harris County officials said that a tip sent to civil rights activist Shaun King eventually led investigators to the arrest of a suspect in the death of 7-year-old Jazmine Barnes.
Eric Black Jr. was arrested on Saturday and charged with capital murder. "He became a target in our investigation after a tip to Shaun King," Harris County Sheriff Ed Gonzalez said at a press conference on Sunday, referring to Black's arrest.
"We were able to begin to corroborate the information that was provided and learn even more," Gonzalez said, adding that everything began to "unfold just yesterday."
"Mr. Black has acknowledged his role in Jazmine's murder," Gonzalez said. Sheriff Gonzalez also told reporters that his department is looking at a second individual who may have been involved in the shooting, which is still believed to be a case of "mistaken identity."
"This investigation is ongoing," Gonzalez said. "We do not believe in any way that the family had been involved in anything nefarious."
Barnes was killed while riding in a car with her family in Houston a week ago in what police described as an unprovoked attack.
The shooting occurred on Dec. 30, as Jazmine's mother was driving the 7-year-old and her three sisters. They were fired on from another vehicle, fatally injuring Jazmine and also wounding Jazmine's mother.
The shooting resulted in intense media attention and a days-long search by police, who initially said the suspect was traveling in a red pickup truck and was a white man in his forties, according to multiple witnesses, including Jazmine's mother and sisters.
Before the arrest on Saturday, Jazmine's mother LaPorsha Washington had said that she thought it was possible the family had been the victim of a hate crime.
"We're talking about small children. They witnessed something very traumatic. It's very likely the last thing they saw was that red truck," Sheriff Gonzalez said, addressing the confusion over the suspect's race and vehicle.
Writer and activist Shaun King, who often uses his large following on social media to call attention to potentially race-related crimes, tweeted about Jazmine's death last week. King also offered a $100,000 reward for information leading to an arrest.
S. Lee Merritt, an attorney representing the family, tweeted early Sunday that the "men arrested don't fit the description of multiple witnesses or the sketch."
"Initially, this fact made it difficult to accept the tip that resulted in these arrests. However, if the confession obtained is reliable, there is likely an explanation for the confusion," he wrote.