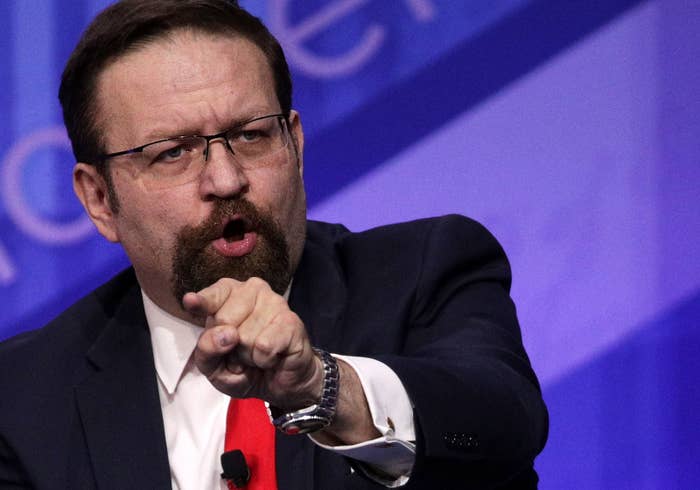 Sebastian Gorka, a top national security adviser to President Trump, has denied reports that he is a member of and took an oath of loyalty to a Nazi-allied group.
On Thursday, The Forward reported that Gorka is a member of Historical Vitézi Rend, a far-right Hungarian group that had ties to the Nazi party from the World War II era.
When BuzzFeed News reached Gorka by phone on Thursday, he stonewalled when asked about the report. "Send a request to White House press," Gorka told BuzzFeed News. Captain Gyula Soltész, a current leader in the Historical Vitézi Rend in Hungary, later told BuzzFeed News that Gorka is a current member.
Soltész refused to discuss the initiation process with BuzzFeed News or make public the oath that all members must take.

Later Thursday, in an interview with Tablet magazine, Gorka was quoted, "I have never been a member of the Vitez Rend. I have never taken an oath of loyalty to the Vitez Rend."
The US State Department says the Vitézi Rend was "under the direction of the Nazi Government of Germany." But Gorka reportedly belongs to a "reconstitution of the original group on the State Department list, which was banned in Hungary until the fall of Communism in 1989," according to The Forward.
There are currently two groups in Hungary that claim to be the legitimate heirs of the original Vitézi Rend, and Gorka, according to the group's leader, is a member of the Historical Vitézi Rend.
The Forward report also claims that if Gorka – who was born in the UK, lived in Hungary, ​and became a US citizen in 2012​ — did not disclose this information when entering the country, ​it could have implications for his immigration status.
"The State Department's Foreign Affairs Manual specifies that members of the Vitézi Rend 'are presumed to be inadmissible' to the country under the Immigration and Nationality Act,'" The Forward reported.

On Friday, three Democratic US senators called for an investigation into his immigration status.
Sens. Dick Durbin of Illinois, Ben Cardin of Maryland, and Richard Blumenthal of Connecticut wrote a letter to the Justice Department and Department of Homeland Security, asking officials to review Gorka's immigration papers.
"We urge you to immediately investigate whether senior White House counterterrorism advisor Sebastian Gorka falsified his naturalization application or otherwise illegally procured his citizenship," they wrote.

The State Department did not return a request for comment.

"I'm angered, but not at all surprised, that another person with ties to Nazis and white supremacists is working in a key position in Donald Trump's White House. These views have no place in our country. They certainly should disqualify someone from getting a job in the White House," Rep. David Cicilline, said in a statement to BuzzFeed News. "Seb [Sebastian] Gorka needs to resign. So does Steve Bannon. And until that happens, Donald Trump will still be sending a horrible message about who he's really fighting for."

"These revelations are deeply disturbing, not least because of what they reveal about the kinds of people able to influence the president of the United States," said US Congressman Jerrold Nadler of New York.
"It's shocking that with these revelations he's not already fired by the president," Nadler said, adding that,"It's shocking he was hired in the first place, now with this revelation it's shocking he hasn't already been fired."
Nadler also sent a letter to President Trump asking that he release Gorka's immigration applications and his application for citizenship to the House Committee on Judiciary so it "can be assured that he did
not enter this country under false pretenses."
Steven Goldstein, executive director of the Anne Frank Center for Mutual Respect, an independent US organization, linked Gorka's non-denial of connections to the Vitézi Rend to what Goldstein calls the White House's "weak reactions" to the recent spike in antisemitic hate crimes.
"This administration has staff with shockingly anti-Semitic pasts and it is hard to imagine that they have nothing to do with the horrifically weak reactions to anti-Semitic hate crimes that we see coming from this administration," Goldstein said. "That Sebastian Gorka cannot even deny that he has links with a Nazi-affiliated group is symptomatic of the grotesque anti-Semitism that has infected the Trump White House."
Corey Saylor, the director of the department to monitor and combat islamophobia at the Council on American-Islamic Relations said, "The White House should show its commitment to fighting all forms of discrimination, in this case anti-Semitism in particular, by severing ties with Gorka."
"If proven true, yes he should resign and we demand that members of the Trump Administration end their hypocrisy that they are looking out for American interests when they are entangled with foreign groups and foreign governments," said Rabiah Ahmad of the Muslim Public Affairs Council told BuzzFeed News.

"Obviously this is a complete outrage, said Heidi Beirich, who leads the Intelligence Project at the Southern Poverty Law Canter. "If it turns out to be true that he is a former member of this Nazi 'founded' organization, he should have no role in our government. It's absolutely disgusting."
Farhana Khera, president and executive director of Muslim Advocates said, "We're not especially surprised at an association like this since this administration has become the nation's central organizing body for the nation's anti-Semites, racists, and anti-Muslim bigots." Khera added that "Gorka should absolutely step down and should have never been hired in the first place."

In television interviews with Gorka during one of President Trump's inaugurations balls, the future White House advisor could be seen wearing a traditional Hungarian "bocskai" jacket along with two medals.
In a nearly three minute video posted by Breitbart, where Gorka was once an editor, Gorka explained the origins of a medal he occasionally wears. In the video Gorka says that the medal originally belonged to his father and was given in to him in 1979 "for declaration for his resistance to a dictatorship." Gorka said he wear the medal "in remembrance of what my family went through and what it represents today, to me, as an American."
At no time in the video does Gorka discuss any claims that he is a current member of the Historical Vitézi Rend.
According to a Talking Points Memo report on the clothes and medals worn that night, wrote that "some Hungarians who came across the interview interpreted the getup as a nod to the knightly order of merit Horthy founded in 1920, the Order of Vitéz."
Horthy is in reference to Admiral Miklos Horthy, founder of the Vitézi Rend and the ruler of Hungary for over 20 years. While the article points out that not all Hungarian scholars agree that the medals "could definitively be identified with Horthy's Order of Vitéz," they did agree that "Gorka's regalia is popular today among Hungary's nationalist conservatives."
Gorka told Tablet magazine on Thursday that he wears his fathers medals to "honor his struggle against totalitarianism."

Mate Halmos contributed reporting from Hungary.
Outside Your Bubble is a BuzzFeed News effort to bring you a diversity of thought and opinion from around the internet. If you don't see your viewpoint represented, contact the curator at bubble@buzzfeed.com. Click here for more on Outside Your Bubble.