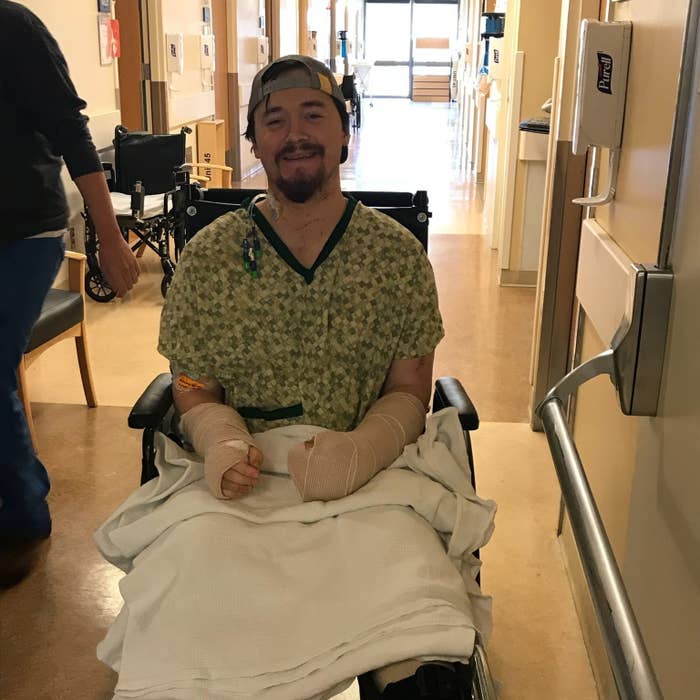 A Washington state man who survived a samurai sword attack that authorities say was carried out by his now ex-girlfriend as he was sleeping told BuzzFeed News that his rigorous video game training left him with a lack of sex drive, which contributed to his former girlfriend's suspicions of infidelity.
"It killed my sex drive. I was training too hard, it exhausted me. I felt bad because she needed the affection. I just couldn't keep up," Alex Lovell, 29, said of his video game training regimen leading up to the attack.
"She thought I was having sex with other people," Lovell said.
Lovell was found by police curled up in the bedroom in Camas, bleeding with multiple lacerations and life-threatening injuries in the middle of the night on March 3. His former girlfriend of two years, Emily Javier, 30, allegedly attacked him with a samurai sword after discovering Tinder on his phone and red hair in his shower drain. Javier, whose hair is dyed green, not red, has been charged with attempted murder. Her bail was set at $350,000 and she is currently being held at Clark County jail.
Christopher Ramsay, Javier's court-appointed lawyer, told BuzzFeed News he could only comment on a limited basis, but did say the attack came as a total shock.
"Having talked to a few of her family members, this is certainly not anything that they saw coming and is completely out of character of who she is," he said. "This is not something that they thought would be fathomable."
Ramsay added that Javier was a "good individual" who is hard working and held a full-time job for 12-years.
According to court documents, Javier planned to kill Lovell a few days after she bought a samurai sword at the mall.
"I was trying to kill him for cheating," Javier allegedly told police. "That was my purpose."
Court documents allege that Javier hid the sword and taped two knives to her side of the bed, and after Lovell fell asleep, she hid his phone so he couldn't call for help.
Using her own phone to illuminate her sleeping boyfriend in the dark, Javier then allegedly grabbed the knife and began "swinging and stabbing" at Lovell.
Lovell told BuzzFeed News via Facebook Messenger that he only survived thanks to Wing Chun, a form of martial arts he became "obsessed" with after watching the kung fu movie Ip Man.
"I've been indirectly preparing myself for this night my whole life," Lovell said.

"I didn't freeze. The Wing Chun came out," he said. "I was able to stand on a knee that was just almost chopped in half and a foot that was hanging on by a thread."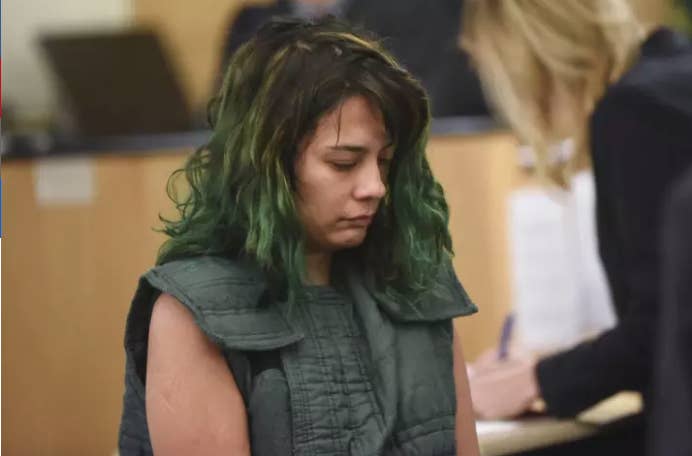 "She hit me twice with the blunt end of the sword," Lovell said. "This was when God was with me. No other explanation other than God turned the blade and she only woke me up, instead of cutting my neck open. Which would have ended the fight before it started."
During the end of the attack, Lovell says he grabbed Javier by the arms. As he looked her in the eyes, he said she still managed to grab his "package."
"She tried to rip them off. But I [wasn't] angry, I loved this girl. I never had any anger. It was just pure love for her and life itself. I pleaded with her, telling her I loved her and she was killing me," Lovell said.
By pleading with her, he said he was able to convince her to stop the attack and call 911 — an act which saved his life and which he said has led him to forgive her.
"I ended up just telling her if she didn't call the cops I was going to die. ... She started crying, ran out the room, and saved my life. So, yes, I instantly forgave her," Lovell said.

Lovell was adamant that he had never cheated on Javier: "No one will ever come forward, because there was never anyone else but her," he said.
Explaining the red hair Javier found in the tub, he said he has reddish hairs on his chin and that some of his dog's hairs are also red in color.
As for Tinder, Lovell said he hasn't had the app on his phone since he and Javier became a couple. He also said he had never had much success using the app: "I'm not a model or 6'3'. Tall dudes slay Tinder. Everyone knows that."