Moscow's ambassador to Turkey was assassinated by a gunman while he was visiting an art gallery in the capital, Ankara, on Monday, officials said, with video showing the shooter screaming the killing was revenge for Russia's involvement in the Syrian civil war.
Ambassador Andrey Karlov was speaking at the photo exhibition when a man in a suit behind him — identified by Turkey's interior minister as 22-year-old Mevlut Mert Altintas, a Turkish policeman — opened fire.

Three people, including a foreign national, were also wounded in the attack, Prime Minister Binali Yildirim said.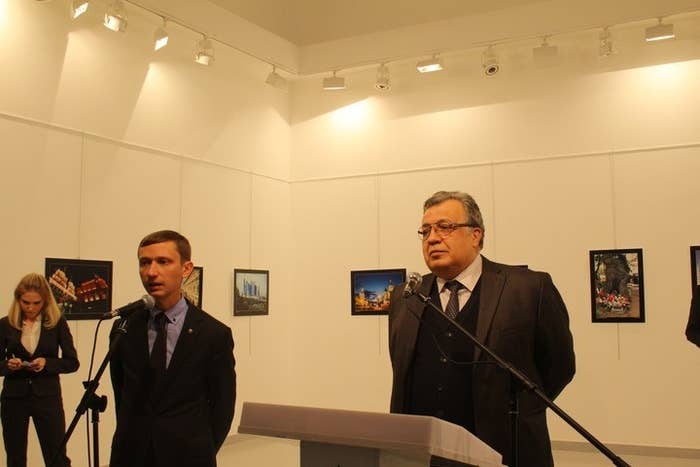 The gunman was then "neutralized" by Turkish special forces, Turkey's Ministry of Foreign Affairs said. A photo circulating on Twitter appeared to show the shooter's body lying in blood.

According to the Turkish state news agency, Anadolu, the shooter's home was searched and members of his family and a flatmate were detained.
Maria Zakharova, a Russian Foreign Ministry spokeswoman, initially confirmed the death and told reporters, "We consider this a terrorist act."
"The killers will be punished," she added.
Turkey's Ministry of Foreign Affairs later confirmed Karlov's death in what it said was a "lowly terrorist attack."

"This attack showed the most disgusting and barbaric face of terror," ministry officials said in a statement. "Turkey, together with Russia and all its other partners, will continue to make every effort to fight terrorism."
In comments broadcast on Turkish television, President Recep Tayyip Erdogan said the gunman had been a member of Ankara's riot police for two and a half years.

"We will have a joint investigation with Russia," Erdogan said. "[President Vladimir] Putin and I agree that this is a provocation. We will have a stronger solidarity against international terrorism."
In comments broadcast in Russia state media, Putin said the Russian Investigative Committee had opened a criminal case into the ambassador's murder. News sources reported that 18 Russian officials arrived on Tuesday as part of the investigation delegation.
"We need to know who controlled the killer's hand," Putin said.
Graphic pictures from photographers at the event showed a man holding a gun and gesturing in the air as Karlov lay sprawled out on the ground.

Video circulating on social media appears to show the ambassador falling to the ground as the same suited man stands behind him, brandishing a gun.
Additional video shows the same armed man screaming loudly in Turkish.
"Don't forget Aleppo! Don't forget Syria!" the man can be heard saying in the video. "Until they are safe, you will not taste safety! Go back, go back, only death will take me from here. All those who have taken part in this cruelty will pay one by one!"
Russia recently helped the Syrian regime of Bashar al-Assad drive out rebels from Aleppo in a bloody battle that has created a humanitarian crisis.

Photojournalist Hasim Kilic, who attended the event, told the Hurriyet newspaper the exhibition had been organized by the Russian Embassy in Turkey.

"When it was time for the ambassador to talk, someone we previously thought was a guard, who was in a black suit, was standing behind him," he said. "Suddenly he started shooting in the air. Then he shot the ambassador.
"The attacker said some things about Aleppo. Then he told people to go outside. As people were leaving, he shot at the ambassador's body a couple of more times."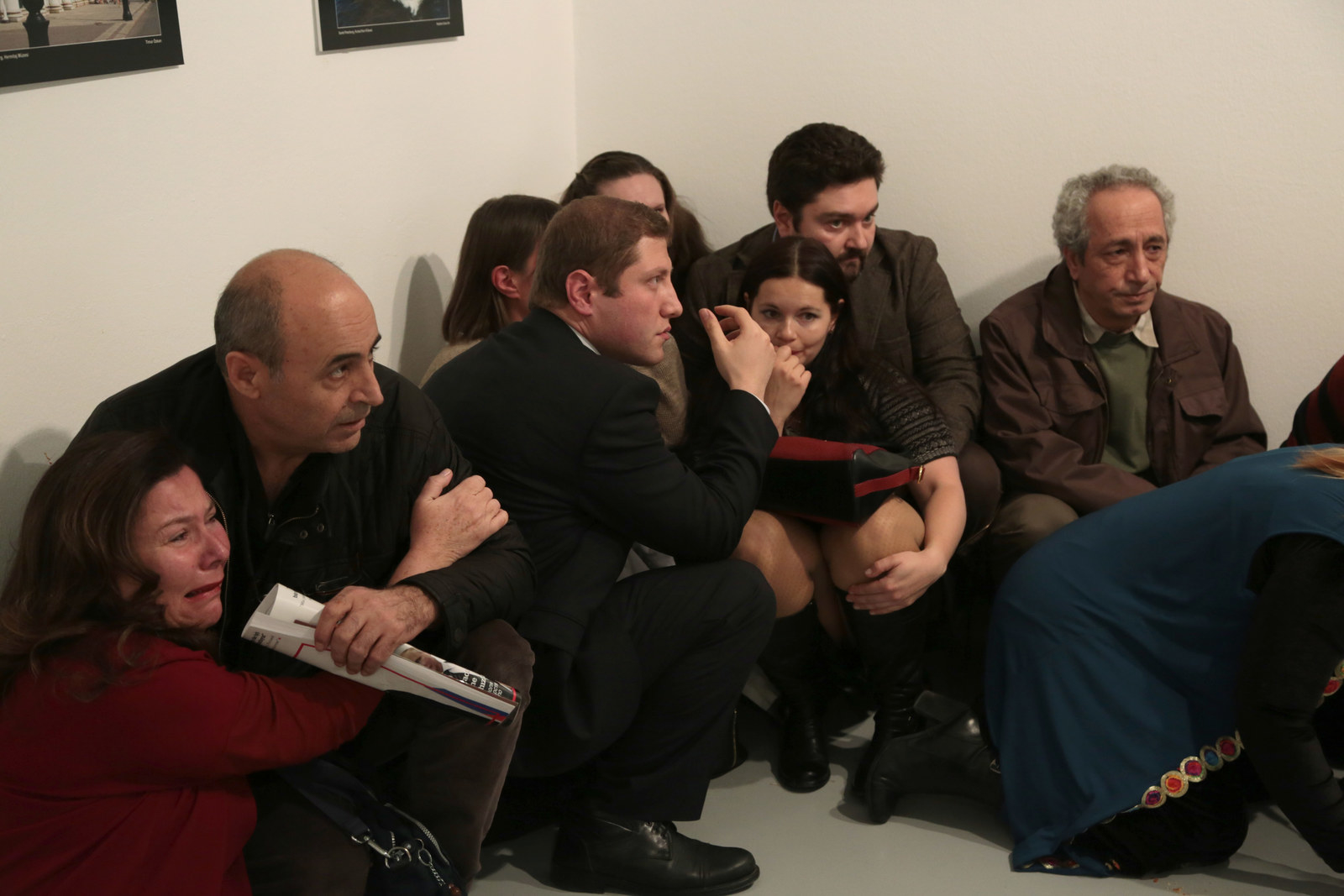 Kilic continued: "I think one of the shots hit someone else in their foot. The security at the Modern Arts Center said that he entered showing a police ID.
"There were about 100 people inside and they all left. As people were fleeing, he shot at the ambassador again."
An Associated Press photographer at the event told the news agency the gunman shouted "Allahu Akbar" and fired at least eight shots.
Karlov, a career diplomat born in Moscow, was 62 and served as Russia's ambassador to North Korea before becoming Russia's top emissary to Turkey in 2013.
"Ambassador Karlov has been incredibly successful during a tough period in Turkey and is a diplomat who has earned the respect of all levels of government, both through his professional and personal attributes," Turkey's Ministry of Foreign Affairs said. "His memory will always be with us."
Putin said Karlov would be posthumously awarded a special award.
The Modern Arts Center in Ankara, where the shooting took place, is a municipal building run by the government.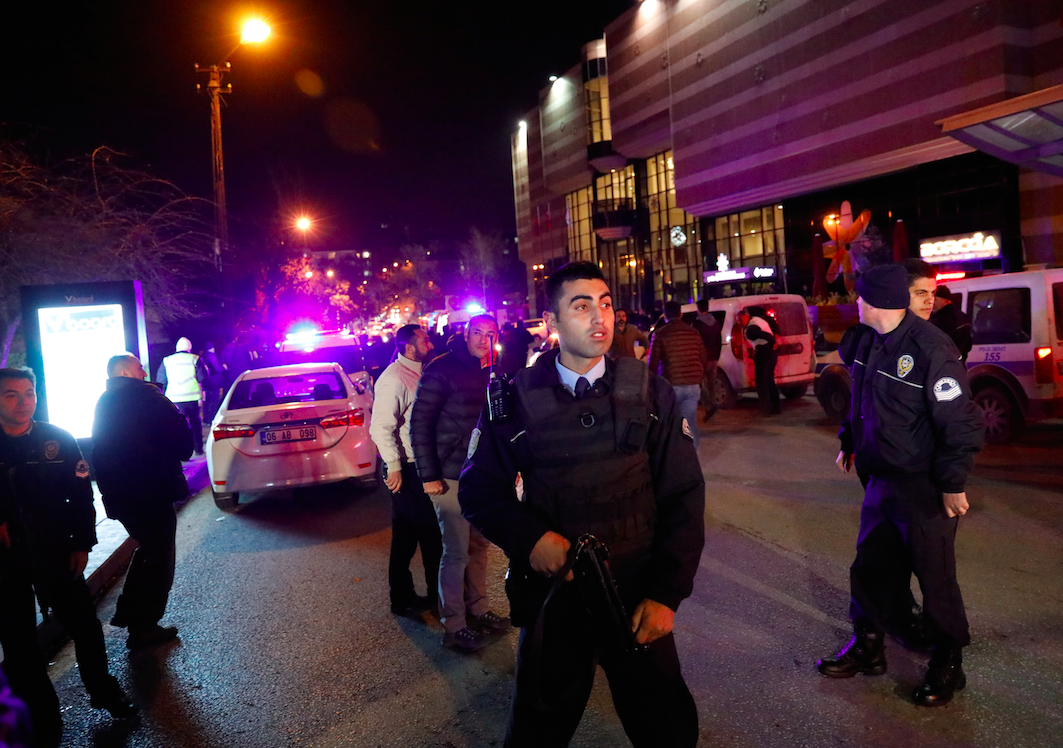 In a statement, US President-elect Donald Trump offered condolences and said Karlov had been "assassinated by a radical Islamic terrorist."
"The murder of an ambassador is a violation of all rules of civilized order and must be universally condemned," Trump said.
Secretary of State John Kerry also said the US condemned the assassination.
"We stand ready to offer assistance to Russia and Turkey as they investigate this despicable attack," Kerry said in a statement, "which was also an assault on the right of all diplomats to safely and securely advance and represent their nations around the world."
US Ambassador to the United Nations Samantha Power, who has been fiercely critical of Russia's involvement in Syria, also offered her condolences for the "savage attack."

The state news agency, Anadolu, also reported that in a separate incident hours later, Turkish police arrested a man who fired a shotgun into the air several times outside the US Embassy in Ankara.
There were no injuries but US embassies were closed on Tuesday in Turkey following the incident.
A meeting on the Syrian crisis between the Russian, Turkish, and Iranian foreign ministers was scheduled to take place on Dec. 20. It has been reported that the meeting will still go ahead.

Mitch Prothero, Borzou Daragahi, Victor Stepanov, and Sara Spary contributed to this report.
This is developing story. Please check back for updates and follow BuzzFeed News on Twitter.