Philadelphia Eagles cornerback Ronald Darby said Sunday that a former Uber driver's groping allegations against Tampa Bay Buccaneers quarterback Jameis Winston are "not true" — and hours later, the driver's new lawyer said Darby should be investigated by the NFL.
Darby's comments contradict those of an Uber driver, Kate, who first told BuzzFeed News that Winston groped her while he was sitting in the front passenger seat as the two were in the drive-thru of a Mexican restaurant in Scottsdale, Arizona, on March 13, 2016. Kate said Winston was the only person in the vehicle, and the NFL said it is investigating the allegations.
Darby on Sunday said that three individuals besides the driver were in the car, and that he and Winston sat in the backseat. Darby does not say who was in the front seat.
"I felt the need to come forward and clarify some inaccurate accounts of the evening of March 13, 2016, when myself, a friend and Jameis Winston took an Uber ride in Arizona," Darby said in the statement.
"I am confident that nothing inappropriate in nature happened in the car that evening and Jameis did not have any physical contact with the Uber driver. The accusations are just not true," Darby concluded. Winston has also denied the allegations in a statement on Friday where he implied there were other people in the Uber.
In a response on Sunday, John Clune, an attorney that represents Kate, said in a statement, "No one else was in the car besides Mr. Winston and if anyone is 'confused', it isn't the Uber driver."
Clune also said he requested that the NFL investigate Darby, and demanded that Darby "immediately turn his phone over to the NFL so the GPS history can be forensically examined."
"Her sole purpose is to put other women on notice of this unacceptable behavior as so many other women have recently done," Clune said.
BuzzFeed News first reported that the NFL has launched an official investigation into the matter. "The League has been informed that you may have been the victim of such a violation perpetrated by Tampa Bay Buccaneers player Jameis Winston. The league takes allegations of this nature very seriously and has opened an investigation into this matter," the NFL said in a letter to the driver.
On Sunday, the NFL declined to comment about whether Darby has or plans to speak to investigators, and on Clune's request that the NFL investigate Darby.
Darby's spokesperson hasn't responded to a request for comment about who else was in the car — specifically in the front passenger seat — if Darby has been contacted by NFL investigators, and if Darby would be available for an interview. (Darby is scheduled to play in a game on Sunday evening.)
The alleged incident in Arizona occurred nine months before Winston settled a civil lawsuit with a woman who accused him of rape in 2012, when both were students at Florida State University. A 2014 New York Times investigation, based on documents from the university and police, "found that Florida State and the Tallahassee police had done little to determine what happened in the Winston case."
Darby was also a teammate with Winston at FSU, and was with Winston the night of the alleged rape in 2012. Nearly a year later, Winston's layer at the time provided an affidavit from Darby of his memories of the night. Darby's affidavit backed much of Winston's account of the evening, in which Winston says the sexual encounter was consensual.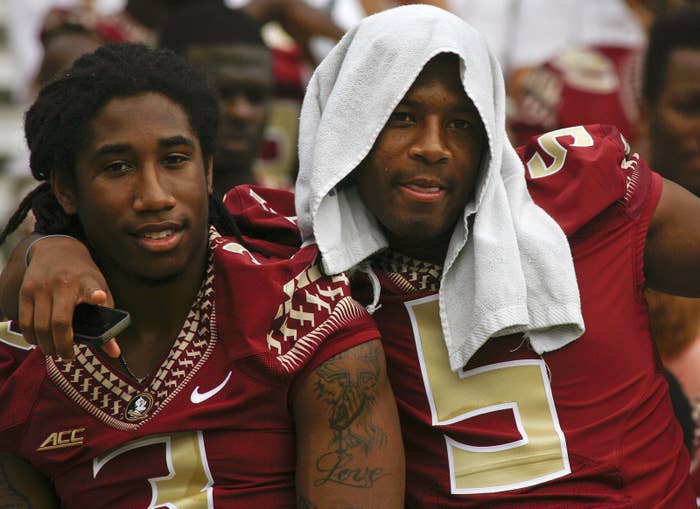 Clune said on Sunday that, "Mr. Winston's friend [Darby] from his FSU days is just making things worse by inserting himself into this."
Kate, the former Uber driver, supplied BuzzFeed News with a complaint she filed with Uber soon after the ride, writing that "apparently a big athlete in the nfl" reached over "and put his fingers on my crotch." She added: "...it wasn't my stomach or thigh, it was my crotch and I want to be clear about that." Kate ended her incident report with Uber stating, "He is NOT safe for other drivers."
She also texted Winston's name to a friend shortly after the incident, alleging he groped her.
Based on the ride receipt, trip identification number, and name — Jameis Winston — that Kate gave BuzzFeed News, Uber said that the account holder that evening was removed from the ride-hailing service. Winston has also said he was banned from Uber in Friday's statement. "At the time of the alleged incident, I denied the allegations to Uber, yet they still decided to suspend my account," Winston said.

Kate said she did not want to be identified by her full name for fear of negative attention and potential backlash from football fans.

Even before Winston's 2012 accuser — who was also represented by Clune — appeared in a documentary about the mishandling of sexual assault on campuses, her name was leaked to the public and for months she became the target for severe online harassment. Football fans began distributing her personal information and pictures on social media, and Winston's lawyer would name the woman so often that it began to raise questions.