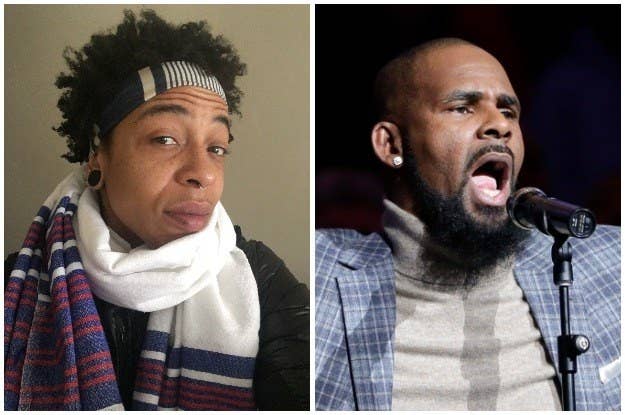 A documentary filmmaker working for BuzzFeed News says she was grabbed by the neck and thrown out of singer R. Kelly's afterparty in St. Louis early Saturday morning while she was reporting on the R&B artist.
"I had the camera phone in my hand above my head. All I know is I felt an arm around my neck and I was lifted up," Lyric Cabral told BuzzFeed News of her abrupt ejection from the club. "The next thing I know I'm facing outside."
Cabral said she looked up and saw "six men," who she believed were members of the East St. Louis Police Department, nightclub security, and members of Kelly's security team.
Cabral filed a police report about the incident, which said "security" had said she and a coworker "were removed for filming a documentary." Police said the incident is now under investigation.
Cabral is filming a documentary about R. Kelly focused on allegations, first reported by BuzzFeed News, that he kept women against their will in an abusive and exploitative "cult" and allegations of sexual abuse. Cabral is working on contract for BuzzFeed News along with Field of Vision, the documentary and film division of First Look Media.
"Mr. Kelly, and/or his employees or affiliates, have no distinct recollection of the events described in your letter related to an alleged altercation that involved your contractor or his removal from Da Beno Nite Club," R. Kelly's lawyer, Chauncey D. Henry, wrote to BuzzFeed News' attorney, which he said serves as his official response.
"Despite the confusing description of when this altercation actually took place, whether on Friday, August 17 or Saturday, August 18, Mr. Kelly, and/or his employees or affiliates are in no position to speak on behalf of the venue or its security policies," Henry wrote.
Cabral said the day's filming started at an R. Kelly concert at the Family Arena in Saint Charles, Missouri, on Friday, Aug. 17, and continued at an afterparty at Da Beno Nite Club in East St. Louis that went into Saturday, Aug. 18. Cabral said she was given a flyer for the afterparty and the event was announced onstage at the singer's concert.
"I bought a drink, kind of walked around and there was a VIP area where [Kelly] was performing," she said. Cabral began to film R. Kelly with a cell phone she was using as a recording device — it was not activated or connected to the internet — she said she was suddenly grabbed from behind, had her cellphone taken out of her hand, was lifted off the ground, and taken outside.
She said two of the men who surrounded her outside were wearing shirts bearing the club's name. Three did not have anything that identified them. And one was wearing a bulletproof vest and a hat, both of which had the words "police" written on them.
"The police officer said we got a tip that you're filming a documentary," Cabral said. "He said I was 'filming maliciously.' The behavior I was ejected for was common. Everyone was filming."
"We never got a warning, I was just assaulted," she said.
Footage posted to multiple accounts on Instagram from the afterparty show Kelly singing at the nightclub with many attendees holding up cellphones to record him.
Cabral said she was later handed back her cellphone by a man dressed in "black with a headset." All of the footage she had shot earlier in the day at the Kelly concert was missing, she said, including the brief moments she filmed at the afterparty.

She said the flyer for the afterparty didn't say anything about restricting filming, and she didn't see a policy restricting filming inside the club.
Cabral filed a police report with the East St. Louis Police Department the following day and provided it to BuzzFeed News.

Some of Cabral's account is presented in the police report, with the exception of her confusion as to which police officers were present at the club and her claim that the video footage on her cellphone was deleted.
The East St. Louis Police Chief, Jerry C. Simon, said that "while the club does have the right to remove anyone from the club, they do not have a right to assault anyone in the process. We are currently looking into the accusation and attempting to retrieve any video surveillance which will show what transpired. The investigation is ongoing by the Detective Division because Ms. Cabral was unsure who had assaulted her inside of the club."
Da Beno Nite Club didn't immediately return multiple requests for comment.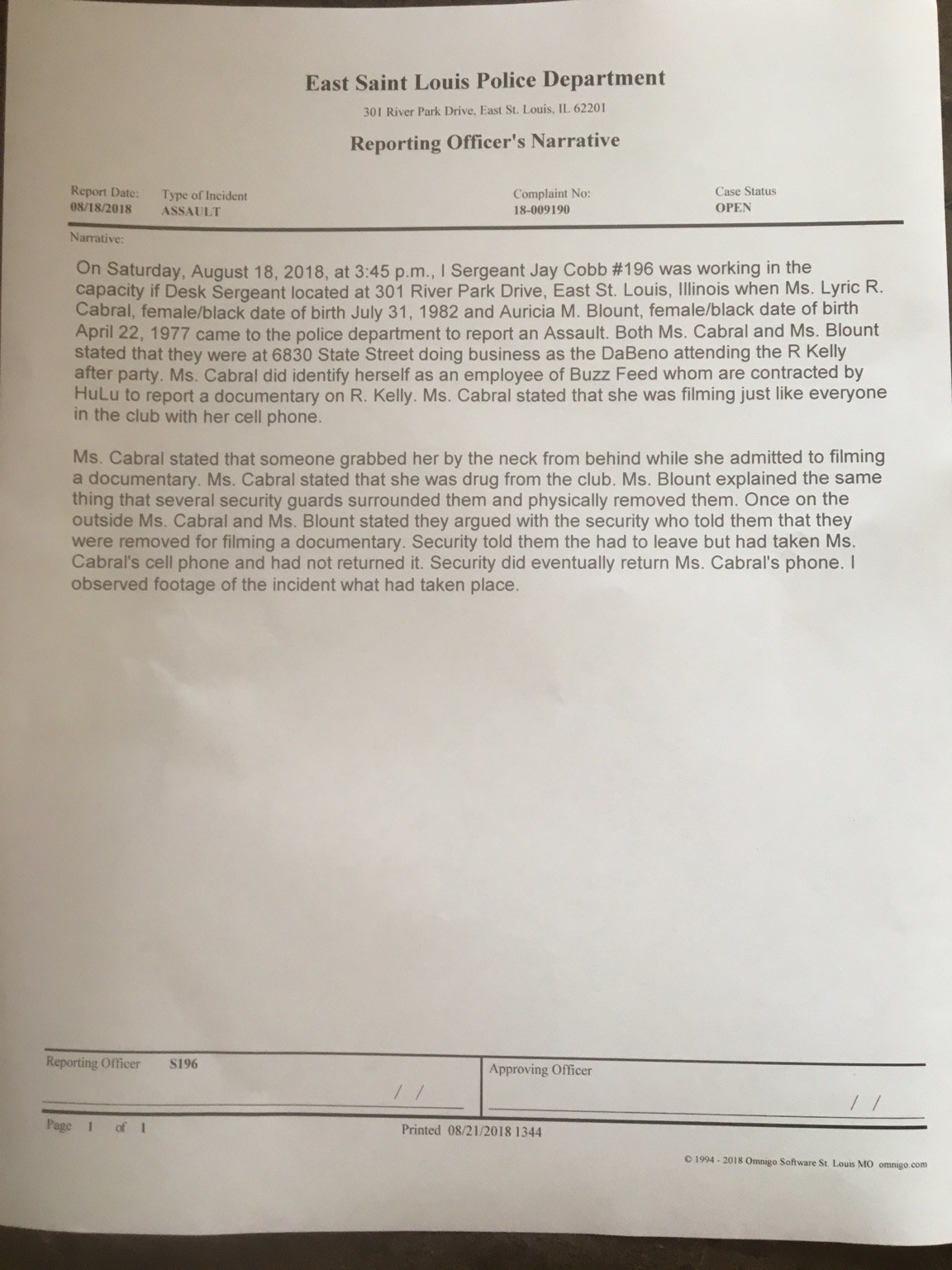 Attorneys for BuzzFeed News, as well as First Look Media, have sent retention letters to R. Kelly's attorney, the nightclub, the arena where the concert took place and a shopping mall where Cabral believes she was followed by unknown individuals in the days after the concert.

Matt Mittenthal, a spokesperson for BuzzFeed News, said, "These events are disturbing and totally unacceptable. We remain concerned for the safety of our journalists, and for the victims of R. Kelly's alleged abuse. We will not be deterred or intimidated by these shameless tactics."