A Republican candidate for governor in Michigan used a typical and unfounded anti-Muslim conspiracy theory during a presentation about his Muslim American Democratic rival, suggesting he is part of an unfounded Muslim plot to engage in "civilization jihad" that is subversively attempting to take over the country.
The candidate, Patrick Colbeck, who is currently a state senator of Michigan's 7th District, made the remarks about Dr. Abdul El-Sayed while delivering a slideshow at an event held by the United West in April 2018. The group has been classified as an "active anti-Muslim group" by the Southern Poverty Law Center, which tracks the activity of hate organizations.
"So Hamtramck is now the first majority Muslim city council," Colbeck can be heard saying on a slide called "Position of Influence," with a picture of El-Sayed. Hamtramck is a city in Michigan.
"But we also have somebody that I will likely be running against in the general election, Dr. Abdul El-Sayed, whose parents apparently have ties to Muslim Brotherhood back in Egypt. This is scary stuff," Colbeck said. "They're already advertising him as the first Muslim governor. So this is a big deal."
Colbeck, El-Sayed, and their campaign spokespersons didn't return requests for comment.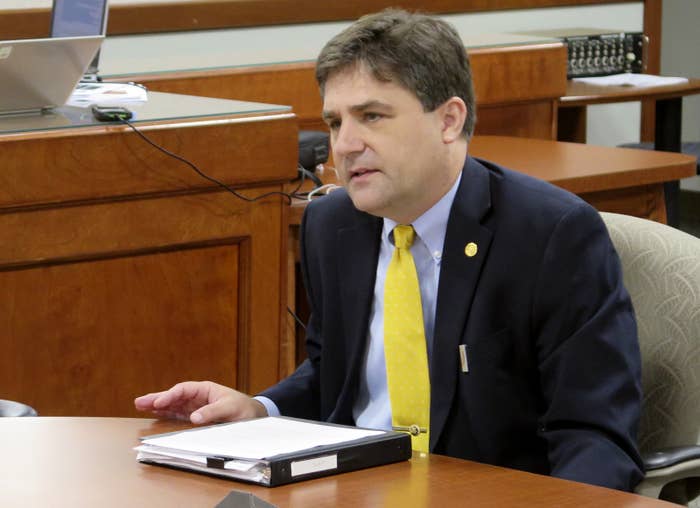 Colbeck's presentation was loaded with false conspiracy theories that have been pushed by the far right to undermine Muslim Americans. A recent BuzzFeed News analysis found that state and local Republican politicians and officials have publicly attacked Islam in 49 states since 2015, typically with impunity.
"There's a lot of pressure being applied in our society right now. You're seeing Muslim legislators in the state legislature. And you're seeing also a push at the local level at city councils," Colbeck can be heard saying as a slide titled "Civilization Jihad Techniques" is up on a screen.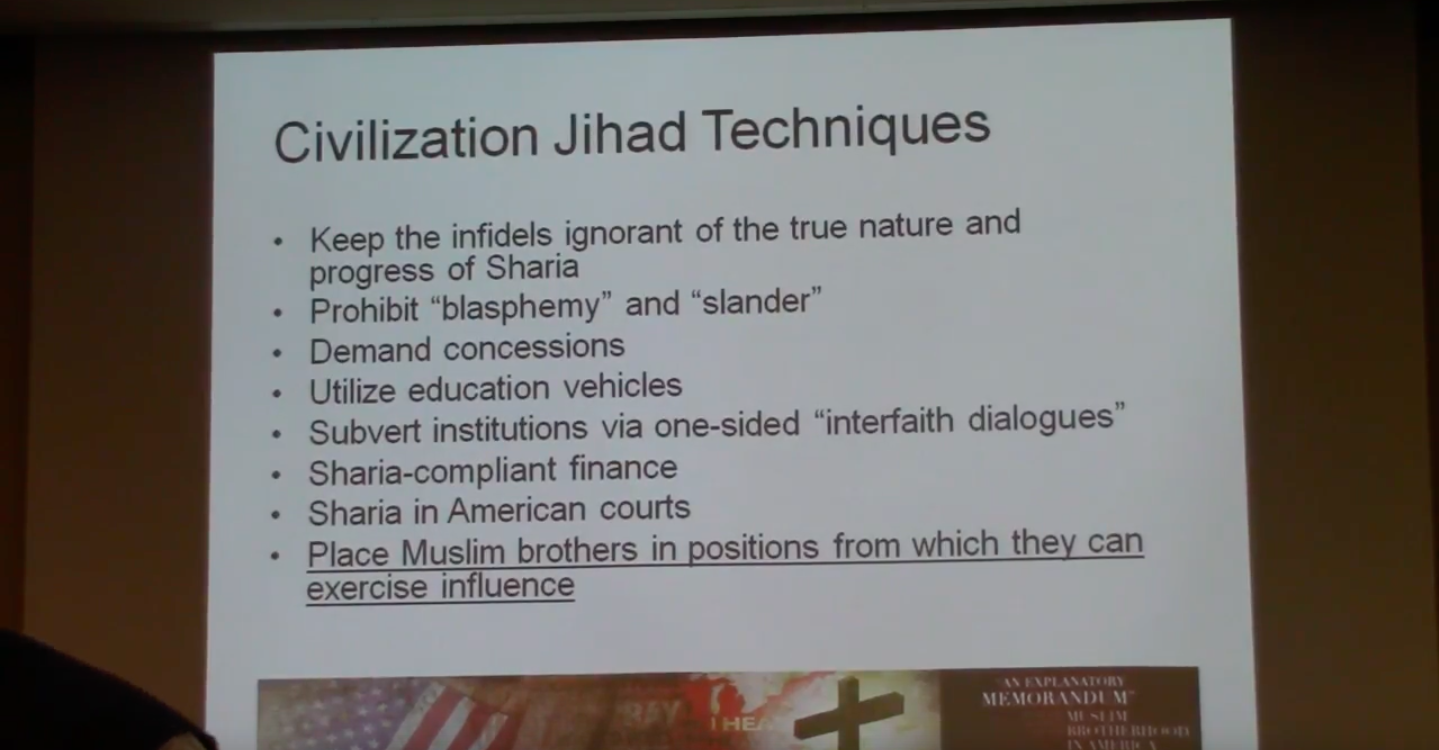 Well-funded anti-Muslim groups like the Center for Security Policy and ACT for America — once fringe elements of the conservative movement that have recently risen to prominence in the Trump era — have alleged for years that Muslim Americans are subverting US laws through the practice of Sharia and that it would replace or supercede the laws of the land.

Sharia — often used as a fear-inducing term associated with anti-Western beliefs — is simply a religious code of conduct, no different than those contained in other Abrahamic religions.

Oftentimes anti-Muslim conspiracy theories also involve the belief that the Muslim Brotherhood — the oldest political Sunni Islamist group that began in Egypt and has since spread to many Arab nations — is actually infiltrating every aspect of Muslim American society with nefarious intentions. There were unfounded allegations that Hillary Clinton's top aide, Huma Abedin, was a member, for example.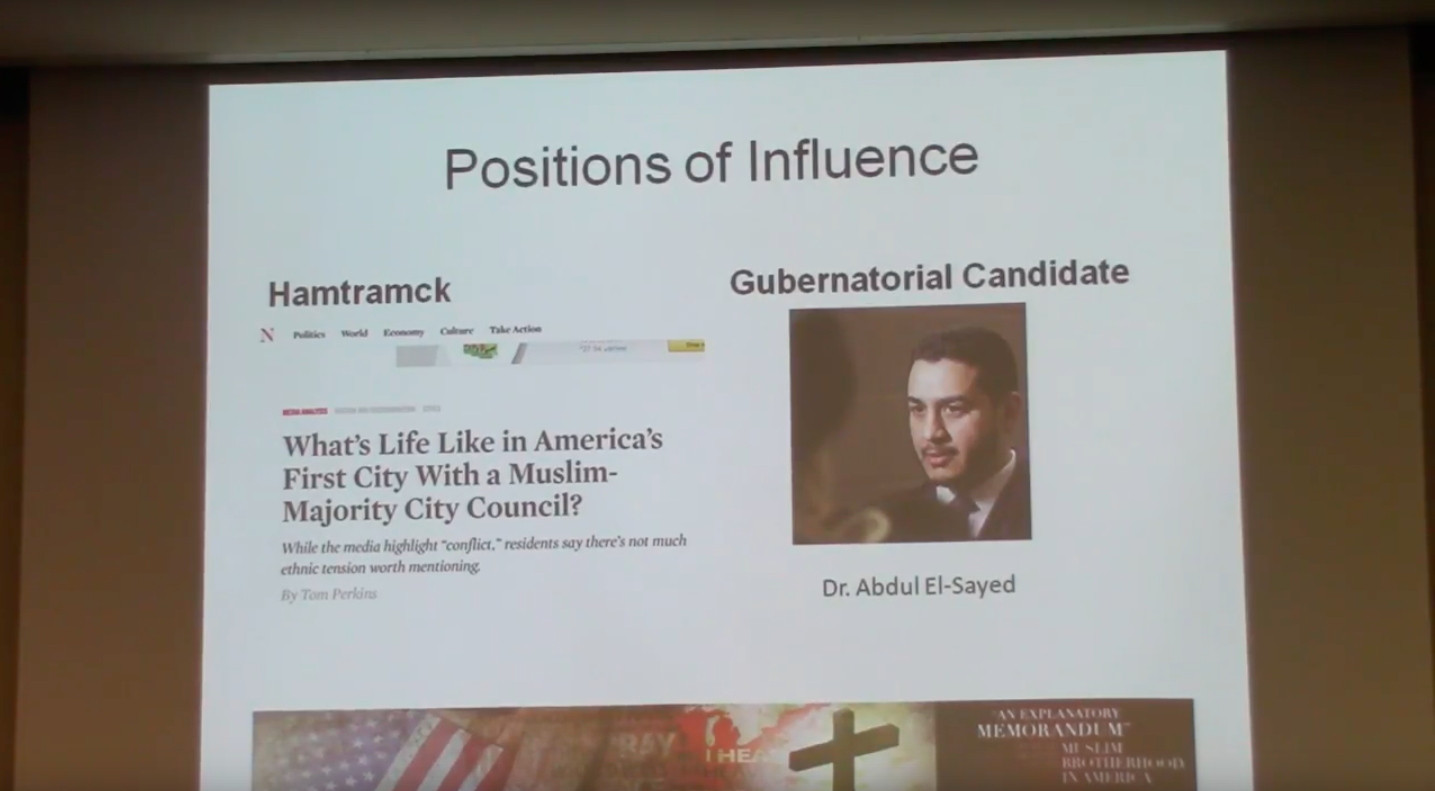 The presentation, titled "Colbeck Explanatory Memorandum Part 1," was posted on YouTube by an account called Sharia Crime Stoppers on April 16. A page promoting the event on the United West's website — which also has a section called Sharia Crime Stoppers — describes Colbeck as having "studied and learned the history of Sharia, the Muslim Brotherhood, and their plan to take down America."
"One of his potential opponents is a Sharia-compliant Democrat candidate Abdul El-Sayed," the website, which also has five embedded videos from the event, reads. The words are hyperlinked to another page that says El-Sayed is displaying an ISIS hand gesture.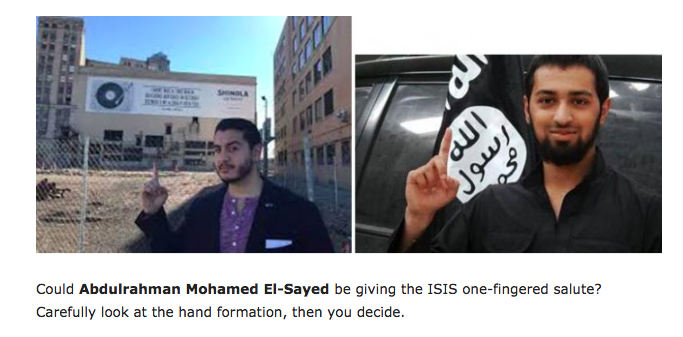 Claims that "El-Sayed may harbor Islamist convictions and be a Trojan horse are not unfounded," the website says, "especially given the reality of what some have dubbed a 'stealth jihad.'"
El-Sayed, a 33-year-old physician who once served as head of the Detroit Health Department as health director, would be the country's first Muslim governor if elected in November. He is the progressive favorite in the race and has been described as charismatic and "the new Obama" by the Guardian.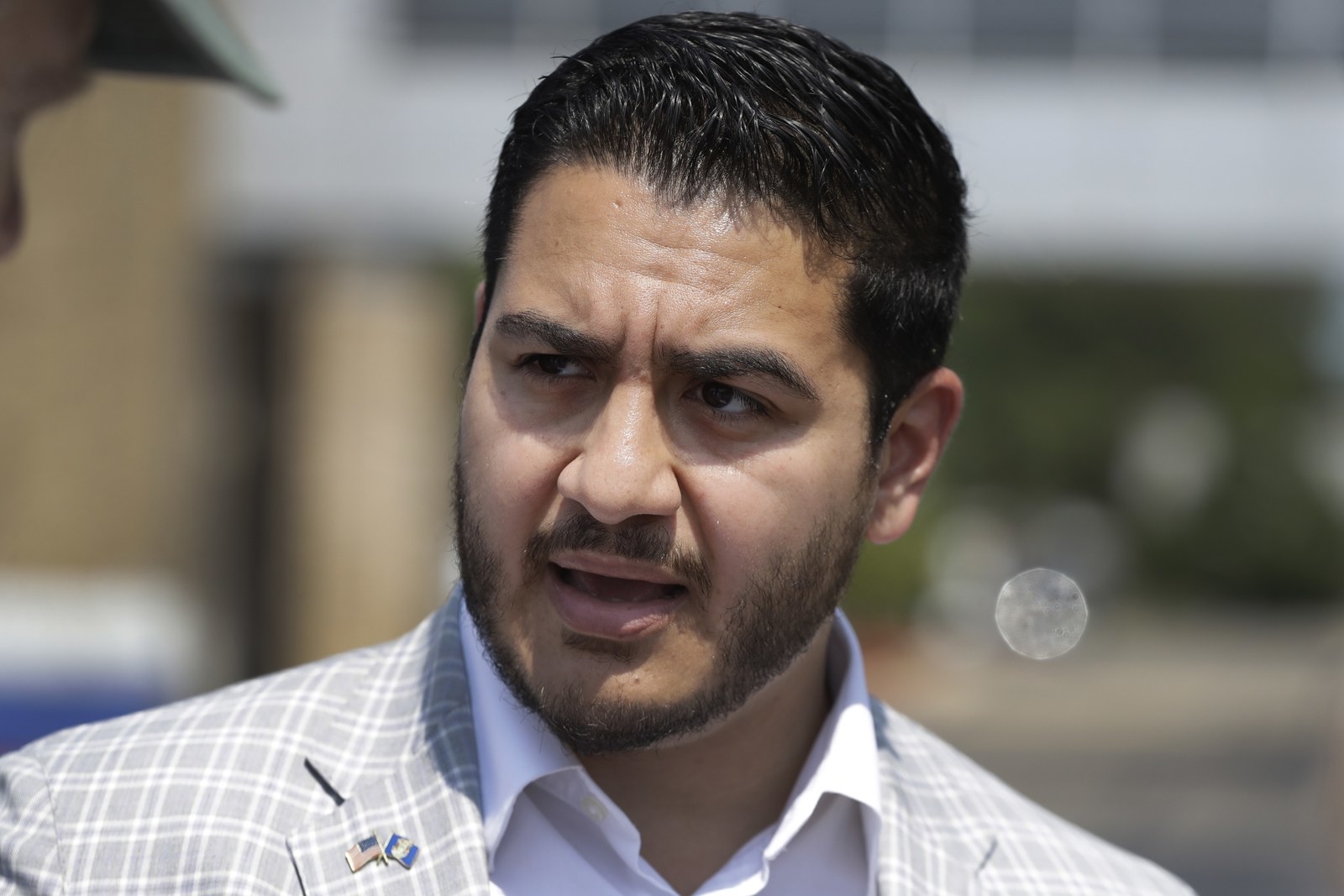 There are several Democratic and Republican contenders running in the August primary — the winners will then face off in the November general election. Michigan's Attorney General Bill Schuette, a Republican, leads his party while Gretchen Whitmer, the Democratic favorite, is battling it out with Shri Thanedar, according to the latest polls. El-Sayed is polling at 10%, to Whitmer's 18% and Thanedar's 21%. Colbeck polled at 3% to Schuette's 29% lead.
Colbeck has been endorsed by Texas Sen. Ted Cruz. Cruz's representatives didn't return a request for comment.
Fox News host Sean Hannity also endorsed Colbek, saying on his radio show, "I hope you win and you have my endorsement, as long as it helps you."
But after BuzzFeed News reached out to a Hannity spokesperson about Colbek's comments, he sought to distance himself.
"Colbeck was a onetime guest on my radio show where we discussed the issue of health care alongside Dr. Josh Umbehr, because he had worked to pursue health care alternatives for his constituents," Hannity said. "He was brought on by Dr. Umbehr to discuss this issue. I do not know Colbeck personally, nor have I ever met him face-to-face, and I certainly don't stand by the comments he made during his recent presentation, much less support his views. While nothing was ever formalized, he no longer has my endorsement."