Allegations of sexual assault and anti-Semitism against a member of PWR BTTM, a popular and promising Brooklyn-based queer-punk band, have led to them being dropped from their record label and their music being pulled from online streaming services.
As of Tuesday morning, the band's music remains on Spotify, but their former label has asked that the music be taken down there, in addition to already having been removed from Tidal, Apple Music, Google Play, and Amazon.
"Currently Polyvinyl is indeed in the process of ceasing all physical and digital distribution of PWR BTTM music," said Ken Weinstein, a spokesperson for the group's record label.
The precipitous decline of the much-hyped duo of Ben Hopkins and Liv Bruce began last week when a post in a private Facebook group accused Hopkins of nonconsensual sexual abuse.
The poster claimed to have seen Hopkins "initiate inappropriate sexual contact with people despite several 'nos' and without warning and consent." The post then made its way to Twitter and Reddit.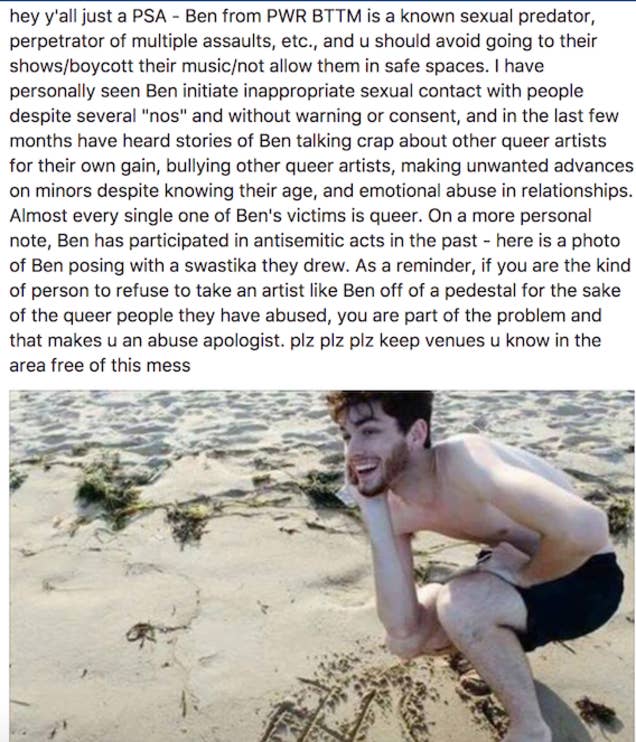 The post also accused Hopkins of "anti-Semitic acts in the past" and contained a photo that depicted Hopkins posing with a swastika drawn on sand.
In December 2016, Hopkins addressed the photo, writing on Twitter, "To anyone who was hurt by this image, know that it was me as a stupid kid and not who I am today, and I am so so sorry." Hopkins also said the photo was from 2011 and that the photo was taken from "a time in my life where I thought being 'politically incorrect' was really funny."
The duo, who make songs about their gender nonbinary identities, released a statement on Facebook on May 11, a day before their much anticipated second album, Pageant, was released.
"These allegations are shocking to us and we take them very seriously," the band wrote. "Further, the alleged behavior is not representative of who Ben is and the manner in which they try to conduct themselves."
The band's statement encouraged anyone with information about the alleged abuse to contact an email address that Hopkins "does not have access to," because the band acknowledge "that certain individuals will not feel comfortable establishing a direct communication link between themselves and Ben."
But their label, Polyvinal, took drastic steps on Friday, not only to begin removing their music from the internet but also by offering refunds to anyone who had purchased their music, according to a statement.
"There is absolutely no place in the world for hate, violence, abuse, discrimination or predatory behavior of any kind," the Polyvinal statement read. "In keeping with this philosophy, we want to let everyone know that we are ceasing to sell and distribute PWR BTTM's music."
Polyvinal added that it planned on donating to organizations against sexual violence and LGBT violence.
Father/Daughter, the former record label on which PWR BTTM's first album Ugly Cherries was released, also distanced itself from the group, writing in a statement, "The allegations that have come out about PWR BTTM are unsettling and difficult to read and digest. We do not take this nor do we take any acts of violence lightly."

The publicist listed for PWR BTTM did not immediately reply to BuzzFeed News' request for comment.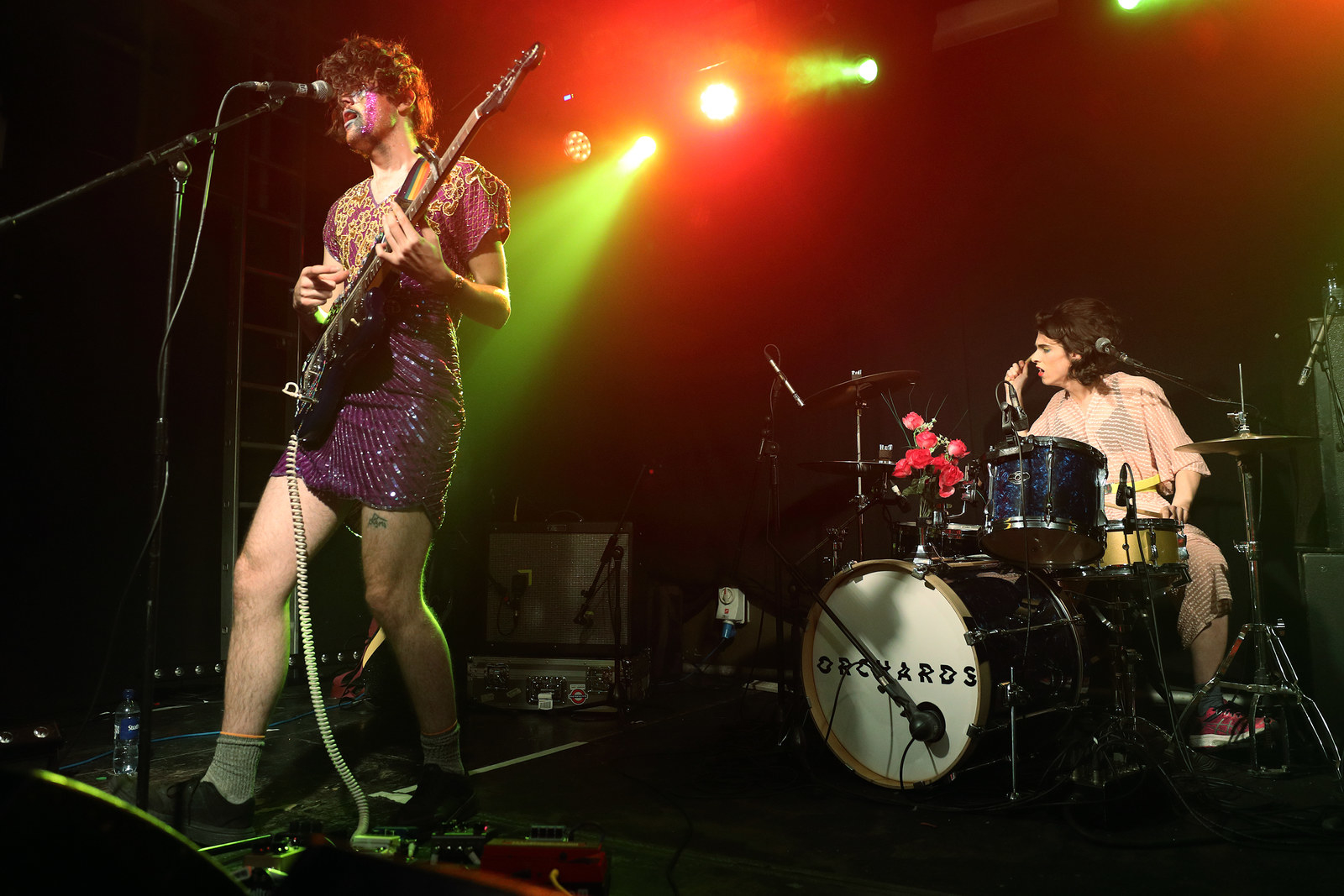 In an interview with Jezebel on Friday, an anonymous woman only identified as "Jen" said she was "assaulted while intoxicated by Hopkins after a PWR BTTM show last year."
She also alleged that she was also sexually assaulted while sleeping later that evening and that she had told Hopkins' bandmate Bruce about the incident in subsequent months.
"The statement that they made, I know for a fact, is an actual lie because I know they did know," the anonymous accuser told Jezebel. "The statement they made is 100 percent false."
Numerous dates and venues for future PWR BTTM shows and upcoming tours have been canceled. The band's album release party last Friday was canceled in the wake of the allegations.