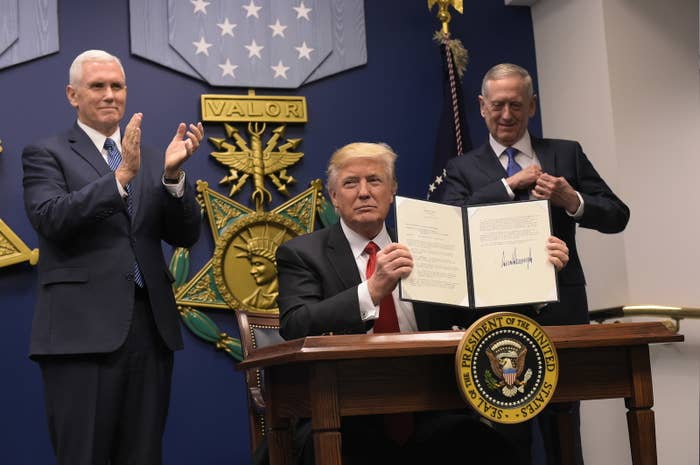 President Donald Trump on Friday temporarily suspended the entire US refugee program as part of his campaign promise to usher in an era of more "extreme vetting" as a way to better protect against possible terrorism.
The 120-day suspension in the executive order Trump signed applies indefinitely to the resettlement of refugees from war-torn Syria, where a five-year civil war has brought on a catastrophic humanitarian crisis. The order also blocks all people from Syria, Iraq, Iran, Sudan, Somalia, Libya, and Yemen from entering the US for 90 days.
While the order does not mention Muslims or Islam, during his signing ceremony at the Pentagon Friday, Trump said he is establishing "new vetting measures" to keep "radical Islamic terrorists" out of the US.
"We don't want them here," he added.
As he signed the order, Trump called the action "the protection of the nation from foreign terrorists entities into the United States."
"We all know what that means," he added. "Protection of the nation of foreign terrorists entry into the United States. Big stuff."
House Speaker Paul Ryan praised Trump's action as supporting Washington's No. 1 responsibility "to protect the homeland."
"We are a compassionate nation, and I support the refugee resettlement program, but it's time to reevaluate and strengthen the visa vetting process," he said in a statement. "President Trump is right to make sure we are doing everything possible to know exactly who is entering our country."
Some Democratic lawmakers and civil rights groups quickly blasted the order.
"History will judge where America's leaders stood today," said US Sen. Dick Durbin from Illinois. "Faced with the humanitarian crisis of our time, the United States cannot turn its back on children fleeing persecution, genocide, and terror. During the Holocaust we failed to fulfill to our duty to humanity. We cannot allow mindless fear to lead us into another regretful chapter in our history."

Hours after the order's signing, the Council on American-Islam Relations announced that it will be filing a lawsuit to "challenge the constitutionality of the order," claiming its purpose and underlying motive is to "ban people of the Islamic faith from Muslim-majority countries from entering the United States."

American Civil Liberties Union also took issue with "extreme vetting," calling it a euphemism for discrimination against Muslims."
"Identifying specific countries with Muslim majorities and carving out exceptions for minority religions flies in the face of the constitutional principle that bans the government from either favoring or discriminating against particular religions," ACLU Director Anthony Romero said.
The order also suspends visas to applicants from countries the administration deems to pose a terrorism threat, including Syria, Iraq, Iran, Sudan, and Yemen. Those seeking nonimmigrant visas will also no longer be able to obtain a waiver allowing them to skip an interview.
Syria, Iraq, Somalia and Iran were all in the top seven "country of origin" for refugees admitted in the US in 2016.
The order also calls for a significant reduction in the number of refugees, in general, that the US will accept in 2017 — from 110,000, as proposed by former President Obama's administration, to 50,000. The US accepted just over 12,000 Syrian refugees in the fiscal year ending in September 2016.
One section, alluding to Trump's "extreme vetting," says in order to protect US citizens, the country should not admit those who engage in acts of bigotry and hatred, "(including 'honor' killings, other forms of violence against women, or the persecution of those who practice other religions) or those who would oppress members of one race, one gender or sexual orientation."
"Disturbingly, the expected executive order also elevates the most bigoted stereotypes of Muslims and Islam perpetuated by anti-Muslim hate groups to the level of official U.S. government policy," said Muslim Advocates executive director Farhana Khera in a statement to BuzzFeed News. "Muslim advocates will be using every legal and advocacy tool to challenge unconstitutional and undemocratic policies that violate our nation's commitment to freedom, equality and justice for all."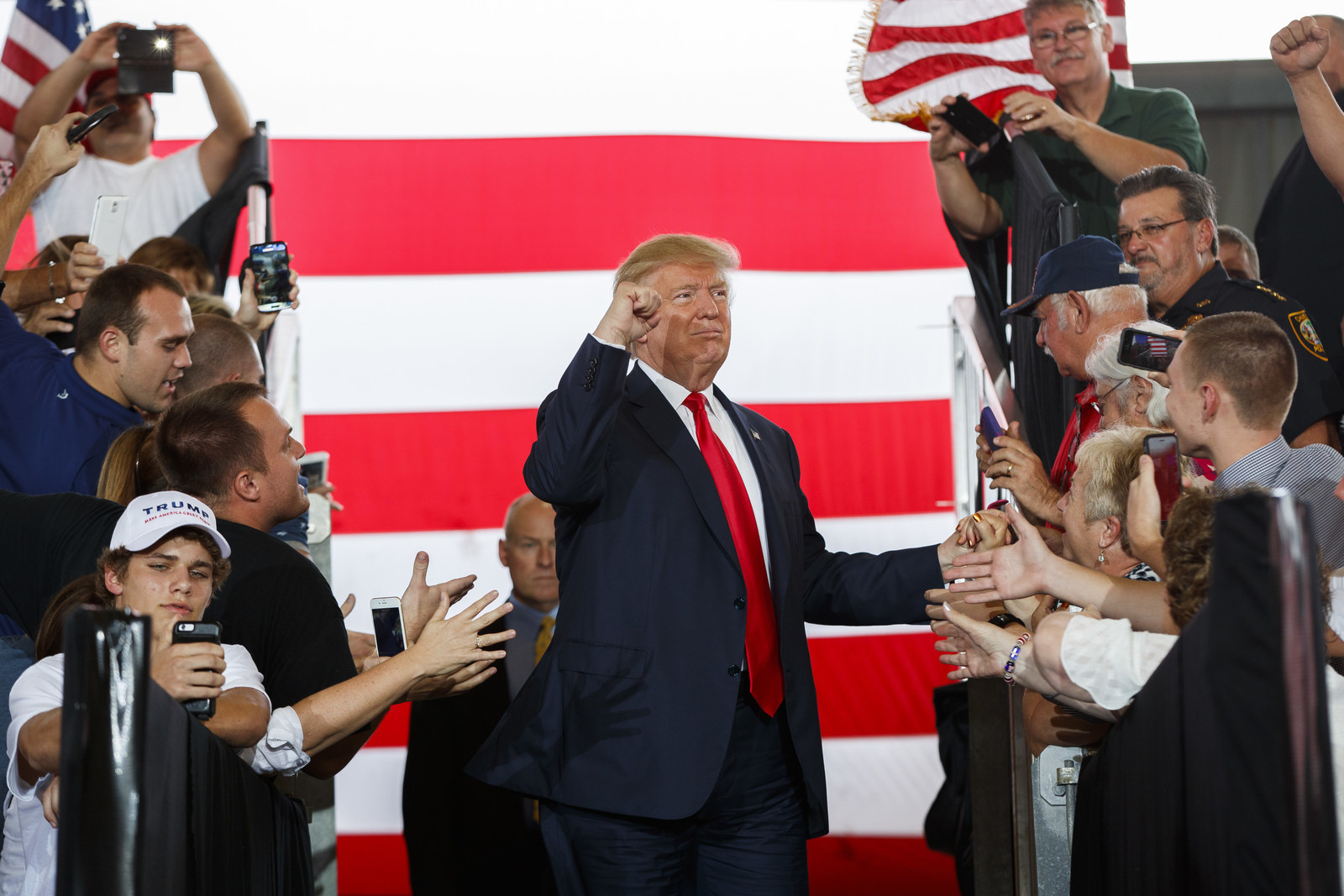 Another part of the order gives priority to refugees who are part of a religious minority, meaning, in many cases in Muslim-majority countries facing conflict, admission for Christians into the United States would be favored over their Muslim counterparts. Civil liberty organizations and immigrant groups have preparing to file litigation against the order.
On the campaign trail, Trump promised a "complete and total shutdown of Muslims entering the United States" and various forms of limits on refugee resettlement and immigration from Muslim-majority nations.
Additional details of the executive order, titled "Protecting the Nation from Terrorist Entry Into The United States," include the screening of immigrants via a "Biometric Entry-Exit Tracking System." That system harkens back to NSEERS, the National Security Entry-Exit Registration System, a registry program that was active after 9/11 for almost 10 years. NSEERS made male immigrants from 25 majority-Muslim countries register, check in with immigration officers, and have their fingerprints and photos taken taken upon entry and residency.
NSEERS, which was suspended in 2011 and officially dismantled in 2016, was considered labor intensive and ineffective. The registry never led to any prosecution of terror suspects, but did result in the deportation of a few thousand people, mainly those who had overstayed their visa.
"Never before in our country's history have we purposely — as a matter of policy — imposed a ban on immigrants or refugees on the basis of religion, or imposed a religious litmus test on those coming to this nation," Nihad Awad, executive director for the Council on American-Islamic Relations, said on Wednesday.
"Ideological and religious questioning imposed on our government agencies by Islamophobes – many of whom are now in policy-making positions - will not make us safer and will instead send a very negative message that Muslims are not welcome in America," he said.
These proposals have been criticized by civil rights advocates for being un-American, antithetical to humanitarian ideals, and the end of a longstanding tradition of the US serving as a refuge for those fleeing oppression and conflicts from around the world.
Stephen Yale-Loehr, an immigration lawyer and adjunct professor at Cornell Law School who has written a 21-volume treatise on immigration law, said the executive order would be a "terrible idea" for three main reasons.
"First, a ban on refugees would not make America safer. Refugees from Syria already go through a 21-step screening process that takes 18-24 months," Yale-Loehr wrote.
He cited the the head of the US Citizenship and Immigration Services, who in 2016, said to Congress that not a single act of terrorism has been committed by a refugee since 9/11.
The signed executive order would also "send a wrong message to the world" during the "largest refugee crisis since World War II," Yale-Loehr added.
Host countries also benefit economically from refugees who fill gaps in the labor market and have a positive impact on investment and productivity growth, he wrote.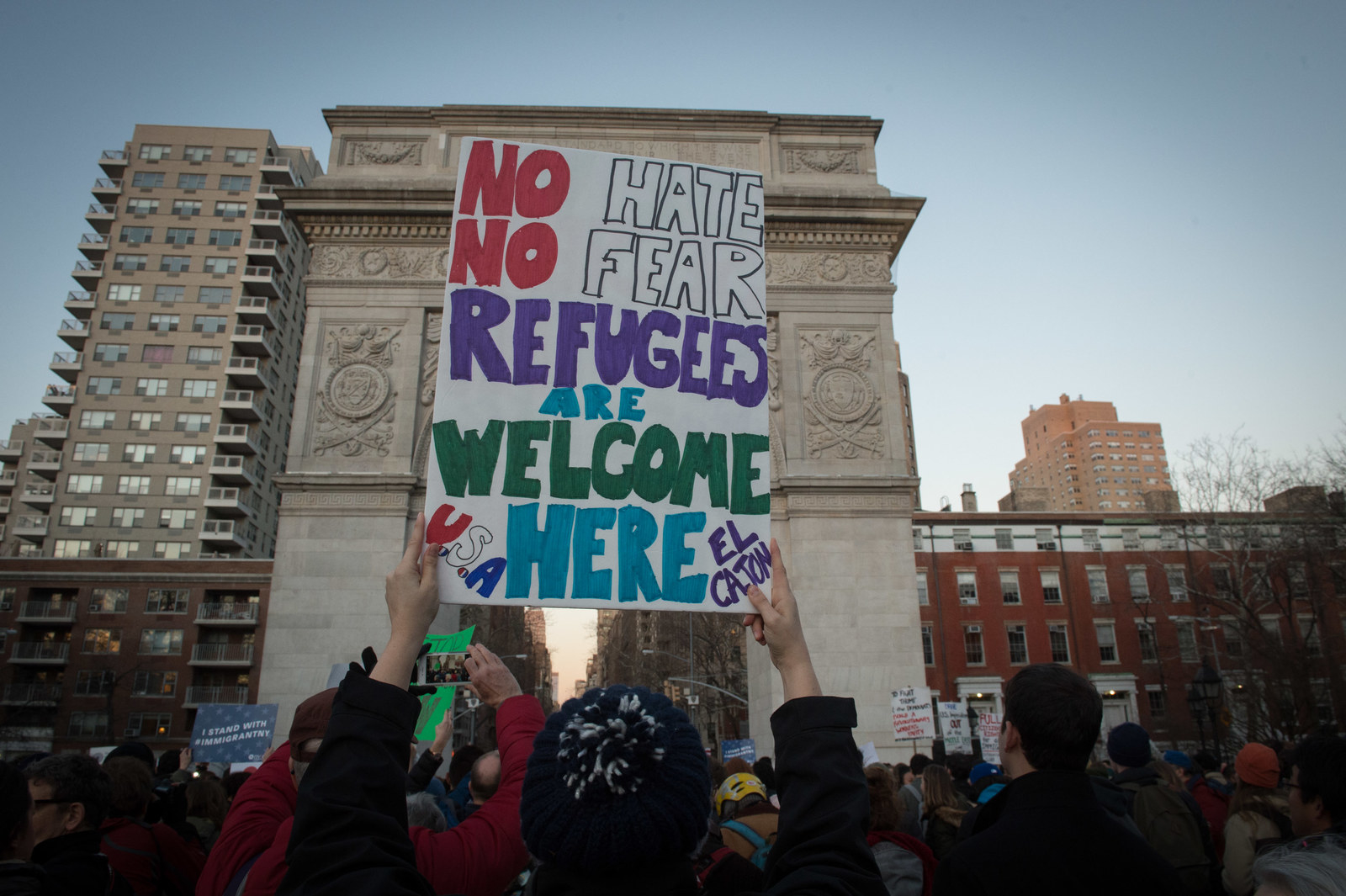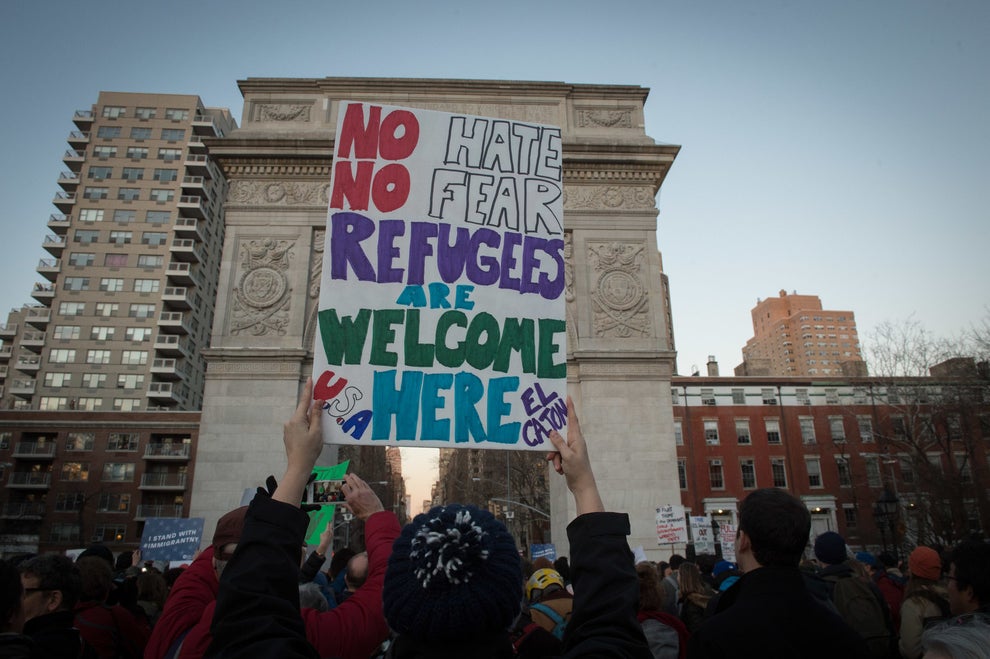 Abed Ayoub, an immigration lawyer and the legal and policy director of the American-Arab Anti-Discrimination Committee, called the executive order "extreme" and "troubling."
"Inflammatory campaign rhetoric has turned into policy," he said.

Especially disturbing to Ayoub is the vagueness of the order.
"What sticks out is how vague some of this language is. It doesn't get into if this impacts people who are already here on these visas, people who have pending applications, or pending spouses who are on this visa. It doesn't say how it's going to take place, or how it's going to be implemented," Ayoub said, adding that the order will not have an impact on national security in any real sense, and instead, will just add to anti-Islam and xenophobic attitudes.
"You can see that this order, in addition to yesterday's executive order about building a wall or defunding sanctuary cities, these executive orders have singled out minorities — whether they be Muslim or Christian from these countries, or Latino and African."
In a statement, Khizr Khan, the Gold Star father of Army Captain Humayun Khan, who was killed in Iraq in 2004, criticized Trump's actions a race to "violate constitutional principles and fundamental American values."
"It is incumbent on every single American to speak out against Trump's actions today and every further step he and his administration may take to discriminate against Muslims."