Police in Seattle shot and killed a 30-year-old woman, who family members said was pregnant, on Sunday after she called 911 about a possible burglary — and now an investigation is underway into the officers' use of force.
The woman, who was identified as Charleena Lyles, had a knife and interacted with two officers before she was shot, according to the Seattle Police Department.

Family members said Lyles had experienced mental health problems in the last year and that she was several months pregnant, which BuzzFeed News couldn't immediately confirm. Family members also said they believe race was a factor in the incident — Lyles was black, and the two police officers who shot her were white.
In a video posted by the Seattle Times, a woman who identified herself as Lyles' sister can be seen screaming into the camera distraught, telling the reporters that deadly force was not needed in the situation.
"She's this fucking tall," Monika Williams said, placing her hand below her head. "There's no reason for her to be shot, in front of her babies!" Williams said, adding later that the officers could have tased Lyles instead.
In a transcript of police audio from the shooting, one officer tells the other to tase Lyles.
"I don't have a taser. Get back, get back," the other officer responds.
Seattle police confirmed that two boys and one girl, aged 11, 4, and 1, were in the apartment at the time of the shooting, and have since been given over to family members.
Audio taken from the officer's dashcam was released by police on Monday morning. In the audio, officers can be heard talking about responding to the burglary call in tandem because of "hazard information" regarding Lyles in the department's system.
"While property crimes reports typically require only one officer to be dispatched, two officers were dispatched to this particular call for service because of a recent officer safety caution associated with the caller," the Seattle Police Department said in a statement, explaining why it had sent two officers on the call.
A June 5 police report details the previous interaction between Lyles and police following a report of a domestic disturbance. According to police, she threatened officers with a large pair of scissors while making erratic statements. Eventually, officers convinced Lyles to drop the scissors, the report said.

"After talking with Lyles' family, we learned that Lyles has experienced a recent sudden and rapid decline in her mental health," the report said. "When we explained to her family the behavior and statements Lyles made to us, they were surprised and informed us she has not had any behavior similar to this in the past. Lyles' family is concerned for her and they have a strong desire to stabilize her mental health condition before it gets worse."
Lyles was arrested on suspicion of harassment, and police recommended the case be sent to mental health court.
In the choppy audio from Sunday, the unidentified officers discussed the June 5 visit to Lyles' residence, before greeting her and asking to come into the apartment.
Lyles and the officers can be heard talking about the alleged burglary in normal tones of voice. "This bag that I had open with my clothes and..." Lyles can be heard saying, before the audio becomes silent and, at times, indiscernible.
Suddenly, one of the officers can be heard saying: "Step back, step back!" The crying of a baby or child can be heard.
A woman's voice, presumably that of Lyles, can be heard saying: "You ready? Motherfucker."
"We need help," and "Get back! Get back!" the officers can be heard saying, followed by loud sounds of multiple gunshots. The audio then cuts out abruptly.
Seattle Mayor Ed Murray said the incident was a "tragedy for all involved and will be fully investigated."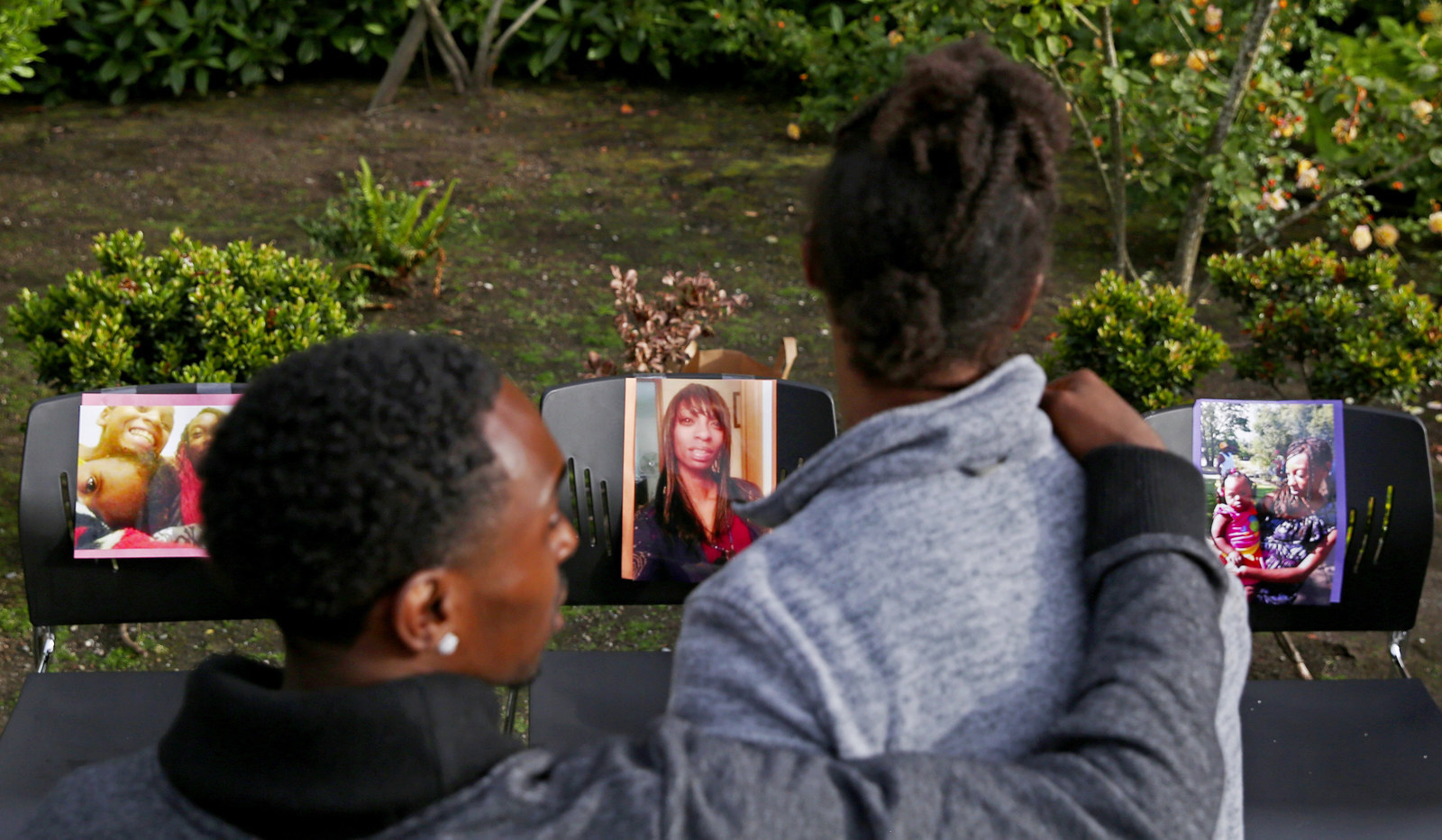 Around 50 people reportedly held a vigil on Sunday evening outside the apartment complex where Lyles was shot, with photographs of Lyles, flowers, and candles.
The shooting is being reviewed by the Seattle Police Department's Force Investigation Team, and its Office of Professional Accountability.