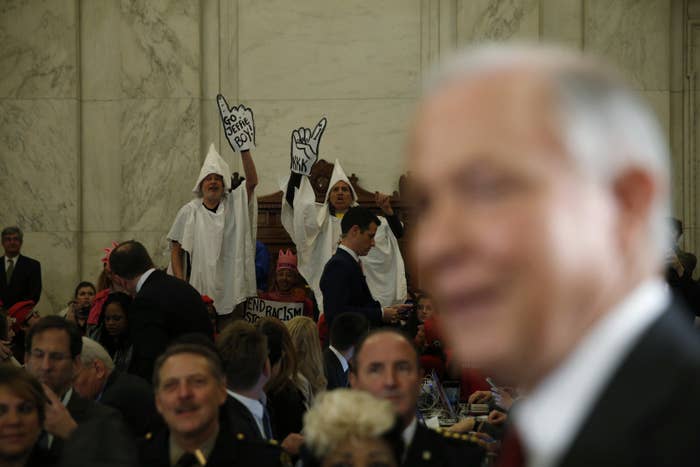 WASHINGTON — Before the confirmation hearing for Alabama Senator Jeff Sessions even began, protesters were being kicked out of the hearing for disruptions.
Less than an hour into the hearing, a total of seven protesters were taken out by US Capitol Police.
Another four protesters were removed after the hearing reconvened after a break for lunch. One protester could be heard shouting "Senator Sessions, you are racist," and later shouted "black lives matter," as he was taken out.
Two men dressed as the Ku Klux Klan members were thrown out early on. Shortly before the hearing began, they stood up and began shouting at Sessions with mock support. As they were removed, one could be hearing shouting, "You can't arrest me I'm white. White people can't be arrested!"
Representatives with the group Code Pink were in attendance, each dressed as a pink Statue of Liberty. They held up signs denouncing racism before the hearing began, but were allowed to stay. A member of the group was later taken out of the room after the hearing was underway, but it was unclear why, since that section was quiet at the time. The woman began yelling as she was removed that Sessions' record was "evil."
A man wearing a red cap was then quietly taken out, the reason for his removal was not immediately clear.
After Sessions began his opening remarks, two men stood up in the back of the room and shouted "No Trump, no KKK, no fascist USA," and were taken out of the room. They resisted removal and were pushed out by Capitol Police.

Soon after the two men were removed, a woman stood up and also recited the chant, "No Trump, no KKK, no fascist USA." She was swiftly removed as well.
Sessions resumed his remarks after each interruption and did not address the protesters.

At around 11:30 am, four more protesters were taken out in two back-to-back demonstrations. Each time, the protesters shouted a variation of "No Trump, no KKK, no fascist USA." The second time, Sen. Jeff Sessions was in the middle of responding to a question about how he felt being accused of racism.

The group RefuseFascism.org, which is holding a demonstration on Jan 14 in Washington to oppose the incoming Trump administration, has claimed responsibility for organizing the "No Trump" protests during Sessions' hearing.