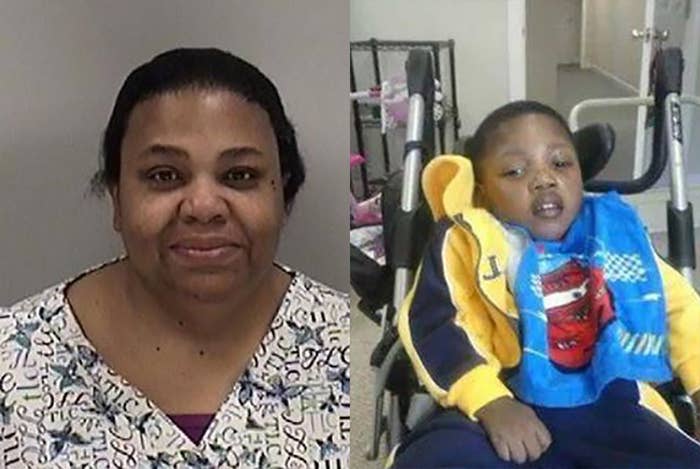 Another foster parent with the nation's leading for-profit foster care company, The Mentor Network, is facing criminal charges. Elizabeth Osei is in jail in Georgia, accused of murdering her three-year-old foster son. In 2014, another foster mother for the company was convicted of murder in Texas.
It has not previously been reported that Osei was a foster mother for Mentor's Georgia operation, which goes by the name Georgia Mentor. Mentor is controlled by a giant private equity firm and trades on the New York Stock Exchange under the name Civitas Solutions. As BuzzFeed News has previously reported in a series of stories, Mentor turned privatized foster care for children into a cash cow across the country.
At its height, the politically influential corporation provided foster homes for about 4,000 children nationwide in 15 states. Since the first BuzzFeed News report on Mentor a year ago, the company has pulled out of the child foster care industry in seven states, but still runs foster care operations in eight. The company has said it pulled out of the states because of business decisions unrelated to the news coverage.
In 2013, 2-year-old Alexandria Hill was murdered in Texas by her Mentor foster mother, who violently swung her into the floor. In 2012, a 2-month-old baby died in a Massachusetts foster care home run by Mentor in a case that the state initially ruled to be neglect. The neglect finding was later overturned. In 2011, two Mentor foster fathers in Maryland were convicted of sexually abusing their foster sons. One of those foster fathers had for 10 years been molesting children Mentor placed in his care — and the company had continued sending children to his home despite repeated warnings.
Workers told BuzzFeed News that Mentor sacrificed child safety because it pushed so hard to meet profit goals, though Mentor has strongly denied this. States and local governments pay the firm to select, train, and hire foster parents, to place children with those parents, and even to hire the caseworkers who are supposed to look after the children's welfare. More broadly, Mentor has been accused of overlooking criminal backgrounds of foster parents and ignoring warning signs. In Texas, the company ranked dead last among large foster care providers, based on the number of severe violations found by state inspectors. Investigators in Illinois found "a culture of incompetence" at the company.
After BuzzFeed News began reporting on Mentor, the powerful US Senate Finance Committee launched an investigation into the company and privatized foster care in general. To cope with that investigation, the company has hired lobbyists who used to work for the senators leading the probe and a high-powered Washington lawyer who specializes in handling Congressional investigations.
Sarah Magazine, the company spokesperson, said in a statement that "the unexpected death of a child is our worst nightmare." She added, "We understand the challenges associated with foster care, and we also understand that while no agency will ever achieve perfection, we must strive for it every day in partnership with our public partners, our foster parents and our staff."
At first, it did not appear that 3-year-old Kenyon Slacks had been murdered. The foster child was pronounced dead by the Richmond County Coroner in Augusta, Georgia at 12:14 A.M on June 24, 2014. A case report by the Richmond County Sheriff's Office stated the death of Slacks was a "natural death" and there were "no signs of a suspicious death."

Eight months earlier, Mentor had placed the little boy in the care of Osei, a foster mother the company had selected and paid. The boy suffered from various medical issues, including Ohtahara syndrome, a condition that causes seizures. Osei told police that while she was folding laundry, she noticed that the young child was very still, according to statements by the assistant district attorney in a bond hearing. Osei said she picked up the child and heard him "gasp for air." Osei called the police, telling them that she performed CPR on the child and attempted to remove foam that was coming out of his mouth.
No one suspected anything other than natural causes — until the toxicology and autopsy results came in. The "manner of death" was found to be "homicide."
The little boy had a total of 19 different medications in his system, the vast majority of which were prescribed for his various ailments. But there was one drug that stood out — morphine. The toxicology report revealed that Slacks had .27 mg/L of morphine, a powerful and addictive painkiller, in his body, enough to kill an adult, according to the coroner's report.
Morphine was not a drug prescribed to Kenyon.
A search of Ms. Osei's home discovered morphine, but reports on how much morphine and the location of the drug in Osei's home vary and are somewhat conflicting. A search by law enforcement of Osei's home found morphine in Osei's bathroom medicine cabinet, according to a report prepared by the Georgia Department of Human Services after the boy's death. Deputies told local news station WRDW that morphine pills, morphine sulfate, and four medical syringes were found at the home. The prosecutor at Osei's bond hearing told a judge that a bottle of morphine — 15 milligrams — was found in a table next to the bed in Osei's bedroom.
An earlier Georgia Mentor home study report in May 2014, obtained by BuzzFeed News, reveals that Mentor concluded that "no hazardous items or medications are accessible to children" and medications were stored in a "locked box and locked in the kitchen pantry" at Osei's home. The Mentor report does not specifically mention morphine.
Osei was arrested on January 15th, 2015 and indicted on two murder charges. She was denied bond soon after and remains in Richmond County Jail awaiting trial.
After the alleged murder of the three-year old, the Georgia Department of Human Services, which had hired Mentor and placed the child in the company's care, imposed a $500 fine on the firm, in part because Mentor "failed to ensure adequate supervision" of the child who died. The company had revenue of more than $1.3 billion dollars last year. When asked why the fine amount was low, Ravae Graham of Georgia's Department of Human Services replied that state law "sets the maximum limit of $500 per violation."
Magazine, the company spokeswoman, says the firm did pay the $500. Georgia State officials told BuzzFeed News that Mentor's license as a foster care contractor is currently in good standing.
In her statement, Mentor spokeswoman Magazine noted that a background check provided by the state of Georgia showed that Osei had no previous charges or convictions. Osei, a nurse, had worked with developmentally and intellectually disabled patients, Magazine said, and she had adopted a previous foster child who had complex medical issues. "The tragic death of a young child in our Georgia program in 2014 allegedly at the hands of his foster mother is nothing short of confounding," Magazine said.
Augusta District Attorney Ashley Wright declined to comment on the case citing the pending murder trial. Osei's defense attorney, Pete Theodocion did not respond to numerous requests for a comment.