Panama City Residents Struggle As They Enter Their Fifth Day Without Water Or Electricity
Residents of Panama City, Florida, have gone more than four days without running water — and no one knows for sure when it's coming back.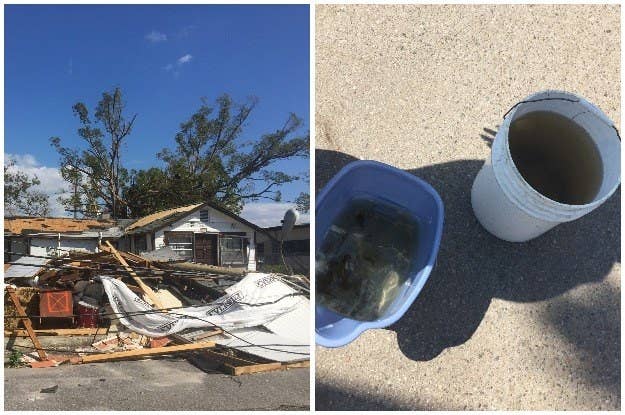 PANAMA CITY, Florida — Together they walked, mother and son, each carrying a bucket filled with muddied water from a nearby pond. Two tadpoles could be seen swimming around the swirling water. The pair stopped to catch their breath, and then continued toward the Foxwood Apartments, a residential complex in one of the most impoverished sections of Panama City, Florida.
It had been four days since Hurricane Michael made landfall as a dangerous Category 4 storm Wednesday, and Lynn and Philip Harris needed the pond water to flush their toilets. They, along with most people in Panama City, had been without electricity or running water for over 96 hours.
"How else are we going to get rid of you know what?" Lynn Harris, 54, said, slightly out of breath and perspiring in the midday Florida sun.
Her son, Philip, had arrived in town 10 days earlier to help his mother, who recently suffered a heart attack and had a stent placed in her heart.
"Can you imagine what would have happened to me if I had that heart attack now?" Lynn wondered aloud.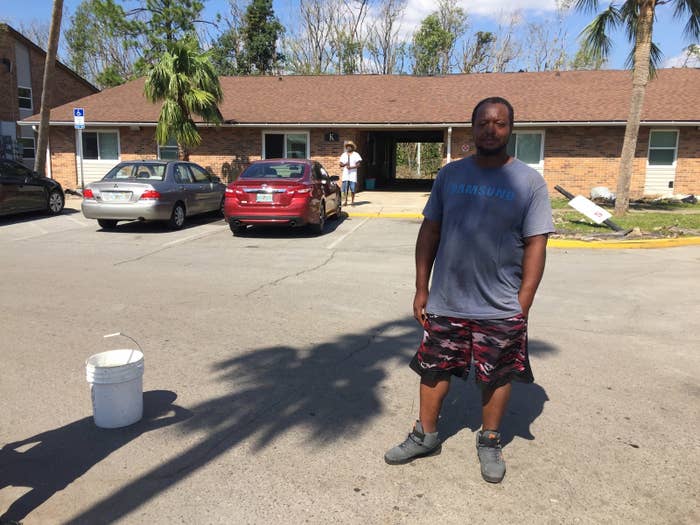 Without power, the Harris family had been forced to throw out all of the food in their refrigerator. And that was two days ago.
"Some of us have jacked up cars," Lynn said, referring to the demolished vehicles strewn around the city, with broken windows and roofs caved in from fallen trees. Exasperated by the inability to drive to get food or water, she added, "Some of us don't even have a car."
Asked if they had been visited by any government agencies, Philip said law enforcement officials had recently come by their apartment complex and provided some residents with Meals, Ready-to-Eat, or MREs, the nonperishable instant meals developed and used by the US Army.
"I know there's a lot of work to be done everywhere, but no one has even come to check on our apartments," Lynn said, adding that a woman who manages the apartments had left days ago and never returned.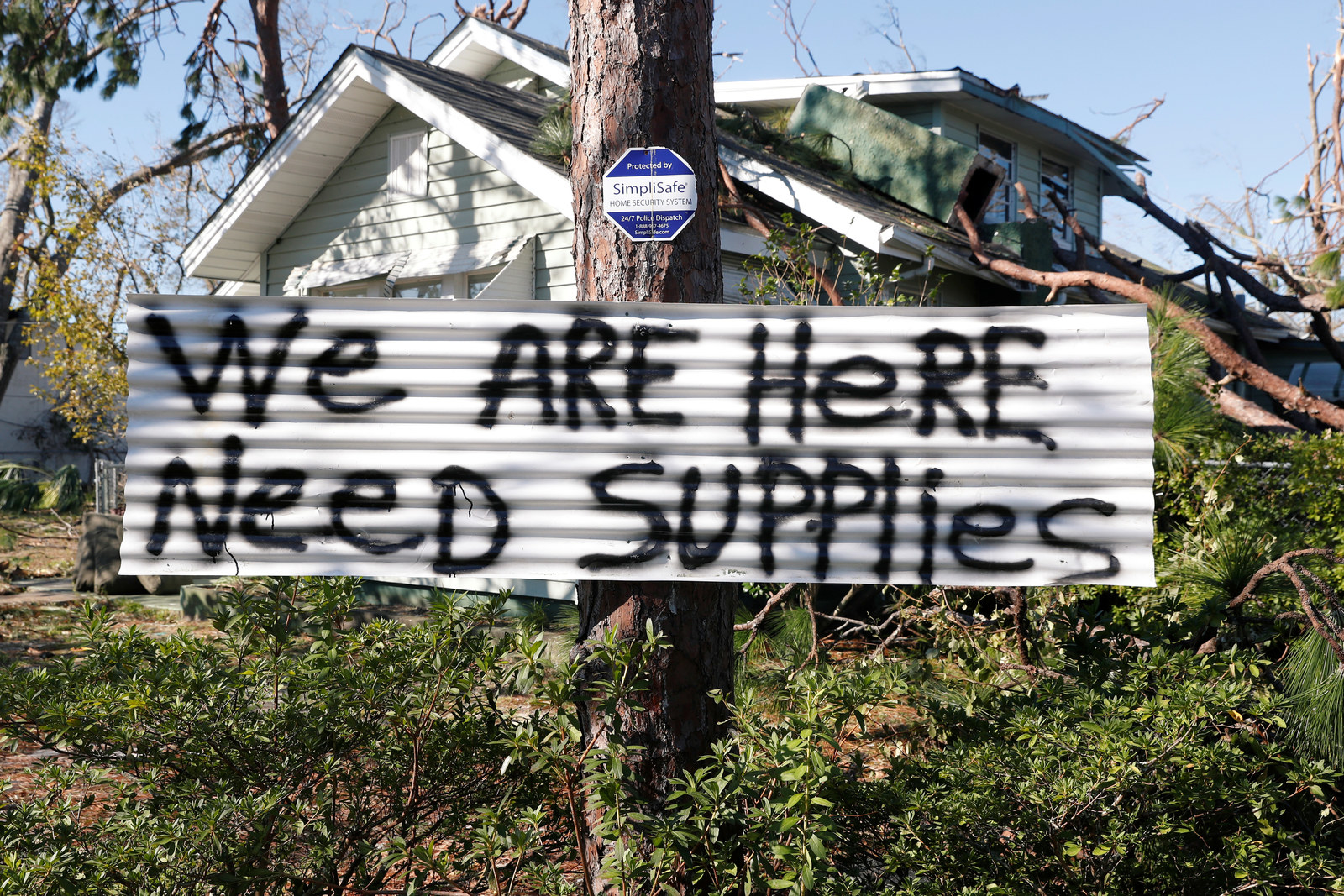 Michael made landfall just 20 miles down the Panhandle to the southeast, near Mexico Beach, where 155 mph winds and massive storm surge wiped an entire neighborhood off the map. Even as it crossed 100 miles inland, battering the Georgia city of Bainbridge, the storm maintained its Category 3 hurricane classification and its well-formed eye.
By the time Michael finally headed out to the Atlantic, its path of destruction had scarred the landscape in four states. As of Sunday, at least 18 people had been killed in connection to the storm.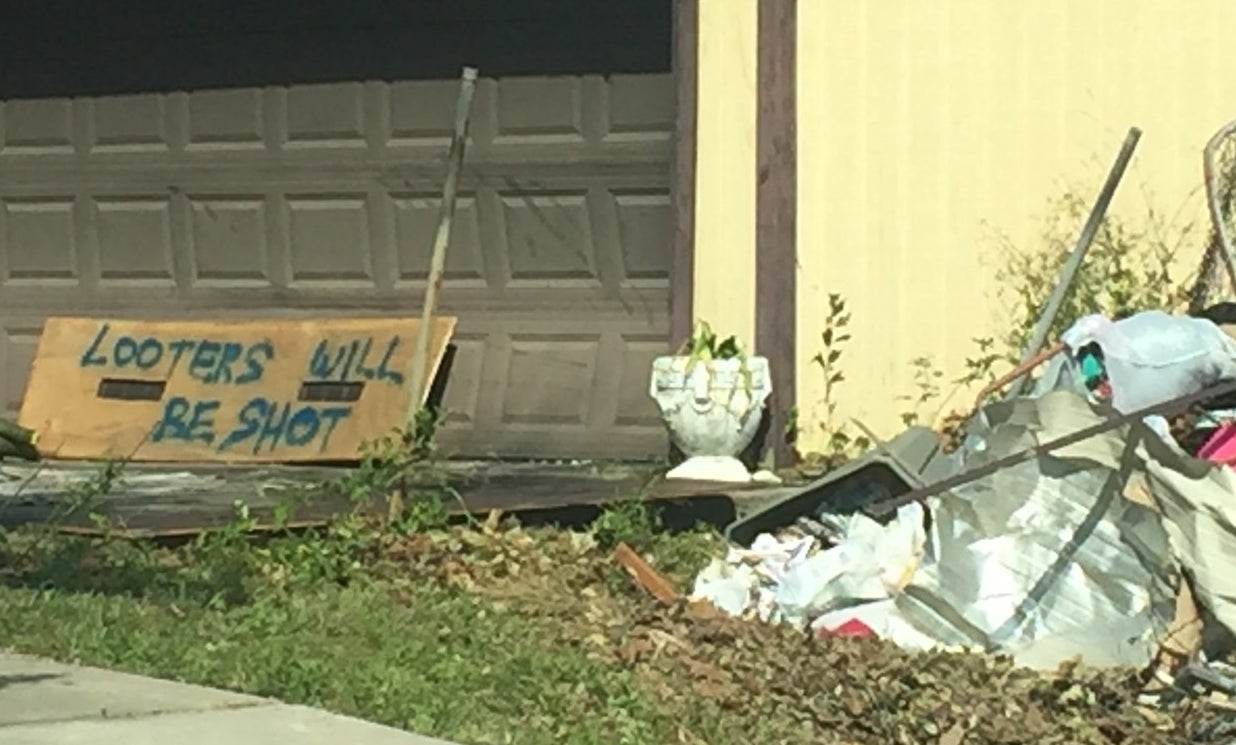 In Bay County, Florida, where Panama City is located, a 6:30 p.m. to 6:30 a.m. curfew has been in place since Michael made landfall. At two places around the city, the Florida National Guard could be seen Sunday handing out water to lines of waiting cars, a National Guardsman posted outside the distribution point with their weapon drawn.
Emergency alerts pop up on cellphones upon entering the area, showing the location of food and water distribution points. It's unclear, though, how residents who have gone without electricity since last week would receive the messages once their cellphones were no longer charged.

As of Sunday evening, 58,118 customers were still without power, according to Gulf Power. An estimated 35,000 utility workers from 26 states are in the region to help restore power, but in remote areas, electricity is still expected to remain out for weeks to come.
When asked Sunday about relief operations in the area, the Federal Emergency Management Agency sent BuzzFeed News a prepared statement from earlier in the day that stated that the agency, along with "the U.S. Coast Guard, National Guard and others … accomplished 58 evacuations, 403 rescues/assists, 3,362 shelter in place checks, and 128 animal assists."
The statement added that Florida and Georgia had 17 distribution locations to "provide meals, water and other items in areas where stores are not open or supplies are limited."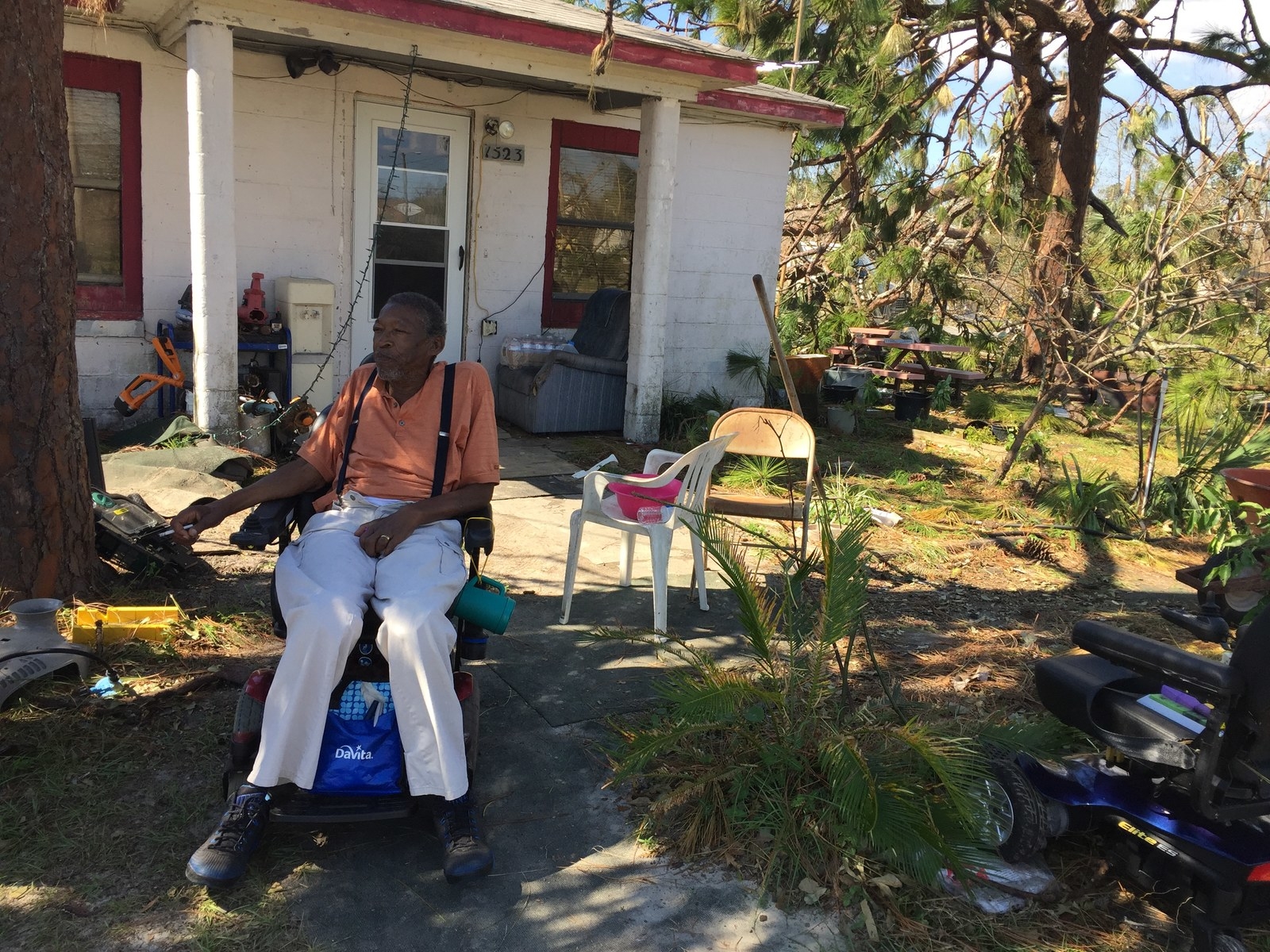 Outside his small, one-story home, seated in a motorized wheelchair, not far from the Harris family, David Spates dozed off under a tree that had split and broken branches that precariously hung from above.
The 72-year-old — who lives by himself and suffers from diabetes, which has left him with two amputated legs — has also been without water and power since Wednesday.
"I don't really have any transportation," Spates said. "My neighbors cooked up some stuff and they helped me." Just feet away from him was a still-smoking pile of ash that his neighbors had used to cook over the night before.
With no word on when water or power would be restored, Spates said he was grateful for a relief crew that had come by earlier to cut the the countless downed trees that have blocked the roads in the city.
Asked what he would do if electricity didn't return soon, Spates said he didn't know. He wondered how he would get around once his electric wheelchair ran out of its charge.
"I guess my neighbors will have to help me with that, too," he said. He had a traditional wheelchair somewhere, he added, motioning back toward his partially damaged home.