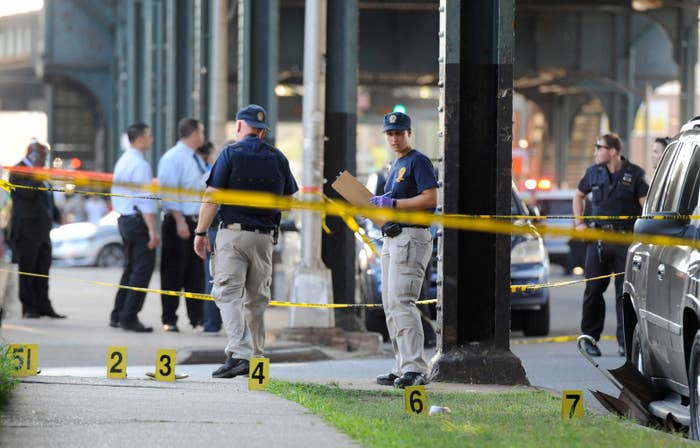 Dried blood can still be seen on the New York City sidewalk where Imam Maulama Akonjee and his associate Thara Uddin were shot on Saturday amid sweltering summertime heat.
Diagonally across from the spot where the two men fell, after being shot in the head by an unknown gunman — a suspect is in custody as of Sunday — Asif Hussain was reading a newspaper when he said he heard five shots.
"They happened really quick. When I got up, I saw that people were already starting to come to the area," Hussain, a 68-year-old immigrant from Guayana, told BuzzFeed News.
Hussain, who has lived in the Ozone Park section of Queens for over a decade, didn't see the incident, but his home's security camera did.
Security camera footage from Hussain's home, obtained by BuzzFeed News, shows the gunman approaching Akonjee and Uddin from behind on the corner of Liberty Avenue and 79th Street — just three blocks from the Al-Furqan Jame Masjid, where Akonjee was an imam.
The gunman can be seen shooting Akonjee and Uddin from behind. Both men fall to the ground within a second. The unknown gunman — whose sketch was released by the New York Police Department Sunday morning based on witness accounts — walks away.
WARNING: Some viewers may find the video disturbing.
The Ozone Park neighborhood in Queens — a diverse community that includes many Latino, Bengali, and Guyanese residents — was immediately plunged into mourning and anger, with an impromptu protest against the killings taking place on Saturday night under tracks of an elevated A train.

On Sunday, with the temperature already well into the 90s by late morning, members of the mosque where Akonjee preached for the last two years prepared themselves for a barrage of media attention.
A police car and a handful of officers, including members with the NYPD community affairs bureau, were milling about around the mosque as Badrul Khan, a prominent local Bangladeshi community member, spoke to a handful of reporters.
"I still do not believe [Akonjee] is gone. We lost one of the best imams. We're never going to replace him," Khan said, insisting that the deaths were a hate crime.
Khan said Akonjee was going to Bangladesh to visit his mother, who he said is very old and in failing health, later this month.
"Now his dead body is going there," Khan said in front of the small two-story mosque.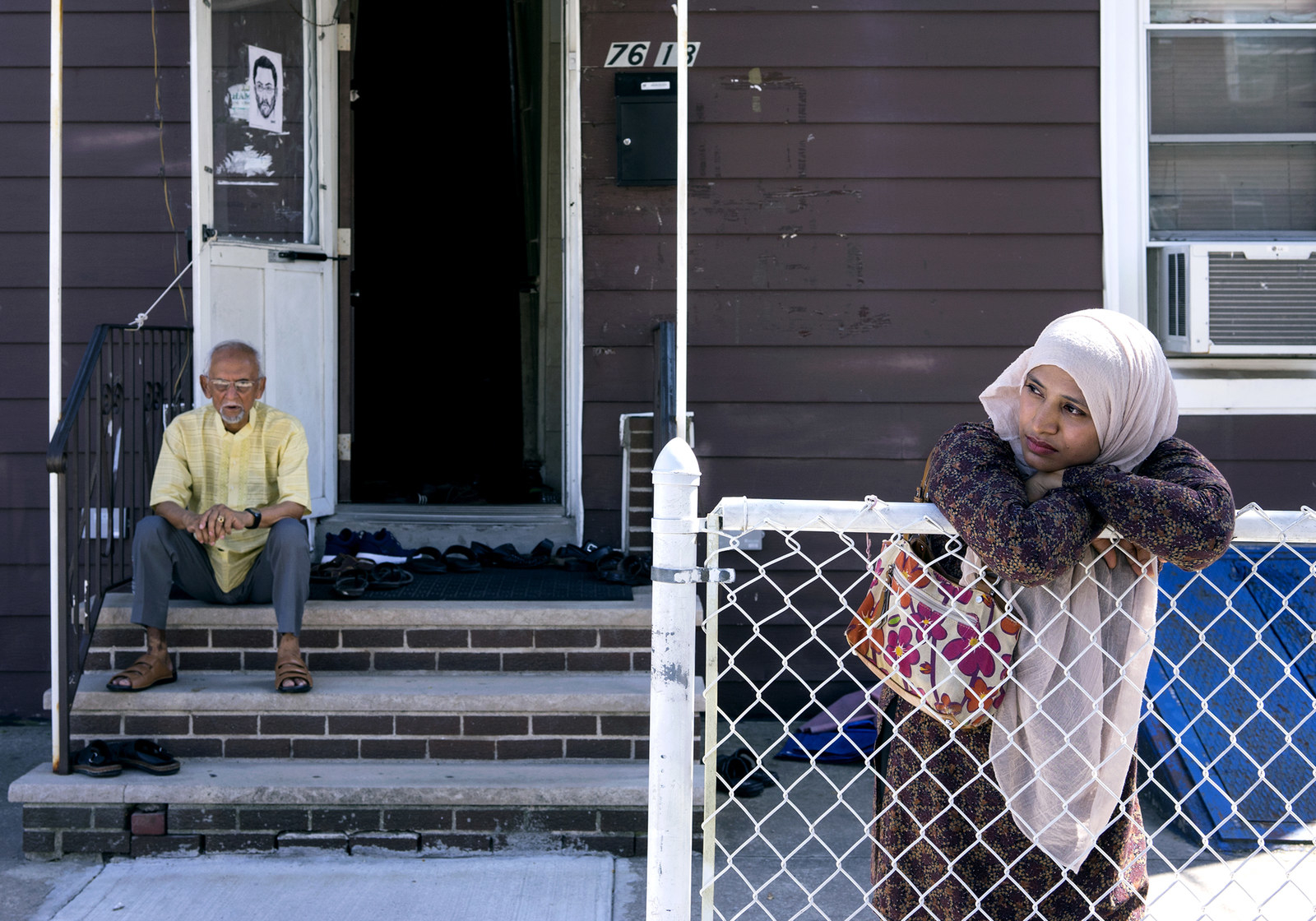 As the day wore on, preparations were made for a prayer to be held at the mosque for Akonjee and Uddin. Streams of Muslim men and women began to arrive at the mosque, where national and international media had gathered.
A mosque congregant began to tape up a printed sketch of the alleged shooter on the mosque's windowed front door.
In the sun, outside of the mosque's fence, stood Ashraf Hussain, 27, watching the day's mourning shift to frustration.
Ashraf, a Bangladeshi-American who has lived in the area for 25 years, said nothing like the attack had ever happened in the area before Saturday's shooting.
"This is what injustice is," Ashraf said of the two men's killing.
Ashraf, a local high school teacher of history, described Imam Akonjee as a quiet man who kept to himself and "minded his own business."
"Everyone really liked him," said Ashraf. "He didn't speak much English but I know he would do his duties at the mosque and go home."
Behind Ashraf, NYC Comptroller Scott Stringer, Queens Borough President Melinda Katz, and other local leaders began to speak on the steps of the mosque.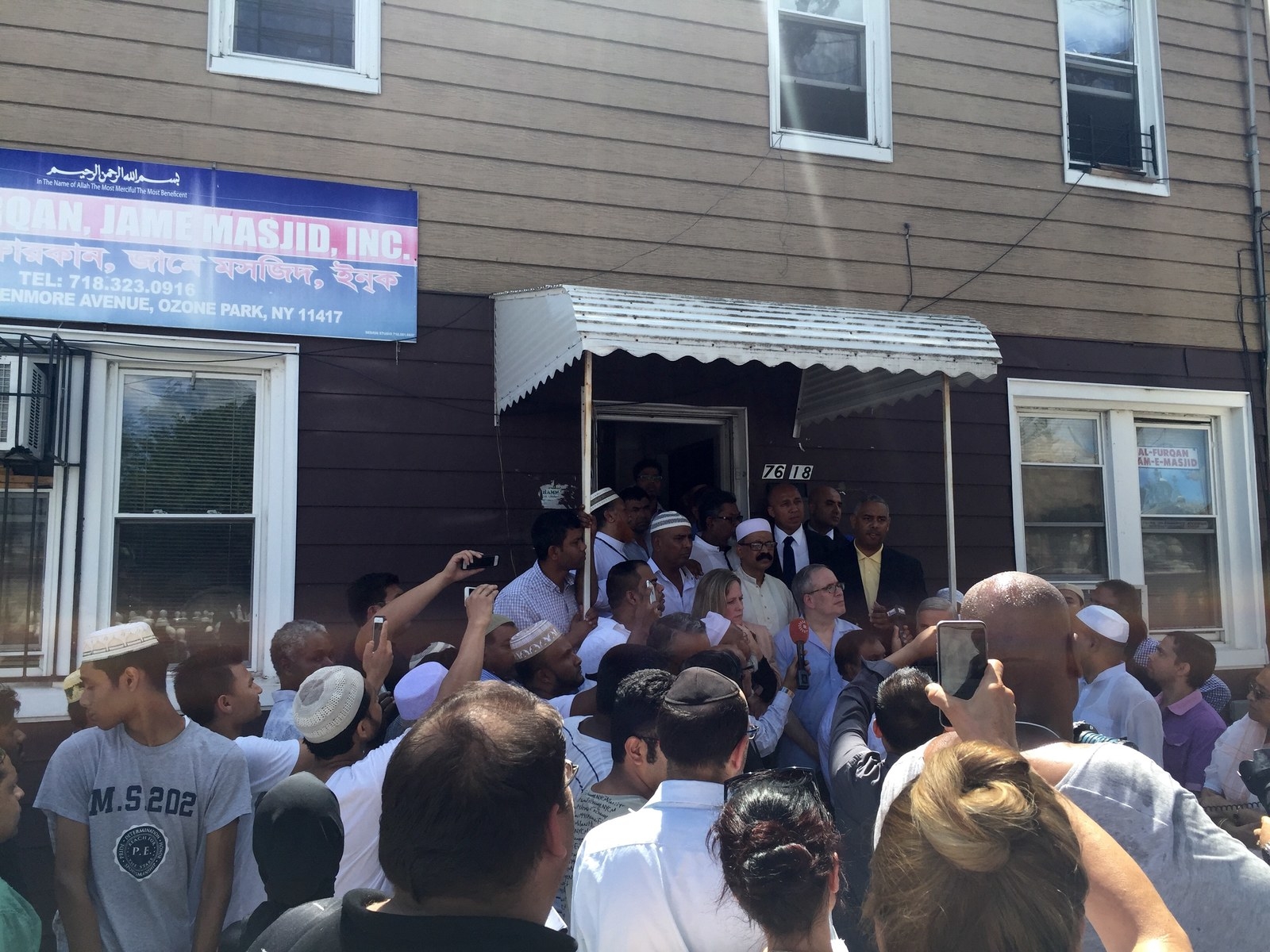 The recording of the azan — the Muslim call to prayer — could be faintly heard from speakers as they took turns speaking.
"We came here today because we stand with you," Stringer said.
A man in the crowd shouted, "We want…," to which the crowd responded in unison: "Justice!"
Yusif Ali, a 35-year-old maintenance worker and a 13-year resident of Ozone Park, stood and watched the speeches from a distance before the afternoon prayers.
"I would see [Akonjee] every night when I used to come for Ramadan prayers," Ali said, referring to the Muslim holy month where Muslims fast from sunrise to sunset.
"He was such a good man — a pious man. I came here to pray for him," Ali said, as he waited for the impromptu press conference to finish.