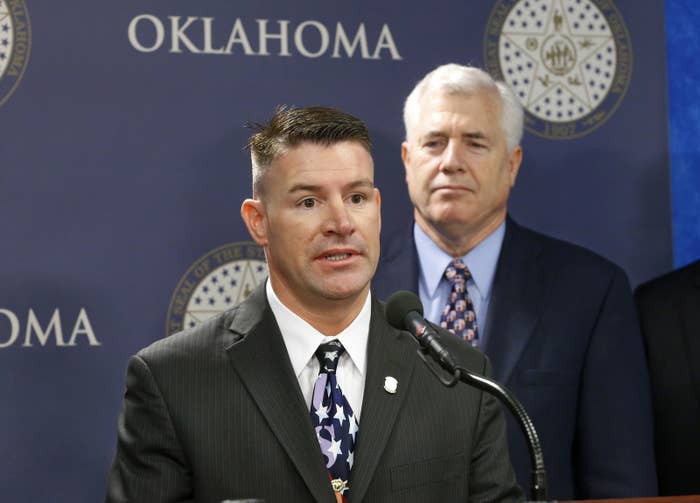 An Oklahoma lawmaker who once called Islam "a cancer in our nation that needs to be cut out" has now successfully proposed an interim study to determine the threat and effect of radicalization.
Republican State Rep. John Bennett submitted a proposal to study the "current threat posed by radical Islam and the effect that Shariah Law, the Muslim Brotherhood and jihadist indoctrination have in the radicalization process in Oklahoma and America."
State lawmakers approved the proposal July 8, along with 71 other studies, for an estimated $50,000, Tricia Pemberton, spokeswoman for the Oklahoma House of Representatives, told BuzzFeed News.
In June, an interfaith coalition of over 60 reverends, Muslim imams, community organizations, citizens, and interfaith leaders, wrote an open letter asking Oklahoma House Speaker Jeffrey Hickman to reject Bennett's study, which they called "fiscally irresponsible, potentially counterproductive, and ultimately unnecessary."
The Rev. Bob Lawrence, executive director Interfaith Alliance of Tulsa, signed the letter and told BuzzFeed News his primary reason for opposing the study was the waste of taxpayers dollars because federal resources already address similar issues.
"The cost is appalling, especially when you consider that we can't afford to put more teachers in the classroom," Lawrence said. "If we want to look at radicalization, focusing in on one group will lead to more stereotyping and Islamophobia. Especially here in Oklahoma, there's plenty of radicalization that one can find outside of the Muslim tradition."
The letter Lawrence signed points out that the Southern Poverty Law Center has identified 17 hate groups in Oklahoma that ascribe to different "ideologies, religions, and backgrounds." Those organizations "need to be part of any meaningful analysis of how to understand and counter radical extremists," the letter adds.
"Focusing on possible radicalization within only one group may be counterproductive and encourage the very radicalization officials intend to prevent," the group adds.
Bennett, a former U.S. Marine who served in Iraq and Afghanistan, was not immediately available for comment. But his proposal referenced the 2014 workplace beheading of a 54-year-old woman by Alton Nolan, a recent Muslim convert after he was fired from his job, as a justification for the proposal.
Bennett also referenced the Ft. Hood, Texas, shootings in 2009, and the San Bernardino shootings in December.
The position of some in government that these terrorist attacks were merely "workplace violence" is an response that satisfies few. Further, with the potential threat of terrorists infiltrating America from the southern border and from undocumented refugees from foreign, war-torn countries, it is time for our leaders to understand radical Islam and how American citizens are being radicalized here in Oklahoma as well as the rest of America.
Bennett made national headlines in 2014 when he made anti-Islam comments on social media and later double down, saying Islam is a "cancer in our nation that needs to be cut out," adding that there is no difference between moderate and radical Islam.
"How can I be racist against Muslims or Islam when the ethnicity is actually Arab?" Bennett said at the time, adding, "This is kind of confusing."