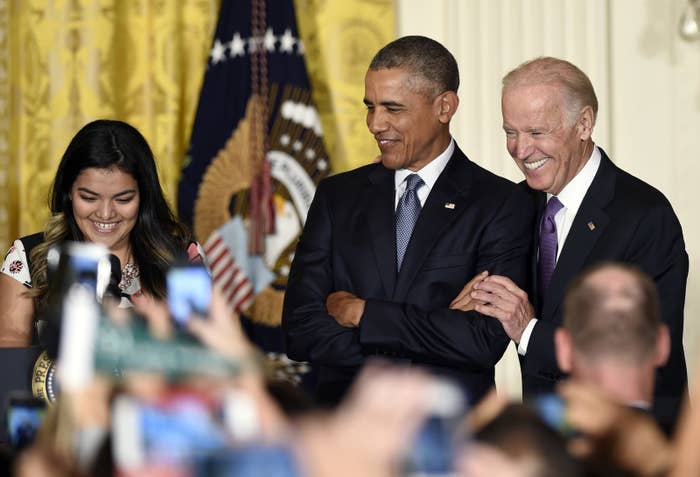 Former President Obama on Tuesday slammed plans to phase out deportation protections for undocumented immigrants who were brought to the US as children "wrong," "self-defeating," and ultimately, "cruel."
"To target these young people is wrong – because they have done nothing wrong," Obama wrote in a Facebook post hours after Attorney General Jeff Sessions announced plans to end the Deferred Action for Childhood Arrivals program, or DACA. "It is self-defeating – because they want to start new businesses, staff our labs, serve in our military, and otherwise contribute to the country we love. And it is cruel."
In June 2012, Obama used executive action to provide temporary protection from deportation to undocumented immigrants who were brought to the US as children. There are an estimated 800,000 DACA beneficiaries who are commonly referred to as "DREAMers."
Obama acknowledged in his statement that while immigration can be a "controversial topic," all Americans "want safe, secure borders and a dynamic economy" and can have "legitimate disagreements about how to fix our immigration system."
"But that's not what the action that the White House took today is about," Obama wrote.
This is about young people who grew up in America – kids who study in our schools, young adults who are starting careers, patriots who pledge allegiance to our flag. These Dreamers are Americans in their hearts, in their minds, in every single way but one: on paper. They were brought to this country by their parents, sometimes even as infants. They may not know a country besides ours. They may not even know a language besides English. They often have no idea they're undocumented until they apply for a job, or college, or a driver's license.
Obama went on to argue that dismantling DACA is "contrary to our spirit," and "to common sense." He urged members of Congress to protect DACA beneficiaries and disagreed with the Trump administration's claim that ending the program will provide more jobs for those in their age group.
"Kicking them out won't lower the unemployment rate, or lighten anyone's taxes, or raise anybody's wages," Obama wrote.
This is the second time the former president has released a statement since Trump took office in January — the first was to defend his signature Affordable Care Act.
"Ultimately," Obama wrote on Tuesday, "this is about basic decency. This is about whether we are a people who kick hopeful young strivers out of America, or whether we treat them the way we'd want our own kids to be treated. It's about who we are as a people – and who we want to be."

He concluded his statement by saying being American isn't about "what we look like, or where our names come from, or the way we pray," but instead, the belief that "all of us are created equal" and "deserve the chance to make of our lives what we will."

"That's how America has traveled this far. That's how, if we keep at it, we will ultimately reach that more perfect union."