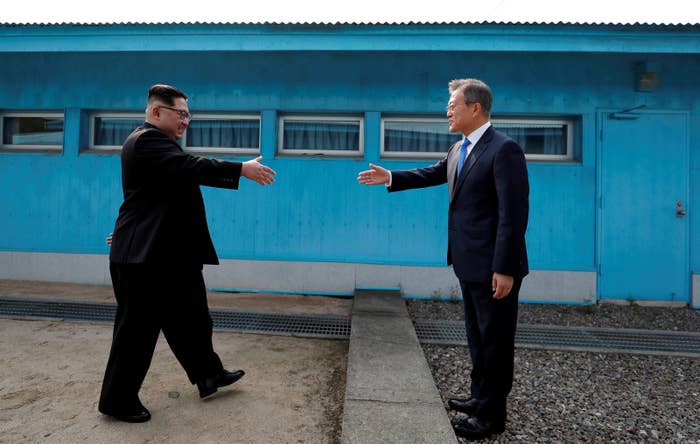 A North Korean official on Wednesday threatened to cancel what was set to be an unprecedented and historic meeting between President Donald Trump and Kim Jong Un, saying that it is not interested in a meeting focused solely on denuclearization.
In a statement Wednesday, North Korea's vice foreign minister Kim Kye Gwan said that the country would reconsider the summit if the US insists on making a "one-sided demand" that Pyongyang give up its nuclear weapons.
"We will appropriately respond to the Trump administration if it approaches the North Korea-U.S. summit meeting with a truthful intent to improve relations," Kim said in the statement, published by North Korea's state-run news agency KCNA. "But we are no longer interested in a negotiation that will be all about driving us into a corner and making a one-sided demand for us to give up our nukes."
The statement accused the US of "trying to impose our dignified state the destiny of Libya or Iraq," taking specific aim at White House National Security Advisor John Bolton, who has said the White House is considering a "Libya model" for nuclear disarmament.
The North Korean regime has, perhaps understandably, rejected the comparison. Libyan dictator Muammar Gaddafi was killed in 2011 after agreeing to give his country's chemical weapons, and dismantling nuclear and chemical weapons programs.
"It is absolutely absurd to dare compare the DPRK, a nuclear weapon state, to Libya which had been at the initial stage of nuclear development," Kim said in his statement Wednesday.
However, the statement stopped short of declaring that North Korea would pull out of its planned meeting with the US, which is scheduled to take place on June 12 in Singapore.

The news followed reports Tuesday that North Korea had canceled scheduled talks with South Korea — a day before the two countries were set to meet. According to North Korea's Central News Agency, the talks were cancelled in response to military drills currently being conducted by the US and South Korea, which North Korean officials called a "provocation."
In Washington, the US State Department said Tuesday that it had not heard directly that North Korea was considering pulling out of next month's talks.
"We have not heard anything from that government or the Government of South Korea to indicate that we would not continue conducting these exercises or that we would not continue planning for our meeting between President Trump and Kim Jong-un next month," State Department spokesperson Heather Nauert said.
"Let's not get ahead of ourselves," she added. "We need to verify it."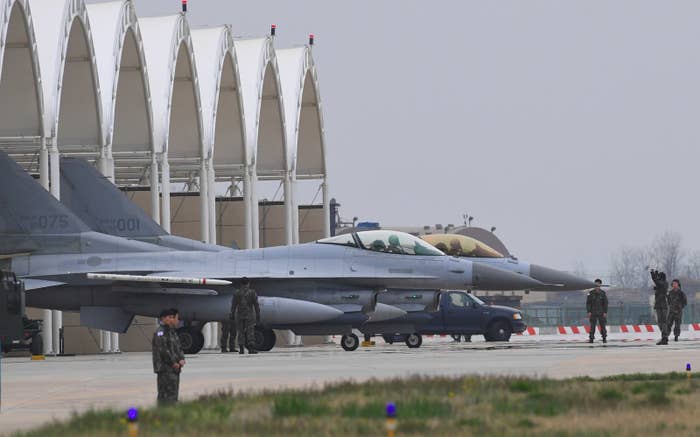 Following the release of Kim's statement regarding the US talks Wednesday, the State Department declined to comment, and referred BuzzFeed News to a statement released earlier by White House Press Secretary Sarah Huckabee Sanders.
"The United States will look at what North Korea has said independently, and continue to coordinate closely with our allies," that statement read.
Talks between the two Koreas were scheduled for Wednesday, a follow-up to the historic meeting last month between North Korean leader Kim and South Korean President Moon Jae-in along the Demilitarized Zone.
But North Korea reportedly decided to cancel the meeting because of a military exercise, known as Max Thunder, which began Monday and will continue through May 25. According to KCNA, North Korea has declared the exercise "a deliberate military provocation to the trend of the favorably developing situation on the Korean Peninsula."
Col. Rob Manning, a Pentagon spokesperson, said the exercises were "recurring," "annual," and "routine," and said the purpose of the training was to "maintain a foundation of military readiness."
"While we will not discuss specifics, the defensive nature of these combined exercises has been clear for many decades and has not changed," Manning said. Last year's exercise involved 80 aircraft and around 1,500 military personnel.
The sudden cancellation of talks comes after a thaw in decades-long hostilities along the Korean peninsula, and between the US and North Korea. Just last week, momentum for Trump's summit with Kim Jung Un seemed to be picking up steam, following the release of three Americans who had been detained in North Korea, and the selection of Singapore as the site for the meeting.
Grace Wyler contributed reporting from Los Angeles.