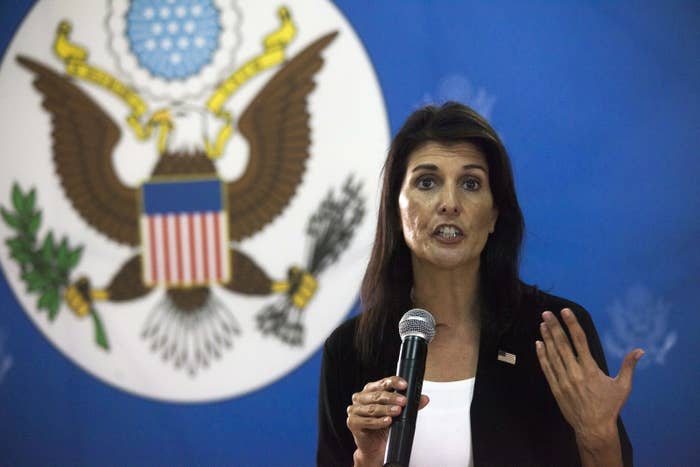 In an interview on Sunday, Nikki Haley, the US ambassador to the United Nations, said that the women who have accused President Trump of sexual harassment and misconduct "should be heard" or "dealt with."
Her statement is a departure from the White House's official stance. In October, press secretary Sarah Huckabee Sanders said all of Trump's accusers — more than a dozen women — are lying.
Discussing the recent wave of allegations of sexual misconduct in industries including entertainment and politics on CBS's Face the Nation, Haley she was "incredibly proud of the women who have come forward."
"I'm proud of their strength. I'm proud of their courage. And I think that the idea that this is happening, I think it will start to bring a conscience to the situation, not just in politics, but in, you know, we've seen in Hollywood and in every industry," Haley, the former governor of South Carolina said. "And I think the time has come."

"Given that consciousness, how do you think people should assess the accusers of the president?" asked the show's host, John Dickerson.
"Well, I mean, you know, the same thing, is women who accuse anyone should be heard," Haley responded.
"They should be heard and they should be dealt with," she continued. "And I think we heard from them prior to the election. And I think any woman who has felt violated or felt mistreated in any way, they have every right to speak up."