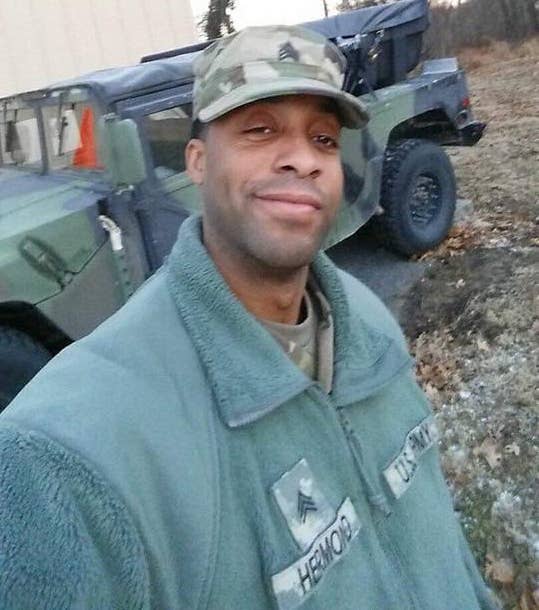 A body found Tuesday after fast-moving water flooded Maryland's Ellicott City earlier in the week was confirmed to be Eddison Hermond, a member of the National Guard and an Air Force veteran who was last seen trying to save a shopkeeper.

Howard County Police confirmed Tuesday afternoon that a body found earlier in the Patapsco River was Hermond, 39. He was last seen around 5 p.m. Sunday on Main Street, Howard County Police said over the weekend.
"He was trying to save me," Kate Bowman, who owns Clipper's Canine Cafe on Main Street, said to the Baltimore Sun. Bowman said Hermond was attempting to save her and her cat from a window when he was "washed away."
"He's a hero," Bowman said.

"We're all heartbroken and not a hundred percent surprised," said Bonnie Hoppa, an acquaintance of Hermond who initially put together a Facebook post about his disappearance. "Chances were going down and down and down after the first 24 hours passed."
Hoppa had been in touch with Hermond's close friends and family, including members from his National Guard unit and the person who initially filed a missing person report with the police.
Hermond's friends have begun to organize a gathering to honor him.
"A place to come leave and share your love for Eddie Hermond, who was swept away in the Ellicott City flood this weekend. Light from above, light from below, face the river and call him back home," the post reads.
In his last post on Facebook published on the Friday before Memorial Day Weekend, Hermond urged people to stay positive and to "get the hate out of our hearts."
The gathering will be this evening at the garden at the corner of Oella Avenue and the Patapsco River Main Street bridge.

Main Street in Ellicott City was also hit by flash floods in 2016.