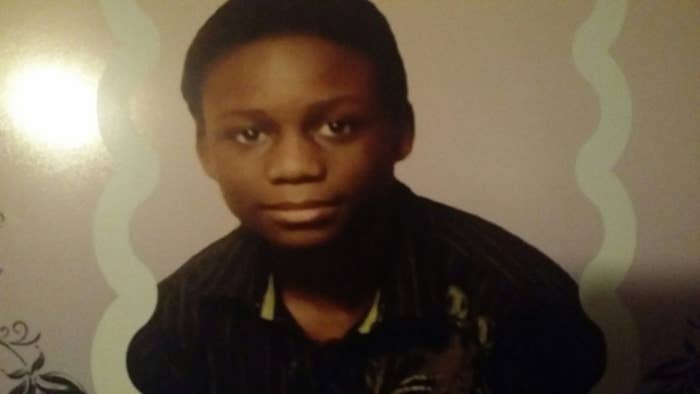 More than a month after going missing in late November 2016, the body of an American Muslim teenager was found hanging from a tree near his home in Lake Stevens, Washington.
The death of Ben Keita, 18, was initially ruled a suicide.
But the Snohomish County medical examiner changed their ruling to uncertain after the teen's father, Ibrahima Keita, insisted his son was happy, not suicidal.
"No history of depression, anxiety, any psychological breakdown at all, so he was a very happy young man," Ibrahim Keita said at a press conference on Tuesday.
The medical examiner gave four reasons for the classification change. A search team with a K-9 unit was unable to find his body when the area was previously searched. Six weeks went by in between Keita's disappearance — he went missing without personal items such as his cell phone, car or wallet — and his body being found, weeks after search and rescue combed the area. The tree from which the rope was hung, was "very high," up to 50 feet.
The last reason stated in the medical examiner's report was Keita's "lack of any reported suicidal ideation or attempts."
"Undetermined," the medical examiner's office wrote, "is a manner of death that may be utilized...whenever two competing, equally likely manners are present."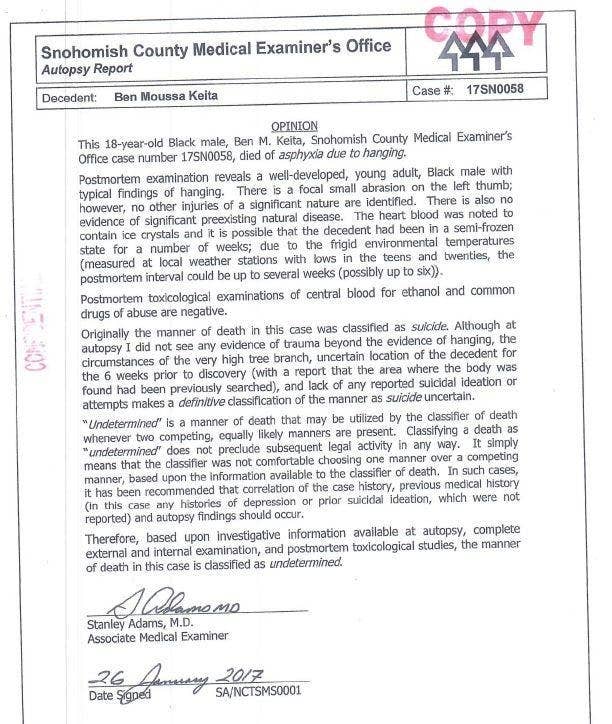 Arsalan Bukhari, executive director of the Seattle chapter of the Council on American-Islamic Relations, a Muslim American civil liberties organization, along with Keita's family and interfaith leaders, urged the FBI to review the case at a press conference on Tuesday.
In a statement on Wednesday, the FBI said it is reviewing Keita's death.

"We are aware of circumstances of the individual's death and will review them with consideration of federal law. If warranted, we may conduct further investigation. A review does not necessarily result in the opening of an investigation," the Seattle field office for the FBI said.
Keita's family said four co-workers were not interviewed before the Lake Stevens police closed the investigation into the young man's death, according to KIRO 7. The police department said they investigated the case, and closed the case only last week.
Bukhari said the family decided to request a further investigation into the teen's death after numerous instances where the family felt certain aspects of the the case were investigated only after they repeatedly visited to the police station.

"To be clear we don't know what happened but we want a comprehensive investigation into his death," Bukhari told BuzzFeed News. "This is the death of an African-American Muslim male teenager, and historically, we have had deaths in this manner to minorities that were not self inflicted — it had been inflicted by others."
"Today we are careful not to rush to judgment," said the Rev. Kelle Brown, of the Plymouth Congregational Church in Seattle, at the press conference. "Historically lynchings were often deemed quickly as suicide without the benefit of thorough inquiry," she added.
"He was planning to graduate this year from Lake Stevens High School," Ben Keita's father said, according to Seattle radio station KUOW. "He was already in the Running Start program at Everett Community College and he was dreaming of becoming a medical doctor and work as a medical examiner. Now those dreams are over."