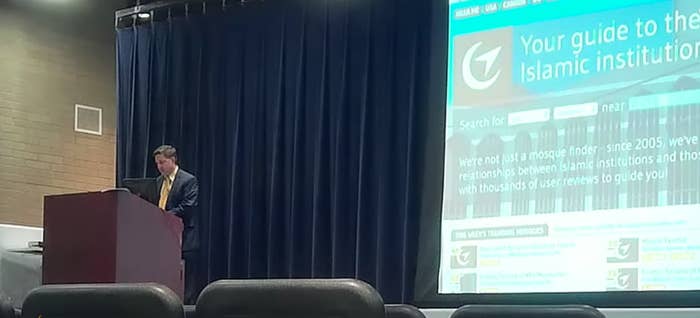 An ex-FBI agent and anti-Muslim conspiracy theorist and his associate conducted a publicly funded counterterrorism training session with Arizona law enforcement officers last year, telling the audience that all mosques are partly "military outposts" and that former president Barack Obama possibly committed "treason" for speaking with a US-based Muslim organization, among other unfounded statements.
John Guandolo has a long, documented history of making disparaging statements and broad generalizations about Muslim Americans. He started his organization, Understanding the Threat, and traveled the country to train state and local law enforcement officials after he resigned from the FBI in 2008 after accusations of alleged inappropriate conduct.
But the precise statements made during the sessions have been largely unknown, until now.
Undercover footage of Guandolo's remarks were provided to BuzzFeed News by Al Jazeera, as part of its research for its recently aired documentary, Islamophobia Inc.
Al Jazeera's footage shows that Guandolo and his group's then-vice president, Chris Gaubatz, promoted false conspiracy theories to police officers, detectives, and other law enforcement officials during the Arizona training. The false conspiracy theories have been spread by far-right anti-Muslim groups for years and sometimes seep into common discourse.
The training sessions shown in the Al Jazeera documentary revealed that Guandolo and his associates claimed Muslim student associations around the country recruit people for "jihad"; explained Islamic, or Sharia, law by showing videos of executions and stonings; and claimed that over 50% of mosques "advocated the use of violence through the use of Sharia."
But unaired footage reviewed by BuzzFeed News revealed additional claims, including comments that all mosques are partly military outposts, that Obama had committed treason for speaking to a Muslim organization, and that Middle Eastern study programs at US universities are funded by "Global Jihad." Guandolo also questioned if systemic racism toward African Americans exists.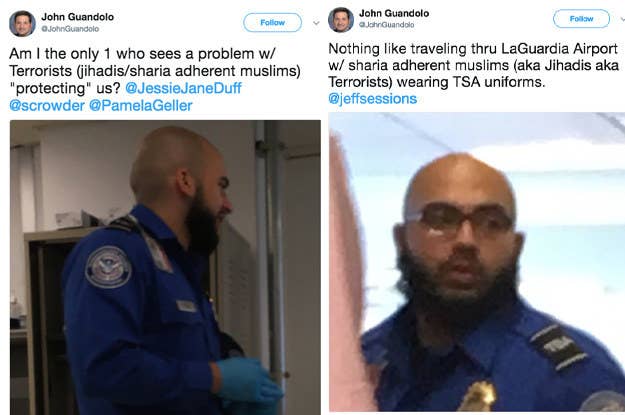 Guandolo has strong ties with well-funded anti-Muslim groups like the Center for Security Policy and ACT for America — once fringe elements of the extreme conservative movement that have recently risen to prominence in the Trump era. These groups have alleged for years that Muslim Americans are subverting US laws through the practice of Sharia and that it would replace or supersede the laws of the land — a baseless conspiracy theory.
Sharia — often used as a fear-inducing term associated with anti-Western beliefs — is a religious code of conduct, similar to those adhered to in other Abrahamic religions.
During the three-day training session hosted by Arizona Police Association in Mesa in May 2017, Gaubatz told the audience to "think of a mosque as a mixture of an embassy in the sense that that is land that is considered to be Islamic land."

"A military outpost, an Islamic university or school and a house of prayer all wrapped into one. That's what a mosque is. Any questions on that?" Gaubatz said at the session, which was paid for by the Arizona Police Association using a total of $28,000 obtained from federal RICO cases for two different three-day training sessions in Arizona. That money was provided to the Arizona Police Association by the Maricopa County Attorney's Office as a grant. A spokesperson for the Attorney's Office said it "does not coordinate the scheduling or approve the curriculum for training on behalf of the grantees."

Gaubatz didn't return a request for comment.
In a written response to BuzzFeed News, Guandolo claimed that "Mohammad used the mosque as the center of the government and community to adjudicate sharia, hold community events, store food/weapons, house and train jihadis, plan battles, and was the place from which battles were launched." He also said mosques in Iraq and Afghanistan, in addition to the US and Europe, were used to store weapons and "house jihadis." He also incorrectly cited the details of a federal case — of a mosque the FBI raided in Detroit in 2009 — that he claimed proved his point.
At another point in the training sessions, Guandolo played Obama's 116-second video message to Islamic Society of North America for its 50th anniversary.

"Can anybody say treason here?" Guandolo said after the clip.
"That's the President of the United States openly, in a White House produced video supporting the largest Muslim Brotherhood organization that the DOJ said funds Hamas, a designated terrorist organization," Guandolo continued. "Maybe treason's the wrong word, maybe a material support [for terrorism] law? Aiding and abetting? Somebody? Sorry if that makes you uncomfortable."
Several anti-Muslim conspiracy theories involve the belief that the Muslim Brotherhood — the oldest political Sunni Islamist group that began in Egypt and has since spread to many Arab nations — is actually infiltrating every aspect of Muslim American society with nefarious intentions. There were unfounded allegations that Hillary Clinton's top aide, Huma Abedin, was a member, for example.
Guandolo later said — a claim he has made in the past — that the only two Muslim members of Congress, Democratic Reps. Keith Ellison and Andre Carson, had deep connections with the Muslim Brotherhood. Guandolo said that because Ellison and Carson spoke at or attended events with members of Muslim American organizations like CAIR or Islamic Society of North America, it was as evidence of a connection to the Muslim Brotherhood.
"He is a snake oil salesman, this stuff is toxic," said Ellison said of Guandolo in the Al Jazeera documentary. "He's a poison salesman. You don't want a law enforcement community infected with these hateful ideas because they do have the power to deploy deadly force."
In his written response to BuzzFeed News, Guandolo said Obama had "provided hundreds of millions of dollars (at a minimum) to the nation state of Iran which is a state sponsor of terror in violation of U.S. law" and as such, fulfilled "the statutory requirements to indict for sedition and treason."
Guandolo also suggested that Middle East study programs in the US, particularly at Harvard and Georgetown, were compromised because of their donations from a Saudi prince, Prince Alwaleed bin Talal.

"Now that you understand Sharia, you understand the network a little bit, I wanna break this down for you. Sharia. I want you to look at this for a second," Guandolo said while putting up a slide showing a promotional ad for Georgetown's Muslim-Christian Understanding program in the School of Foreign Service.
"It's a promotion for Prince Alwaleed Bin Talal's studies program. Prince Alwaleed Bin Talal is one of the richest men on the planet, he's a Saudi prince. He's one of the largest individual funders of the Global Jihad. He's funded CAIR to the tune of millions of dollars. And he funds the Center for Muslim-Christian Understanding at Georgetown, which we thought used to be a Catholic University, apparently it's not," Guandolo said.
In 2005, Alwaleed donated $40 million to Georgetown and Harvard in order to bridge "the understanding between East and West is important for peace and tolerance," Alwaleed said in a statement at the time.
"The Middle East Studies Programs in colleges in the United States is controlled by our enemy. How's that for clarity?" Guandolo said.
John L. Esposito, a professor and the founding director of the Georgetown program, told BuzzFeed News that Guandolo is a "well known anti-Muslim activist" that was unable "to find a better job" and described the remarks as "false." He went on to say, "No credible person nor American agency like the FBI" has ever said Alwaleed was "one of the largest individual funders of the Global Jihad."
The department's head, Jonathan Brown, told BuzzFeed News, "It was a one-time endowment with no strings attached...It's also worth noting that Prince Alwaleed is a private businessman. You don't have to go very far down on google to find out that he and the Saudi government don't always see eye to eye."
Harvard didn't respond to a request for comment.
In his written response, Guandolo reiterated his claims.
Guandolo also addressed the Black Lives Matter movement in his training sessions — and eventually came to question if systemic racism in America toward African Americans actually exists.

His evidence that racism doesn't exist is Obama's two presidential election wins and that some black athletes in professional sports are highly paid.
"Didn't America just elect a black president? How many black athletes are there in the United States making millions of dollars every year?" he said. "Is there a school in the United States that black people are not allowed to attend because they're black? Is everyone with me? Does that mean there are people in America that are...that are...uh, uh…does it mean there are people in America that are not racist? No. Of course not, they're human beings. We have 300 million people here, there are some turds. Right? But to call America systemically racist is not...it's not."
Guandolo told BuzzFeed News that "Racism and a study of racism is not a part of UTT's programs or training."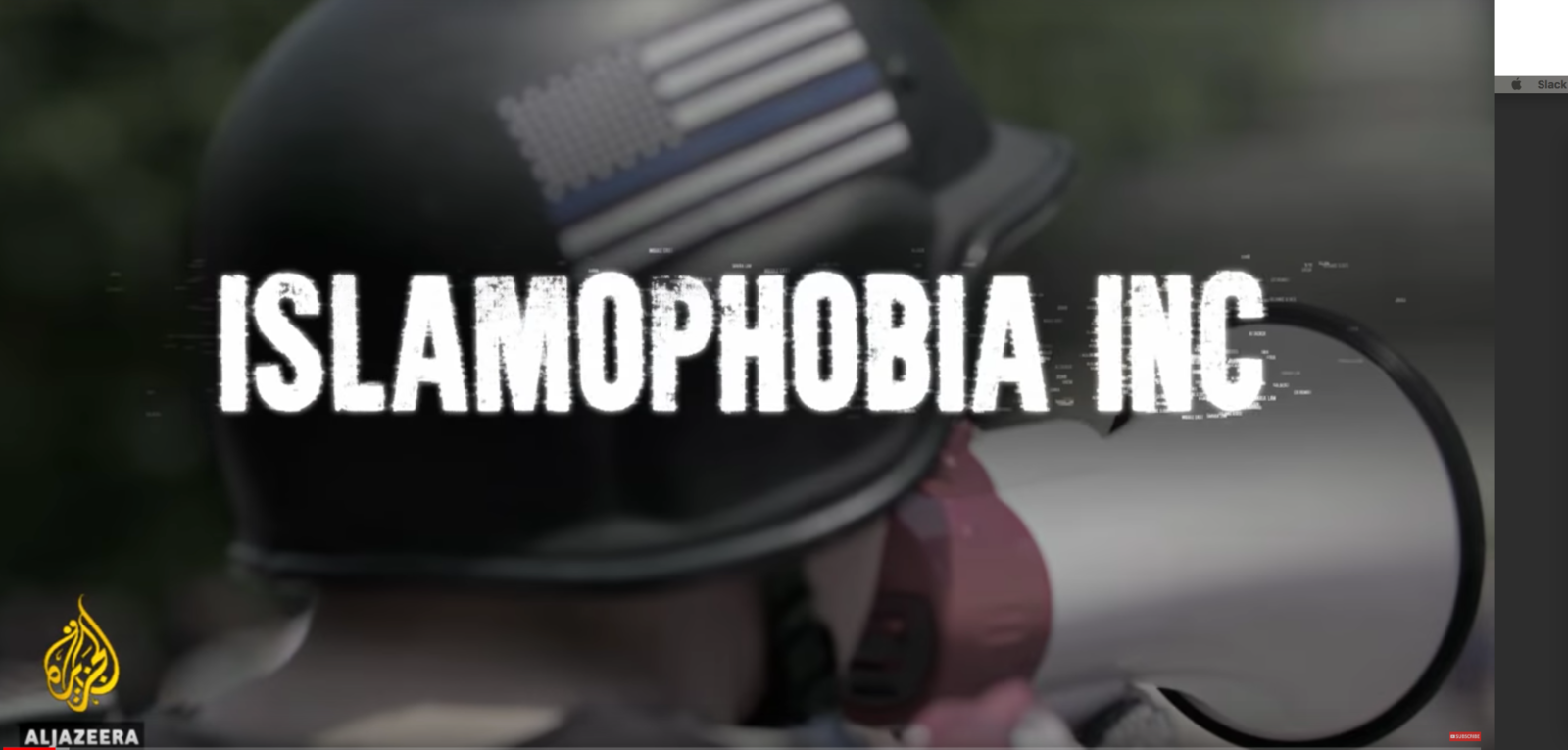 The Al Jazeera documentary, led by its investigative unit, took over a year to make and takes a look at a group of tightly knit and increasingly influential anti-Muslim groups operating in the US.
The documentary aired footage of Guandolo telling the Arizona officials that he spoke to US Attorney General Jeff Sessions three to four times a week, "up to the election and after the election." He also said Muslim student associations, including those in Arizona, were active places of terrorist recruitment.
"All your major universities here in Arizona have Muslim student associations," he said. "Those are places where they're recruiting. They're doing Da'wa, meaning the call to jihad, the call to Islam, one and the same." Da'wa, or Dawa, has several meanings in Arabic but is generally understood to be preaching or proselytizing Islam.
Later, the documentary shows Guandolo claiming that the Council on American-Islamic Relations, a Muslim advocacy organization, "as a matter of fact, legal fact, is a member of the Muslim Brotherhood," and is specifically, a member of Hamas. This is false.
The Arizona Police Association, which held the training, also didn't respond to questions including whether its officers use Guandolo's teachings while performing their daily duties and while interacting with the public.

But last year, in a response to a request by the Council on American-Islamic Relations for the APA to reconsider the training sessions by Guandolo, the executive director of the APA wrote the following:

"The APA respectfully declines to acquiesce to your proposition. However, we would like to explore your accusations during a full, complete sworn deposition here in Arizona. Please voluntarily report to the Maricopa County Attorney's Office at 301 West Jefferson on TBD where law enforcement will conduct a complete and thorough interview."
"What right does this guy have to demand that I go and be interrogated?" Ibrahim Hooper, CAIR's communication director, who was the recipient of the APA email, told the Phoenix New Times.
And Imraan Siddiqi, the director of CAIR's Arizona chapter, told BuzzFeed News, "It is a matter of public record that these trainings are laden with debunked conspiracy theories and outright lies — yet we find police departments and other law enforcement agencies still dishing out egregious sums of money to be trained by this guy."
Guandolo continues to train local and state law enforcement across the country.
But on May 4, Guandolo held a seminar in San Angelo, Texas, titled "Understanding the Jihadi Threat to America." According to the Texas Observer, the Texas Commission on Law Enforcement (TCOLE) first considered counting the seminar as continuing education credits for law enforcement officers who were in attendance.
But after pressure from civil rights advocate groups — such as Muslim Advocates and the Southern Poverty Law Center — TCOLE took a closer look at the training, and executive director Kim Vickers wrote in a letter that she determined that "not only was the material presented concerning in its overly broad characterization of an entire subset of the population, but it provided no training value for law enforcement attendees."