County Places Moratorium On New Religious Buildings After Learning Of Muslim Cemetery
People erupted in applause when commissioners in Newton County in Georgia unanimously voted to place a moratorium any new religious structures after learning of a plan to build a Muslim cemetery.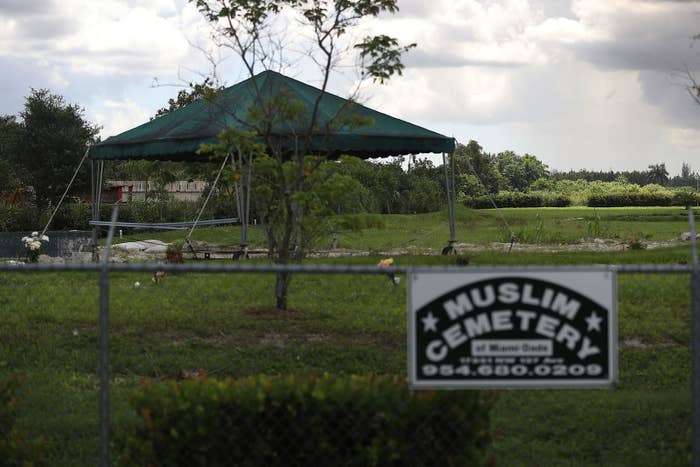 The discovery of plans to build a Muslim cemetery and potential mosque in Newton County — 35 miles east of Atlanta, Georgia — caused the Board of Commissioners to place a five-week moratorium on the submission of any new plans or proposals for religious structures.
A packed crowd at the commissioner's meeting erupted in applause and cheers after the commissioners unanimously passed the vote, footage from Atlanta TV station WXIA shows.
Current zoning rules allow for religious structures to be built in "any zoning category" after meeting the "minimum requirements" of the zoning ordinance, according to a statement released by Newton County Manager Lloyd Kerr.
The vote for a moratorium came after residents were furious over the proposed plans that would have been approved without public comment. Some commissioners objected on the grounds that they were not notified in advance of the plan.
The commissioners will vote after the moratorium to either let the rules stand as-is, change the zoning rules for religious structures, or extend the moratorium, WXIA reported.
The County Commissioner John Douglas called for the motion for the five-week moratorium and cited traffic and not being notified of the plan as his concern. But Douglas also brought up the resettling of refugees in the country an additional concern.
"Well the refugees are coming stateside, so they gotta go somewhere," he said in yesterday's WXIA news report.
"The first question that comes to my mind is if there are enough Muslims in south Newton County that we need to build not only a mosque but a community, a school and what all is in the plan," Douglas said in an earlier interview with a local paper, The Rockdale Citizen.
"Would building those things make us a prime area for the federal government to resettle refugees from the Middle East? So I do have some concerns, like the people who live down there," Douglas was also quoted as saying.
Attempts to reach Douglas on his cell phone were not immediately returned.
Douglas fended off calls for his resignation, and eventually apologized last year when it was revealed that he wrote a racist comment on a picture on Facebook that showed an African-American woman showing her middle finger while appearing to wipe her buttocks with an American flag.
"She is just a cheap street walker knee grow who lays down for white men," Douglas wrote before deleting the comment.

The picture was posted as part of the #notmyflag online campaign last year that was meant to show that racism has always existed in the US, including present times. People using the hashtag would step on US flags or use them in ways some viewed as desecration.
Other local residents interviewed in the short news clip expressed concerns that focused on religion.
Donald Smith, a Newton County resident in theWXIA report, said "I don't know that much about the religion but I know just enough to be dangerous."
A third man identified as Bobby Huggins said, "We fighting these people. Maybe not the ones that going to church up here, but they preachin' hate somewhere."
Mohammad Islam, an Imam of the Al Maad Al Islami Mosque in Doraville, Georgia is the person behind the proposed cemetery. He told Atlanta's WXIA that the purpose behind the cemetery, in an 135-acre lot in a rural part of the county, was due to the lack of facilities to bury Muslims in the area.
"Our main objective is we want to have a place where we can properly bury our people." Imam Islam was quoted as saying.
Islam did not immediately return BuzzFeed News' request for comment.
Ahead of the commissioner's meeting, a Facebook post by County Line Baptist Church on Tuesday, which would be located adjacent to the proposed cemetery and possible mosque, said:
"Please, pray for our county regarding the proposed mosque to be built here (right in front of our church!). God is able to thwart the plans of men. The Newton County Board of Commissioners will meet tonight. Pray for that meeting."
The board said it will hold a public hearing on the matter on Monday August 22 so that residents can voice their opinion at venue larger than the 500 person seating capacity of courthouse where meetings are usually held.

CORRECTION
The five-week moratorium does not retroactively affect the proposed Muslim cemetery since the permit was approved last year. An earlier version of this post misstated that any further plans for the cemetery were postponed because of the moratorium.