Mira Sorvino, one of the Hollywood actors to accuse Harvey Weinstein of sexual harassment, apologized late Wednesday to Dylan Farrow, the daughter of Woody Allen, for appearing in one of his films and not believing her accusations of sexual assault.
Sorvino, who won an Oscar for her role in Allen's 1995 film Mighty Aphrodite, wrote an open letter to Farrow in HuffPost claiming she was "a naive young actress" who "swallowed the media's portrayal of your abuse allegations against your father as an outgrowth of a twisted custody battle."

"[I] did not look further into the situation, for which I am terribly sorry," she wrote. "For this I also owe an apology to Mia."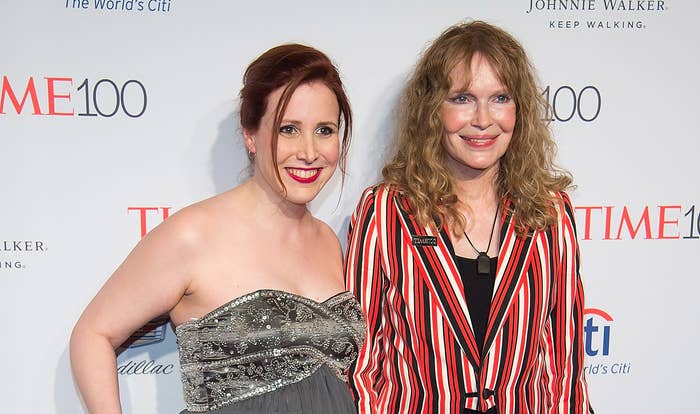 As she wrote for the New York Times in 2014, Dylan Farrow said she was sexually assaulted by Allen in the attic of her home when she was 7 — claims that the director has vehemently denied.
Farrow wrote a story in the Los Angeles Times in December, questioning why her father's career was still intact after the #MeToo movement had resulted in women "exposing the truth and men are losing their jobs."
"But the revolution has been selective," Farrow wrote. "Why is it that Harvey Weinstein and other accused celebrities have been cast out by Hollywood, while Allen recently secured a multimillion-dollar distribution deal with Amazon?"
In her letter, Sorvino said she never personally experienced any inappropriate behavior by Allen on set, "but this does not excuse my turning a blind eye to your story simply because I wanted desperately for it not to be so."
"I am so sorry, Dylan!" Sorvino wrote. "I cannot begin to imagine how you have felt, all these years as you watched someone you called out as having hurt you as a child, a vulnerable little girl in his care, be lauded again and again, including by me and countless others in Hollywood who praised him and ignored you. As a mother and a woman, this breaks my heart for you. I am so, so sorry!"
On Thursday, while appearing at the Television Critics Association Press Tour in Pasadena to promote her upcoming thriller, Condor, Sorvino said, "I think it's a really wonderful awakening time for all of us, because we're all human beings — to say that no one should ever be abused in their workplace, in their home, or harassed. And obviously, sexual politics have no place in power dynamics."

Farrow's brother, Ronan, wrote a story on Weinstein in October for the New Yorker, which along with an earlier piece in the New York Times, launched an avalanche of accusations against the producer and many other men.
Sorvino said she had spoken in December with Ronan Farrow: "He pointed me toward publicly available details of the case I had ruefully never known of, which made me begin to feel the evidence strongly supported your story."
"It is difficult to sever ties and denounce your heroes, your benefactors, whom you fondly admired and felt a debt of gratitude toward for your entire career's existence," Sorvino wrote.
Dylan Farrow responded to Sorvino on Twitter on Thursday morning, writing that her letter was "beautiful," and she was "overwhelmed."
"Your courage has been boundless and your activism an example for us all," Farrow wrote. "From the bottom of my heart, thank you."

Sorvino's apology to Farrow follows numerous other instances of backlash against Allen, as actors in Hollywood publicly denounce the 82-year-old director, who is still active, having released his latest film, Wonder Wheel, starring Kate Winslet and Justin Timberlake, in December.
On Friday night, Grey's Anatomy star Ellen Pompeo went on a tweetstorm, writing that she was "shocked" that people still work with Allen, calling him a "fool" and tweeting that his films were "bougie shit." Pompeo also questioned what she said was a lack of diversity in Allen's films. Dylan Farrow also thanked Pompeo for her words on Twitter.
Lady Bird director Greta Gerwig, who won a Golden Globe for her film at Sunday's awards ceremony, said Tuesday that she would never work with Allen again. "If I had known then what I know now, I would not have acted in the film. I have not worked for him again, and I will not work for him again," Gerwig said. Gerwig appeared in Allen's 2012 film, To Rome With Love.
In November, actor Ellen Page, who also starred in To Rome With Love, wrote on her Facebook page that acting in the movie was the "biggest regret" of her career and that she was "ashamed."
Kate Arthur contributed to this report.