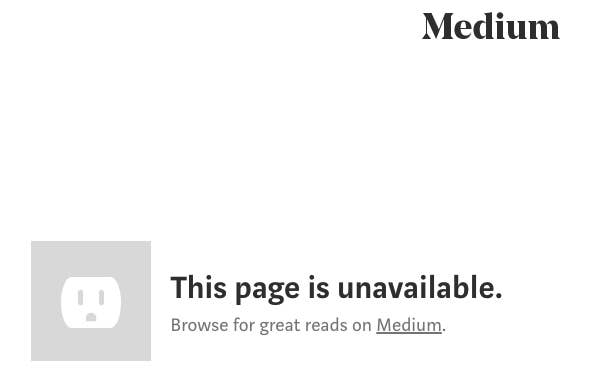 Medium, an online publishing platform where any individual can post articles, has suspended the accounts and pages of far-right and pro-Trump media personalities including Laura Loomer, Mike Cernovich, and Jack Posobiec.
It is unclear when the accounts were suspended, but according to the Outline, the apparent takedowns were first discovered by Nathan Bernard on Twitter on Feb. 19. "Mike Cernovich and Jack Posobiec have had a rough month," Bernard wrote in his tweet with screenshots of a page on Medium that states "This page is unavailable." Attempts to go to Loomer, Cernovich, or Posobiec's Medium page redirected to a generic suspension URL: medium.com/suspended.
A spokesperson for Medium said it does not comment on individual accounts.
"However, you can take a look at our recent post here, and our updated rules here," the spokesperson wrote in a response to BuzzFeed News.

In an update to its rules on Feb. 7, Medium's new rules said the platform is taking a harder line on vexing online issues that other user-based content publishers like Facebook and YouTube have recently tried to address — namely hate speech and misinformation.
"We have all seen an increase and evolution of online hate, abuse, harassment, and disinformation, along with ever-evolving campaigns of fraud and spam," the update states. "To continue to be good citizens of the internet, and provide our users with a trusted and safe environment to read, write, and share new ideas, we have strengthened our policies around this type of behavior."
Cernovich, Posobiec, and Loomer have all stoked false conspiracy theories and misinformation in the past, though it's unclear if they used Medium to amplify it.
Medium also stated that it will "consider off-platform signals when assessing potential rules violations."
Cernovich addressed the suspension on YouTube on Wednesday in a video titled "Why I'm Suing Medium for Civil Rights Violations (Unruh Act)."
Posobiec told BuzzFeed News he's unaware why Medium would have suspended his account, and that the website didn't provide him with an explanation before or after the suspension. "I broke the Manafort wiretapping story on @Medium, and multiple others, all fully sourced and confirmed," he wrote. "I've never used hate speech, bigotry, or even profanity as I oppose them all."
Cernovich directed BuzzFeed News to these tweets.

Loomer said that she used her Medium account to report on the Las Vegas shooting last October, and claimed that the "attack" against her was "anti-Semitic."
"As a Jewish woman whose grandfather was arrested by Nazis, I am here to tell you that I am not a Nazi," she told BuzzFeed News in an emailed statement. "I am not Alt Right, and these left wing tech companies should be ashamed of themselves and the anti free speech Nazi tactics they are using to silence their political opposition and defame me."
"The Constitution upholds my right to free speech," she added. "Medium should be ashamed of itself for allowing anti white hate speech on its platform while banning an honest investigation into the worst mass shooting in US history."
She went on: "Maybe you should reach out to Medium and ask them why they banned my reporting on the Las Vegas Shooting while allowing for someone to post 'kill all white People,'" and asked why BuzzFeed "thinks it's ok to promote the murdering of white People".
Loomer is currently under a seven-day suspension on Twitter, the Hill noted in its post about Medium's suspensions. The Hill also pointed out that the Medium page for Richard Spencer, a white supremacist, was still active, although it appears as though he has never posted on the site.