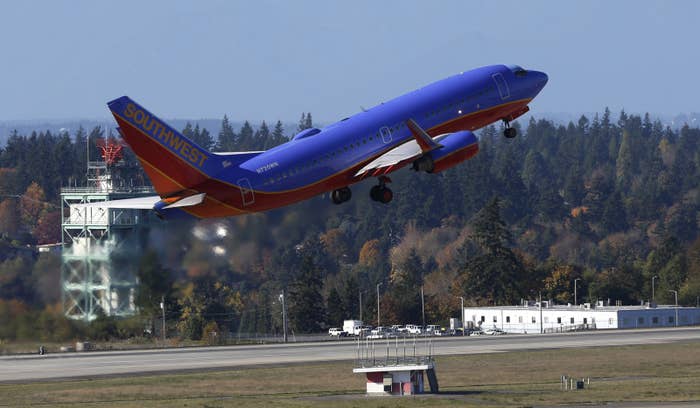 A North Carolina man who forcefully removed a Muslim woman's hijab on a flight while shouting "this is America!," last December has been sentenced by a federal judge to a year of probation and two months of home detention.
Gill Parker Payne, 37, was also fined $1,000 for the attack, according to a statement by the U.S. Attorney's Office in the District of New Mexico.
"You hurt me, you disrespected me you violated me," the victim, Khawla Abdel-Haq said in court on Tuesday, according to the Albuquerque Journal.
"I was scared, and it shouldn't be like that," she said, adding that she didn't leave her home for weeks out of fear after the in-flight attack.
In a written plea agreement, Payne said he targeted Abdel-Haq because of her hijab.
"I saw that K.A. was wearing a headscarf. I was aware that it is a religious practice of Muslim women to wear a headscarf," he said according to Justice Department court documents filed in May.

Payne, who pleaded guilty that month to a misdemeanor count of obstructing a person's free exercise of religious beliefs, was on a Southwest flight from Chicago to Albuquerque when he noticed Abdel-Haq seated a few rows in front of him wearing a hijab.
"I stopped next to her seat, looked down at K.A., and told her to take off her hijab, stating something to the effect of, 'Take it off! This is America!,'" Payne wrote.
In a statement, US Attorney Damon P. Martinez of the District of New Mexico said the case "sends a clear message to anyone who contemplates the use of threats or intimidation to interfere with the right of individuals, including members of our Muslim community, to express their faith without fear."
"The Justice Department is committed to protecting the religious rights of Muslims in New Mexico by aggressively prosecuting those who perpetrate hate crimes against them," Martinez continued.
In court on Tuesday, an apologetic Payne said he was drunk on the flight, and that since pleading guilty he has acquainted himself with other religions, including Islam. Payne also said that he recently visited a mosque.
"I'm embarrassed. I'm 100 percent embarrassed," Payne said.