A Twitter account that appears to belong to Mark Feigin — the Los Angeles man who allegedly stockpiled weapons and ammunition at his home and was arrested for allegedly making terrorist threats against an Islamic center — is littered with anti-Muslim, anti-black, and anti-immigrant rhetoric, as well as support for Donald Trump's presidential campaign.

The profile picture of the Twitter account @mfeigin, which lists the name Milosz Feigin, resembles the mugshot released of the 40-year-old-man arrested by the LAPD on Oct. 19.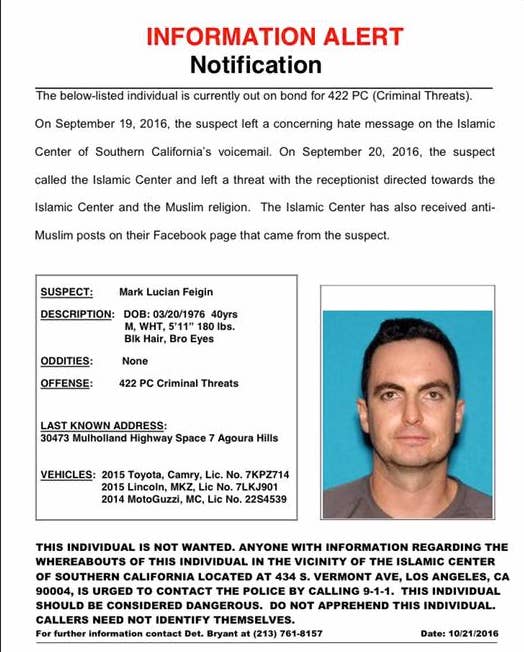 Tweets allegedly belonging to Feigin were also displayed by the LAPD at a press conference on Tuesday, and further corroborated the screenshot of tweets obtained by BuzzFeed News of the @mfeigin account.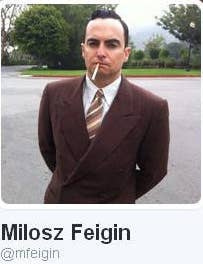 Feigin first came to the attention of law enforcement after he was linked to a call to the Islamic center on Sept. 19, where he allegedly left a message "peppered with vulgarity" in which he "exposed his hatred for the Muslim faith," Captain Horace Frank of the LAPD said Tuesday.
Frank alleged Feigin called again on Sept. 20 and told a man who answered the phone that he would kill him and other members of the Islamic center.
He allegedly said again that he hated Muslims and stated "his belief that Muslims will destroy the United States," according to Frank.
He has since been released on $75,000 bail.
Daniel Perlman, a lawyer representing Feigin, said his client is a "good, decent man who believes in brotherhood," and "anyone who says anything to the contrary simply doesn't know him."
"When we receive the police reports, it will become clear that this was all an unfortunate misunderstanding," Perlman wrote in an emailed statement to BuzzFeed News.
Authorities said numerous rifles, shotguns, and handguns, as well as several high capacity magazines and thousands of rounds of ammunition, were found inside Feigin's home.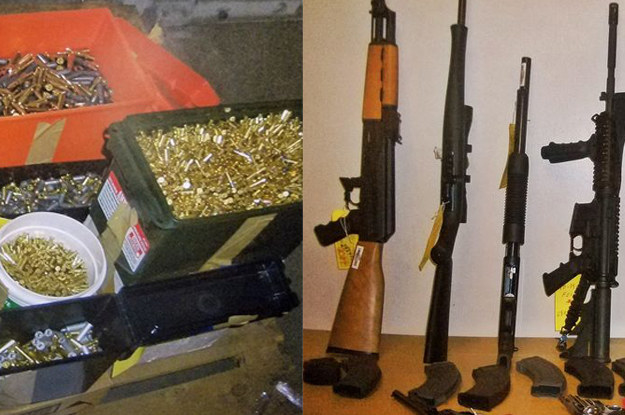 The Twitter account @mfeigin contains multiple violent posts and is blanketed with hatred towards followers of Islam.
The account was active as of Tuesday afternoon but has since been deleted. Screenshots of tweets made by the account were taken before the deletion.
A tweet on the same day of Feigin's arrest, which was also the last day the account tweeted, says war will begin if Democratic presidential candidate Hillary Clinton wins the election, and encourages the hoarding of guns and ammunition.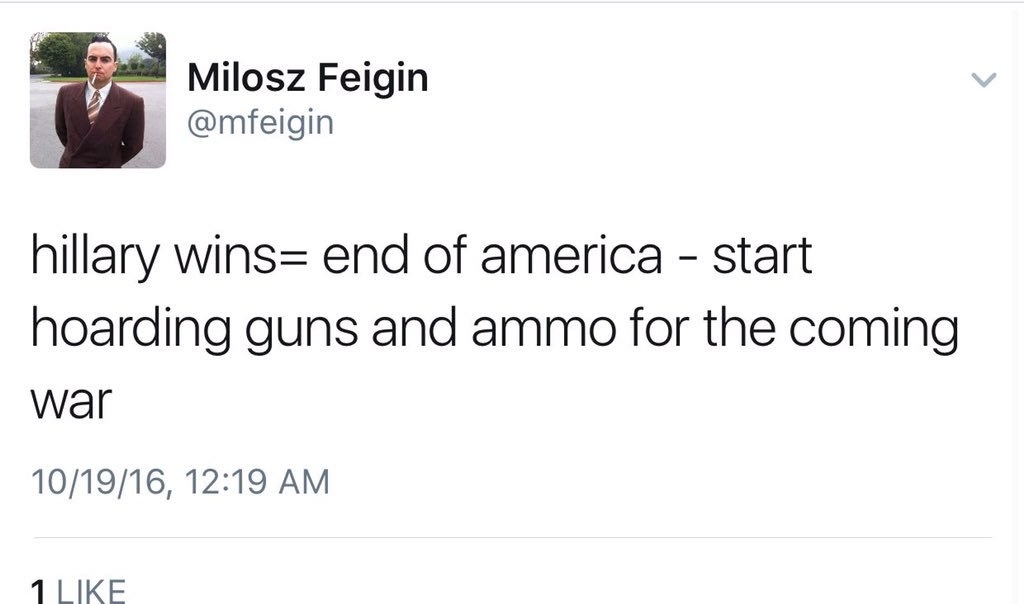 Another tweet, captured in a story by U.S. Uncut, also supports the hoarding and purchasing of guns and ammunition if Clinton wins the presidential election: "What to do if hillary wins: stockpile ammo – and guns"
Other tweets show an anti-immigrant stance, as well as support for Republican presidential candidate Donald Trump.
"KEEPING ILLEGALS OUT WILL RAISE WAGES, KEEPING MUSLIMS OUT AND GOOD RELATIONS WITH NUKE ARMED RUSSIA WILL MAKE AMERICA SAFER TRUMP 2016," one post reads.
"FILTHY ISLAMIC BEASTS HAVE NO PLACE IN AMERICA," reads another.
That tweet was accompanied by a link to a story about a Michigan township that had to pay an Islamic school $1.7 million after denying it zoning rights. BuzzFeed News covered the same story in September after the Department of Justice filed and settled a lawsuit alleging the township placed "unjustified burdens on religious exercise."
In a reply to a tweet about deaths of Syrians in jail posted by Imraan Siddiqi, the executive director of the Arizona chapter of the Council on American-Islamic Relations, @mfeigin wrote that those deaths did not matter because the 18,000 prisoners were "terrorists." He added, "fuck them."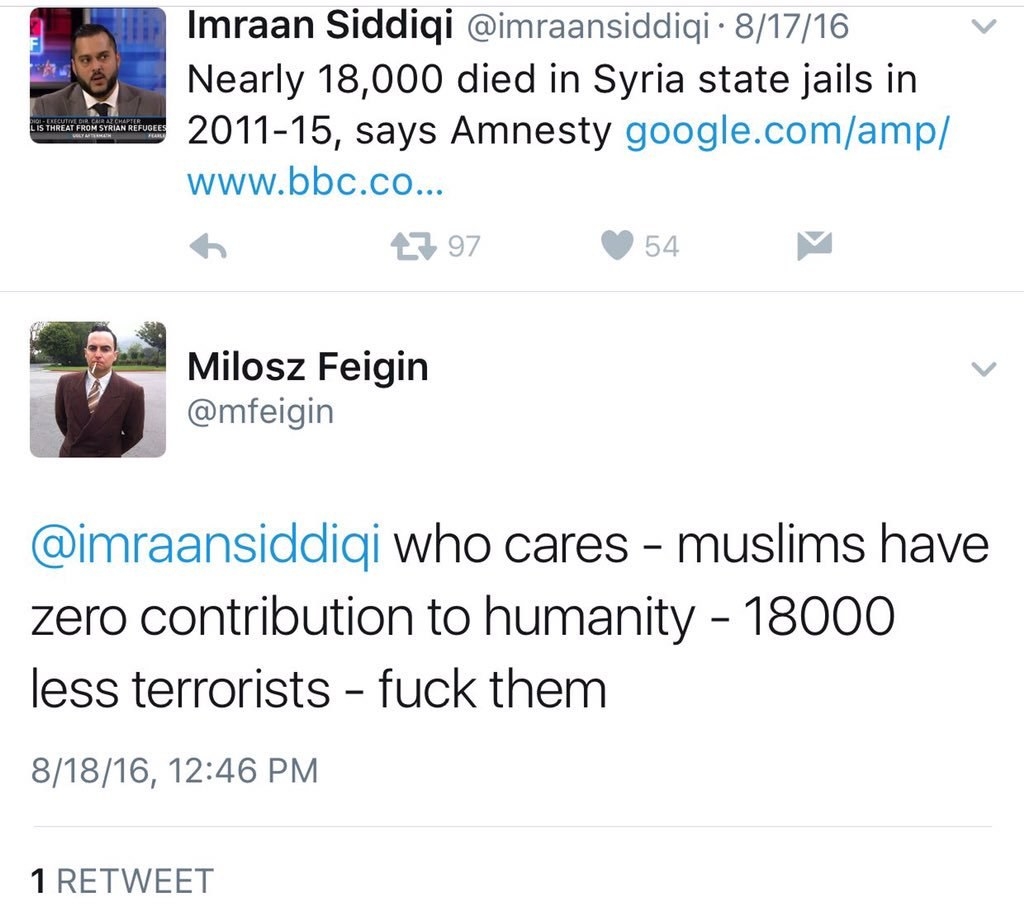 Another Twitter account also appears to belong to Feigin. The twitter account for @FeiginMilosz, under the name Milosz Feigin, regularly tweets support for Trump, as well as racist messages that call for the death of members of the Black Lives Matter movement, as well as Muslims.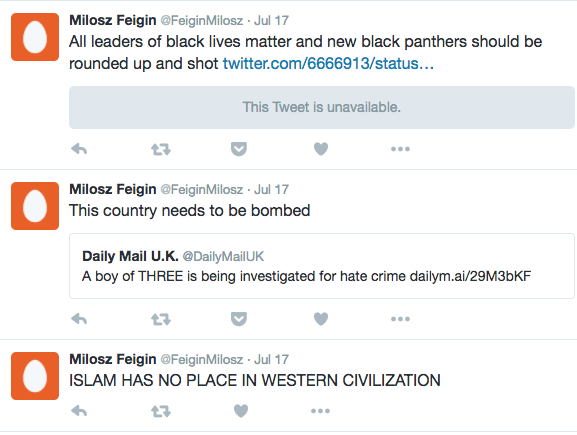 Not much else is presently known about Feigin. The Twitter account @mfeigin lists his occupation as a "SOCIAL WORKER," but a LinkedIn account belonging to a man with the same name, city, and a similar resemblance lists his occupation as "REALTOR AT GOTHAM PROPERTIES INTL."
BuzzFeed News' request for comment from Feigin by email, phone, and Twitter were not returned.