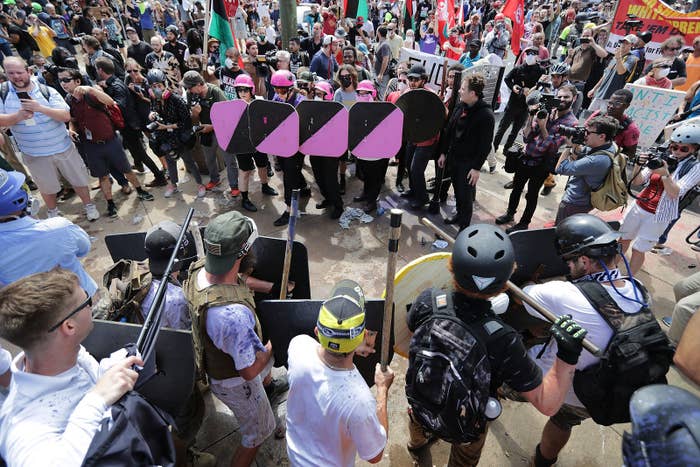 A federal judge is weighing whether to dismiss a lawsuit that alleges white supremacists planned the deadly violence that erupted at the Unite the Right rally in Charlottesville, Virginia, last year.
Heather Heyer was killed when a car drove into a group of counterprotesters, and more than 30 others were injured. Heyer's family is not a part of the lawsuit, which was filed by 10 Virginians injured during the demonstrations.
Among the defendants seeking to have the case dismissed — arguing they were merely defending themselves against counterprotesters — are alt-right figure Richard Spencer, white supremacist Jason Kessler, who organized the Unite the Right rally, and Christopher Cantwell, another white supremacist who was prominently featured in a Vice documentary that captured much of the day's events.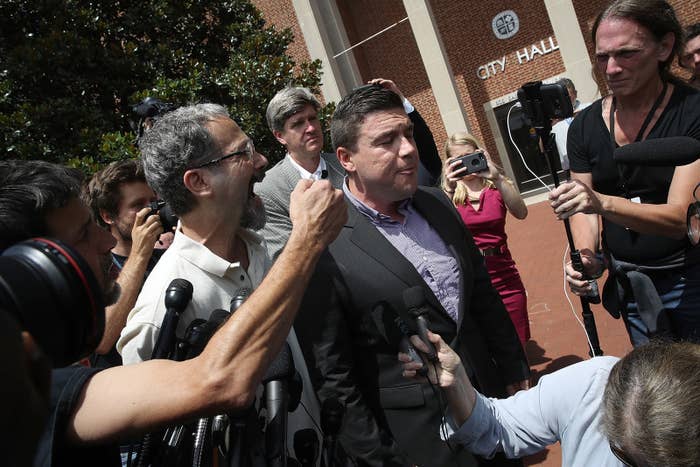 The lawsuit, known as Sines v. Kessler, claims that the violence in Charlottesville was no accident and that groups organizing and attending the rally were in a "conspiracy to commit violence."
"In countless posts on their own websites and social media, defendants and their co-conspirators promised that there would be violence in Charlottesville and violence there was," the 96-page lawsuit states.
Federal Judge Norman Moon heard roughly three hours of oral arguments from defendants in the case, which also included Identity Evropa, a white supremacist group that focuses on colleges and universities, and the Traditionalist Workers Party, a neo-Nazi white supremacist group.
Spencer, who was recently raising money for his legal defense, was not at the courthouse but was reportedly represented by attorney John DiNucci, who did not immediately return a request for comment.
Numerous other defendants were represented by James Kolenich and Elmer Woodard. Kolenich told the Cincinnati Enquirer in February that he got involved in the case "to oppose Jewish influence in society" and that he believes "white people are the chosen people in the New Testament."
Kolenich and Woodard could not be reached for comment.
The lawsuit is funded by a new nonprofit group, Integrity First for America, which aims to hold "America's leaders accountable when their actions threaten longstanding principles of our democracy." They have hired attorney Roberta Kaplan, who successfully argued against the landmark Defense of Marriage Act Supreme Court case in 2013.
"It's become clear that part of their defense in the case was going to be, 'This is all self-defense,''' Karen Dunn, co–lead counsel for the plaintiffs, said in a conference call with reporters. "Well, first of all, there are chats that directly contradict that."
If the case goes forward, attorneys plan on using leaked conversations from the app Discord that allegedly show the defendants planning violent acts during the rally.
"They were talking about weaponry, violence, running over protesters, what is the best brand of mace," Kaplan said when referring to the Discord chats.
The plaintiff's attorneys also said they hope to gather additional evidence during the discovery phase of the case.
It was not immediately known when Moon might issue a written decision on the matter.