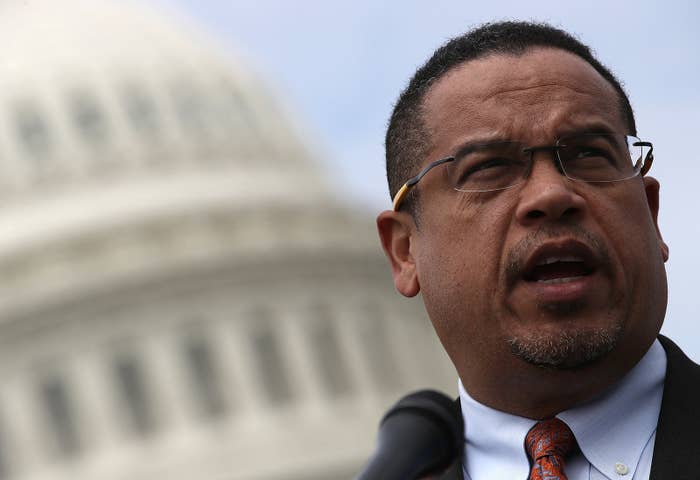 Minnesota Rep. Keith Ellison has denied allegations of domestic violence after an ex-partner and her son wrote on social media that the prominent Democrat had abused her.
In a Saturday night Facebook post, Austin Monahan said he had seen a video of Ellison "dragging" his mother, Karen Monahan, off a bed while screaming obscenities at her.
Austin Monahan also wrote that he had read text messages in which Ellison would engage in "victim shaming," would "bully his mother," and would "threaten her if she went public."
On Sunday, Karen Monahan, who works as an organizer with the Sierra Club, tweeted that her son's Facebook post was "true."

Ellison, who is leaving his seat in Congress and currently running for state attorney general in Minnesota, denied the allegations.

"Karen and I were in a long-term relationship which ended in 2016, and I still care deeply for her well-being," he said in a statement provided to Minnesota Public Radio. "This video does not exist because I never behaved in this way, and any characterization otherwise is false."

The lawmaker and his staff did not respond to BuzzFeed News' requests for comment Sunday. BuzzFeed News has also reached out to Austin and Karen Monahan for confirmation and further details.
On Sunday, Minnesota state Rep. Debra Hilstrom, who is running against Ellison for state attorney general, called on Ellison to "answer these allegations" on Twitter.
The Minnesota primary is set for Tuesday, Aug. 14.

"I am so proud of my son for his courage. But this situation impacted me," Karen Monahan wrote on Twitter Saturday night, after her son had published his post on Facebook. "If you have anything to say, please say it me [sic] and leave him out of it. No nasty comments to him."

Minnesota Public Radio said it had reviewed "more than 100 text and Twitter messages" and reported that Ellison and Karen Monahan had continued texting for months after their breakup.
The report noted that there was "no evidence" of the "alleged physical abuse" in the material that was reviewed.
In a lengthy statement published late Sunday by Fox9, Karen Monahan addressed the alleged abuse, claiming that after being involved with Ellison for "several years," she realized she had been suffering from "narcissist abuse."
"Unless you have been through narcissist abuse, it is the most difficult form of abuse to articulate. It leaves survivors (if they survive) with serious health impacts, complex ptsd, depression and so many other devastating impacts. It is a slow insidious form of abuse," she wrote.
In the statement, Monahan described an incident of physical abuse right before the end of their relationship in 2017, in which she alleged that Ellison grabbed her by her feet and tried to drag her off the bed, while yelling at her and telling her to leave. She also claimed that Ellison had "tried to intimidate and threaten me" after she told him that she planned to write about his alleged behavior in a memoir.
"My kids were also impacted," Monahan said in the statement. "I tried to hide it from them for several months. They knew something wasn't right with me when they came to visit but were not quite sure. I told them I was just dealing with depression, that I would be ok."
"Imagine how your own children would feel if they found out someone abused their mother," she wrote. "I could barely care for myself much less deal with their pain."
She added that her kids had wanted to make the allegations public, and ultimately convinced her to break her silence.