Speaking on the first episode of Profile, a new interview show on Facebook Watch by BuzzFeed News, Queer Eye's grooming expert, Jonathan Van Ness, opened up about the show's controversial trans episode, being political on Twitter, and how getting his hair highlighted when he was young changed his life.
JVN had his own transformational makeover moment when he was on vacation with his family.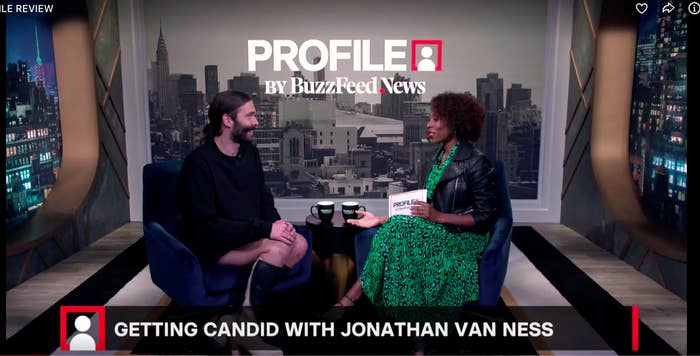 While on a family vacation in Central Florida, Van Ness convinced his mom to let him get a "gorgeous caramel highlight."
The experience, it turned out, would be life-changing.
The whole way home, Van Ness said he was looking in the car's rearview mirror at his locks.
"And I knew then — I'm going to be a hairdresser," Van Ness said. "I always thought I was going to be a cosmetologist, because I thought that's what you called it. But I thought, 'Nope, I'm gonna color people's hair.' This feeling. I just want to look at myself in this mirror with these highlights and make other people feel like this all the time because this caramel reality is more than I was ready to take."
He's a huge Nicki Minaj stan, and he learned a lot when he commented on her Harper's Bazaar Russia cover.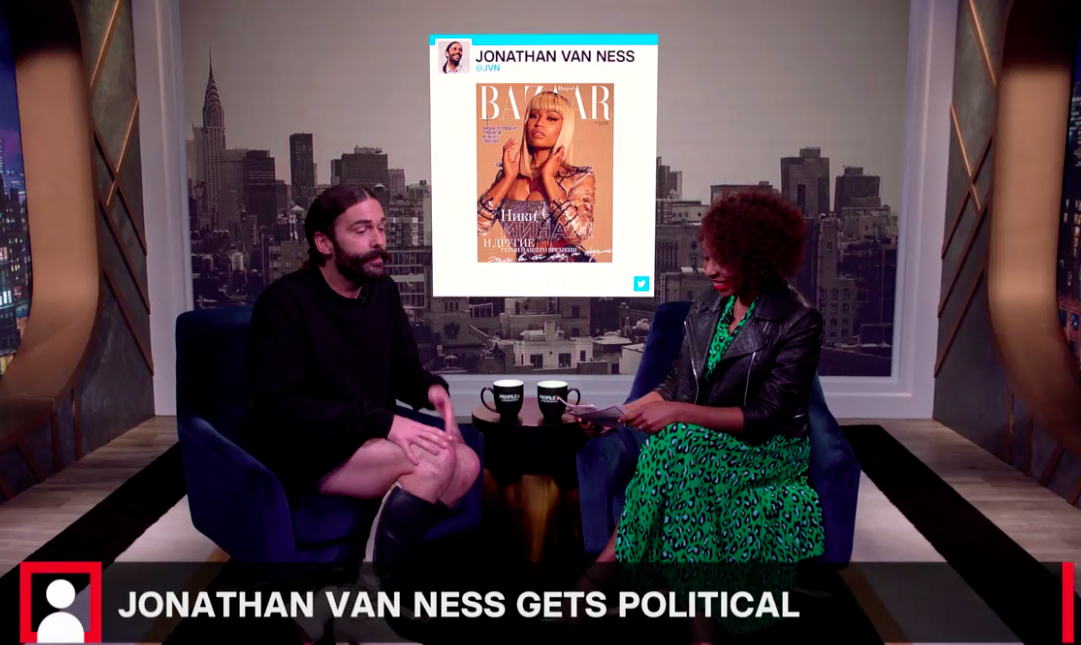 Van Ness talked about his willingness to openly criticize others and get political, and discussed his decision to comment on rapper Nicki Minaj for appearing on Harper's Bazaar Russia cover.
Van Ness tweeted earlier this month: "Russia has anti LGBTQIA propaganda laws, Chechnya, supported by Russia tortures it's LGBTQIA citizens, & w your LGBTQ+ fans you can't even speak to that in this interview bc it's illegal in Russia, what's good @NICKIMINAJ , this should've been a hard pass."
"I think I still operate as if there's four people watching, but that is not the case anymore," Van Ness said, laughing.
But, he added, there is more context to him calling out Minaj.
"I'm a huge Nicki fan. Like huge," Van Ness said. "I'm such a huge fan of hers and that's why waking up to that cover… I just don't understand. Because if you are in Russian media, if you are in Russian print media, you are hand in hand with the government, because you can't speak to anything that's not OK'd by them as far as LGBT stuff."
But Van Ness said he's learned a lot about speaking out from tweeting at Minaj, adding that it caused him to question what other injustices are happening right here at home.
"For instance, some people were saying on Twitter that 'your country is keeping families apart in cages,'" Van Ness said about the Trump administration's family separation policy. "And I was like, 'Oh my god, touché, we have some serious stuff going on right here that we can focus on.'"
Responding to a question on Facebook about if he has always been a "femme gay," Van Ness said that in his early dating life, he made a "sad" attempt to be butch.
"I definitely think that in dating aspects and in dating scenarios I think I made very sad and not very good attempts to butch myself up," Van Ness said.
"I was very exhausted by that," Van Ness continued. "Actually, I think that to me the ability to identify as femme and let your feminist come out is one of the most strengthening and masculine things. ... I feel so much stronger in this boot than I am in a flat," he said, referring to the high-heeled boots he wore to the interview.
JVN also defended the controversy around Queer Eye's episode about a trans man, saying he believes a lot of people still need a "101 moment."
video-player.buzzfeed.com
The show's host Audie Cornish asked him about an episode of Queer Eye that features a trans man — and how it opens with the surgery, which got backlash from people who think obsessing over the transformation is beside the point.
Van Ness said he "didn't see it as sensationalizing" and added that the world, especially the US, still has a ways to go in being exposed to LGBTQ lives and lifestyles.
"First of all, coastal America and middle of America are two very different things. So to think that we have all moved passed this, or this is like 101— Even in America, I think there are a lot of people who very much need a 101 moment," he said.
Van Ness also pointed out Netflix's global reach, saying that the moment also needs to be had "in so many countries" where that conversation "is nowhere on the radar at all."
"I don't think it's reductive and I think that his story is one that needs to be shared," he said.