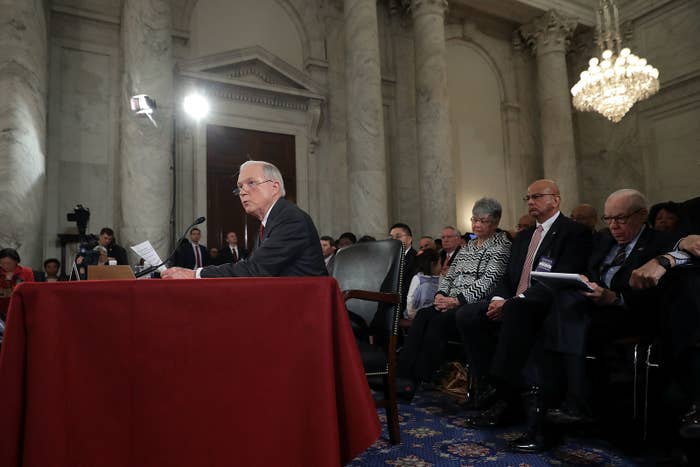 Attorney General nominee Sen. Jeff Sessions said he would not support a ban on Muslim immigrants to the US based solely on religion — despite President-elect Donald Trump saying such a ban should be in place.
Sessions' testimony came during his first day of confirmation hearings on Tuesday, when Democratic Senator Patrick Leahy of Vermont asked if he agreed with Trump.
"The President-elect has repeatedly asserted his intention to institute a ban on Muslim immigrants to the United States," Sen. Leahy said.

Leahy then referred to a non-binding resolution in December of 2015 in the Senate Judiciary Committee that stated the US would not institute religious tests for immigrants to the US — a resolution which Sessions had voted against.
It was reported that Sessions gave a rambling 30-minute statement that discussed various tangential matters related to the resolution at hand, including the death of Americans by undocumented immigrants.
The Senate Judiciary Committee, constituting both Republicans and Democrats, eventually voted 16-4 in support of the resolution, which was championed by Leahy.

"Do you agree with the President-elect that the United States can or should deny entry to all members of a particular religion?" Leahy asked.
"Senator Leahy, I believe the president-elect has subsequent to that statement made clear that he believes the focus should be on individuals coming from countries that have a history of terrorism," Sessions responded, adding that President-elect Trump believes in "strong vetting."
Leahy then asked why Sessions voted against the resolution in 2015 and if he held this belief.
Session indicated that he had a concern within a part of the resolution that "suggested that you could not seriously consider a person's religious views" when they were "often" "inimical" to the "public safety of the United States."
"But I have no belief, and do not support the idea that Muslims as a religious group should be denied admission to the United States," Sessions said. "We have great Muslim citizens who have contributed in so many different ways."
The answer seemed to satisfy Senator Leahy, who abruptly ended his allotted questioning time.
Later, Senator Lindsey Graham also asked Sessions "Would you support a law that says you can't come to America because you're a Muslim?"
Sessions answered, "No."