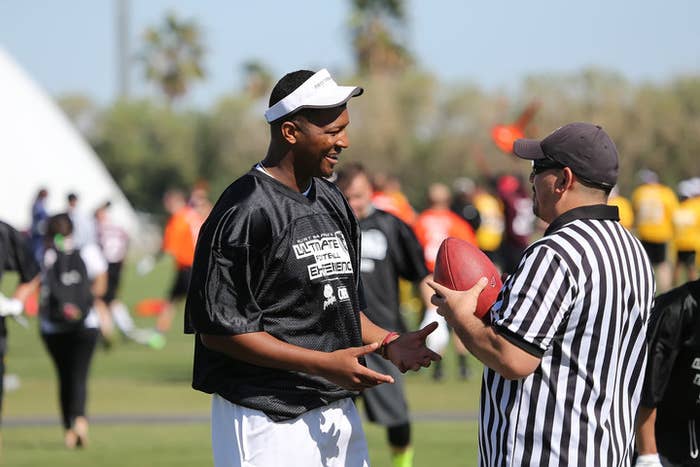 The NFL is investigating an allegation that Tampa Bay Buccaneers quarterback Jameis Winston grabbed a female Uber driver's crotch in 2016, BuzzFeed News has learned.
A letter, viewed by BuzzFeed News, was sent from the NFL's special counsel for investigations, Lisa Friel, to the Uber driver on Thursday. "The League has been informed that you may have been the victim of such a violation perpetrated by Tampa Bay Buccaneers player Jameis Winston. The league takes allegations of this nature very seriously and has opened an investigation into this matter," the letter read.
"The matter is under review," Brian McCarthy, an NFL spokesman, told BuzzFeed News. "The allegation was shared with the NFL and we have reached out to Uber to request any information they may have."

Kate, a female Uber driver, was hailed to the lively party scene of downtown Scottsdale, Arizona to pick up a passenger around 2 a.m. on Sunday March 13, 2016. There, Kate told BuzzFeed News that a small group of men excitedly told her that she would be chauffeuring someone famous that night — Jameis Winston, 2013 Heisman Trophy winner and now quarterback for the Tampa Bay Buccaneers.
The men placed Winston in the front passenger seat — Kate said he was the only passenger. "I started driving, and right away, Jameis behaved poorly" by shouting, in part, homophobic slurs at pedestrians, said Kate, who did not want to be identified by her full name for fear of negative attention and potential backlash from football fans. He then asked to stop for food.
Waiting in line at the drive-thru of Los Betos Mexican Food, "he reached over and he just grabbed my crotch," Kate said, alleging that Winston held his hand there for three to five seconds and removed it only after she looked up in shock and said, "What's up with that?"
"I wasn't just creeped out," said Kate, who had been driving with Uber for more than two years at that point. (She no longer drives for the service.) "I was frozen." She described Winston as "very physically imposing."
"I mean he's an NFL quarterback and I'm 5 ft 6. I'm not prepared for that. So I completely froze," she said, worried that she might provoke an unwanted reaction.
Winston's representative, Russ Spielman, issued a statement denying the allegations: "We categorically deny this allegation. It is our understanding the uber driver was unable to identify the specific individual who allegedly touched this driver inappropriately. The only reason his name is being dragged in to this is that his uber account was used to call the ride."
When asked about the NFL's letter, he said, "I don't have a comment on that, what you're hearing is the first time I'm hearing about that."
Winston later published a statement on Twitter:
"A news organization has published a story about me regarding an alleged incident involving a female Uber driver from approximately two years ago. The story falsely accuses me of making inappropriate contact with this driver. I believe the driver was confused as to the number of passengers in the car and who was sitting next to her. The accusation is false, and given the nature of the allegation and increased awareness and consideration of these types of matters, I am addressing this false report immediately. At the time of the alleged incident, I denied the allegations to Uber, yet they still decided to suspend my account," he said.
"I am supportive of the national movement to raise awareness and develop better responses to the concerns of parties who find themselves in these types of situations, but this accusation is false. While I am certain that I did not make any inappropriate contact, I don't want to engage in a battle with the driver and I regret if my demeanor or presence made her uncomfortable in any way."
The Tampa Bay Buccaneers didn't respond to multiple requests for comment. They released this statement to an NFL.com reporter: "We are in the process of obtaining further information regarding today's media report. We take these matters seriously and are fully supportive of the investigation that is being conducted by the NFL."
Kate said she doesn't want money, and that the reason she came forward with her story now was because she wanted to tell the truth "about a powerful man who felt entitled to my body when all I wanted to do was my job."
"I have been empowered by my sisters who have forged this path by speaking up, and I must do my part to make it a little more well traveled," Kate said to BuzzFeed News. "If I'm silent, I fear that further harm will come to other women, if it hasn't already."
She added, "He sexually assaulted me, and I have every right to tell the damn truth about it."
Kate filed a complaint with Uber soon after the ride, writing that "apparently a big athlete in the nfl" reached over "and put his fingers on my crotch." She added: "...it wasn't my stomach or thigh, it was my crotch and I want to be clear about that." Kate ended her incident report with Uber stating, "He is NOT safe for other drivers."
BuzzFeed News has reviewed the incident report to Uber, in addition to the Uber ride's trip details, as well as her exchanges with an Uber representative.
In response to the alleged incident the Uber representative wrote, "That kind of rider behavior is absolutely not tolerated on the platform, I recommend contacting law enforcement as soon as possible." (Kate said she didn't go to the police for the same reasons she didn't want to be named in this article.)
The Uber representative also wrote that the driver would not be "matched with this rider going forward" and that, "While our privacy policy prevents me from disclosing the exact action taken, in the past riders with these kind of instances have not been welcomed back to the service."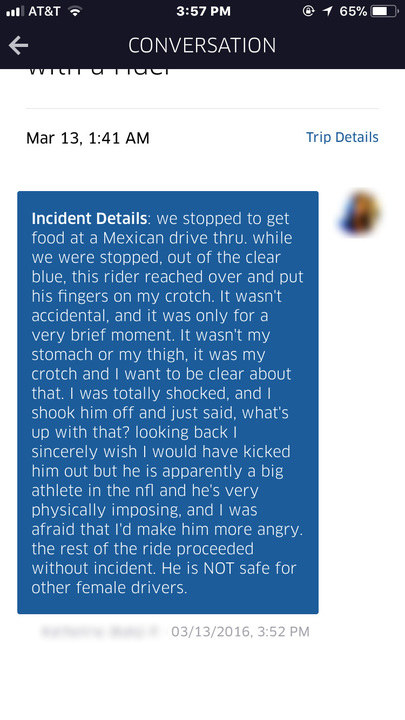 Eventually, the rider was banned from Uber. "The behavior the driver reported is disturbing and wrong. The rider was permanently removed from the app shortly after we learned of the incident," a spokesperson for Uber told BuzzFeed News in a statement.
Based on the ride receipt, trip identification number, and name —Jameis Winston — that Kate gave BuzzFeed News, Uber said that the account holder that evening was removed from the ride-sharing service.
Kate also said she told five people about the alleged incident soon after it happened. BuzzFeed News corroborated basic details of Kate's account with all five individuals, who all declined to be named in order to protect Kate, in addition to reviewing Kate's text messages to a friend from the night of the incident that names Winston. (Kate told BuzzFeed News, "I didn't want to be publicly known as the woman who Jameis Winston groped.")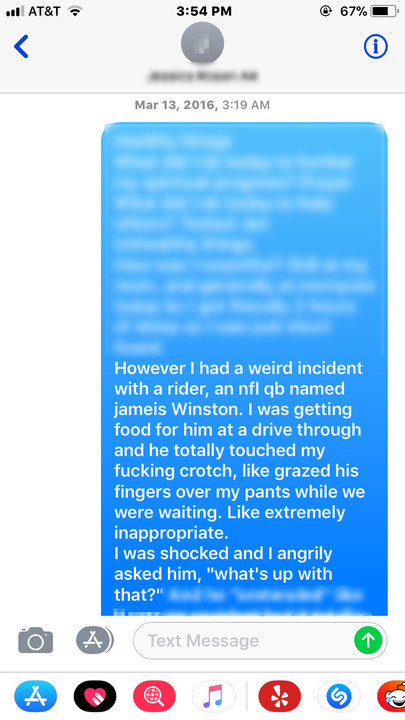 The alleged incident occurred nine months before Winston settled a civil lawsuit with a woman who accused him of rape in 2012, when both were students at Florida State University. The terms of the settlement are confidential. "I did not rape or sexually assault [name redacted]. I did not create a hostile, intimidating or offensive environment in the short period of time that we were together," Winston said in a statement as part of a Florida State State code of conduct hearing, obtained by USA Today.
And earlier in 2016, Florida State University settled a lawsuit with the woman and was ordered to pay $950,000. A 2014 New York Times investigation, based on documents from the university and police, "found that Florida State and the Tallahassee police had done little to determine what happened in the Winston case." Winston's accuser, Erica Kinsman, came publicly forward in the documentary "The Hunting Ground," which explores the failures of college and university administrations to deal with allegations of sexual assault. In a letter to CNN two days before the documentary was set to air, lawyers for Winston threatened to sue the news network , writing that the documentary was "false and defamatory to Mr. Winston."
Even before Kinsman's appeared in the documentary, her name was leaked to the public and for months she became the target for severe online harassment. Football fans began distributing her personal information and pictures on social media, and Winston's lawyer would name Kinsman so often that it began to raise questions.
"All these people were praising him. People were just calling me names; a slut, a whore," Kinsman said in the documentary. "People were threatening me, my family, and there were other people that were threatening my sorority saying, 'We're going to burn down their house.'"