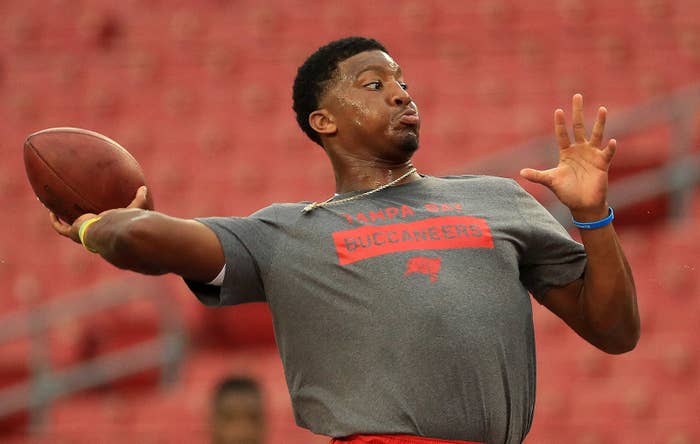 A woman sued NFL star Jameis Winston on Monday, saying he sexually assaulted her as she was driving him in an Uber in 2016.
The lawsuit, filed in federal court in Arizona, comes after BuzzFeed News exclusively reported on the allegations in November 2017.
Winston, a Tampa Bay Buccaneers quarterback, was later suspended for the first three games of this NFL season, and the team will play its third game on Monday evening. But it's unclear if Winston will return to the starting role: His replacement, Ryan Fitzpatrick, has been playing well and led his team to wins in the first two games.
Winston's representatives said they had no comment.
The plaintiff, identified in the suit as Kate P., said Winston was her passenger in March 2016 in Phoenix.
"This lawsuit," the complaint reads, "arises from the entitled actions of a professional football player who felt permitted to sexually assault his Uber driver following a night of unruly behavior."
Kate picked up Winston at 1:41 a.m. from the International club in Scottsdale and was supposed to take him to the Camby Hotel in Phoenix.
Winston sat in the front seat. "As the men approached the vehicle, one of them stated, 'She is hot. You should sit in the front seat, Jameis,'" the lawsuit says.
The lawsuit says Winston's friends, both NFL players, told her, "'Do you know who you are driving? The Tampa Bay Bucs quarterback.'" Another one of the men indicated, 'You have precious cargo, make sure you take real good care of him.'"
The lawsuit said Winston appeared to be "in a bad mood" and was screaming and yelling obscenities at people out his window.
He said he wanted to detour to get Mexican food, and Kate took him to a drive-through.
"While waiting for the food to arrive and without any warning, Defendant Winston leaned toward Plaintiff and placed his fingers between her legs and pressed them firmly against her vagina over her yoga pants," the lawsuit said.
"Plaintiff looked at Defendant and then back down at his hand and asked, 'What's up with that?' Defendant Winston then withdrew his hand," the lawsuit said.
Later that night, Kate texted her boyfriend and said, "I just got semi molested by the Tampa Bay Buc QB," and added, "pretty shaken up..."

Kate said in the lawsuit that the #MeToo movement made her overcome her "fear of reprisal."
She then "contacted Buzzfeed.com, as they had run similar #MeToo stories around the same time."
Winston is scheduled to return to the Buccaneers on Sept. 25. A spokesperson for the team didn't provide comment.