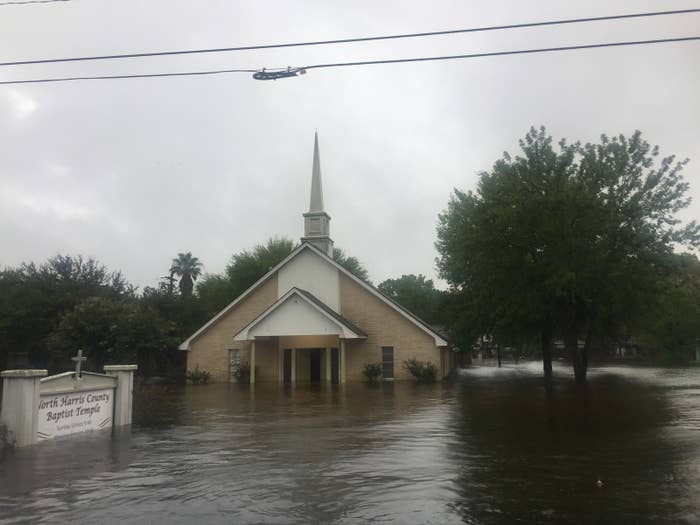 It poured, it rained, and it poured again Sunday as Tropical Storm Harvey settled in over southeastern Texas for a second day, realizing the worst fears of flooding across the Houston metro area.
As the local emergency responders launched rescue efforts across the city, responding to residents' pleas for help on Twitter, some residents of smaller communities on the outskirts of Houston felt as if the roar of the storm had left them behind.
In Glen Lee, a residential neighborhood tucked between the trees that encircle Houston's George Bush Intercontinental Airport, resident Gerald Cross spent most of Sunday morning helping to rescue two women from a nearby home. The water was ankle-deep inside the house, he said, and it rose to his chest on the path out.
The neighborhood lies to the north of Houston, in one of the many suburbs of Harris County, the country's third largest. And like most of southeastern Texas, it was hit by Harvey's torrential rains over the weekend.

As the floodwaters continued to rise Sunday, Cross said he hadn't seen any official support services or emergency response teams in the area. But he hadn't really expected any either.
"We're a lost city back here," he told BuzzFeed News. "They don't do anything back here for us."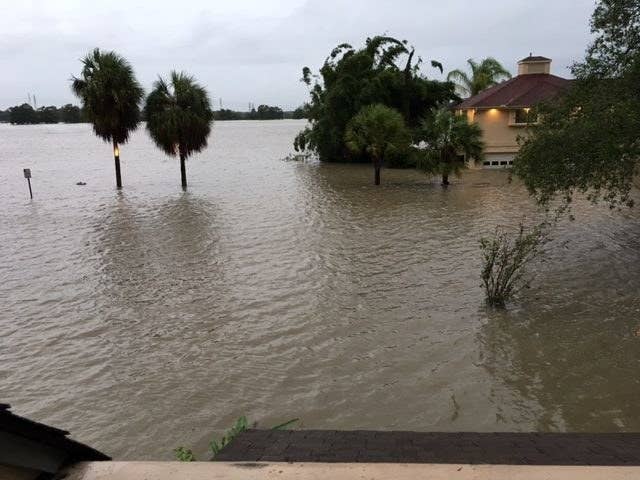 On the other side of Houston, in the coastal enclave of Nassau Bay, Yvonne Guy was also steeling herself to weather the floods alone Sunday night. Though the tiny city, which sits adjacent to the Lyndon B. Johnson Space Center, is one of the wealthier parts of the county, Guy — like the residents in Glen Lee — has found herself acting as her own first responder during Tropical Storm Harvey.

"I'm on an island here," Guy told BuzzFeed News, pointing out that she is the last remaining resident on her cul-de-sac. Her townhouse managed to escape the initial floods, she said, thanks to its location at the neighborhood's highest point and a call for prayers she posted on Facebook. But by Sunday night, the water was starting to approach her door.
"I felt pretty secure staying home since we are 16 feet above sea level and never had water in 31 years," she said, "but this is unlike anything I've seen. Last night I had 9 and a half inches of rainfall in 90 minutes."
Guy is now bracing to let the floodwaters take over the first floor of her house. "I'm prepared to live on my second story," she said. "I've moved my small valuables up there. I've made peace with it."
She's also ready to evacuate herself and her dog, if it comes to that. "I've got a big old Styrofoam cooler for my Teddy to float him out on and he has a life jacket," she said. "If I had to walk my way out of here and float way out, I could. I also know plenty of people with boats."
"Our motto here is that we're not going to be another frigging Katrina," she added. "And we've always been known to take care of our own."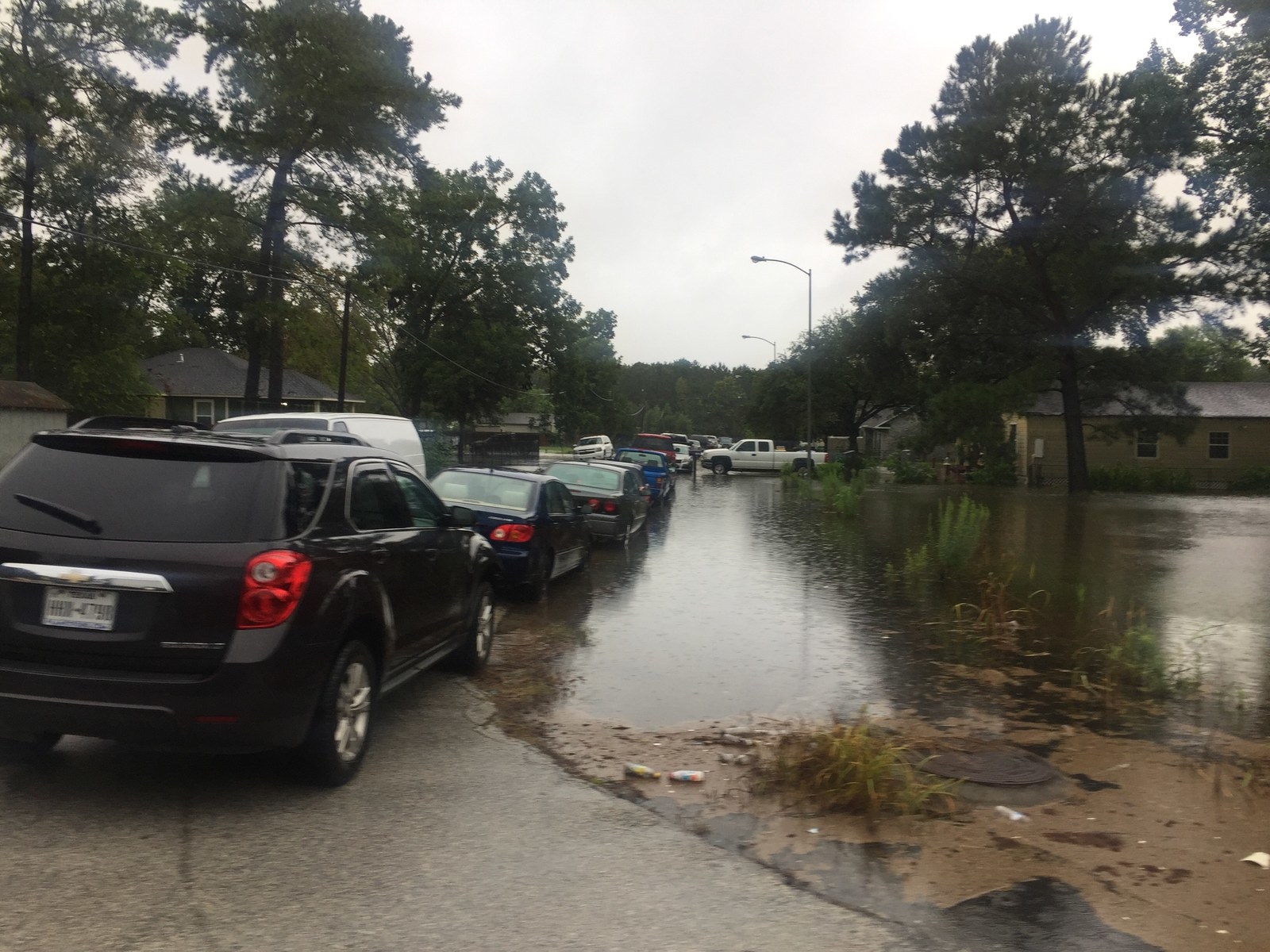 Back in Glen Lee, rows of mailboxes peeked up above the flood waters on the narrow streets Sunday, and cars clustered at the edges of the few dry intersections. Most of the homes in the neighborhood are modest, and some are propped up on wooden stilts or cinder blocks, but even that did little prevent the floodwaters from creeping into homes.

The area slopes gradually downward toward a bayou, Cross said, which "comes out of its crest, and before you know it, the water's snuck up on you and you don't even know what's happened." And when officials built ditches to drain the neighborhood, Cross said, they weren't sloped to actually carry the water away.

On Sunday, though, the water wasn't moving any direction but up.

"It's just a mess," Cross told BuzzFeed News.
The feeling appeared to be shared across the neighborhood. Just a few blocks away, another Glen Lee resident, Hector Montalvo eyed a ditch in front of his house Sunday night, as it filled with water. On the next street over, a church — which other residents said was just recently recarpeted — was already submerged in several feet of water.
"They're not doing nothing," Montalvo said of the official response to the floods. "They're not doing it right."
Nearby, Sherena Edmonson stood atop her small porch as the roar of the rain continued to flood her front yard. "I feel like we've been forgotten," she said.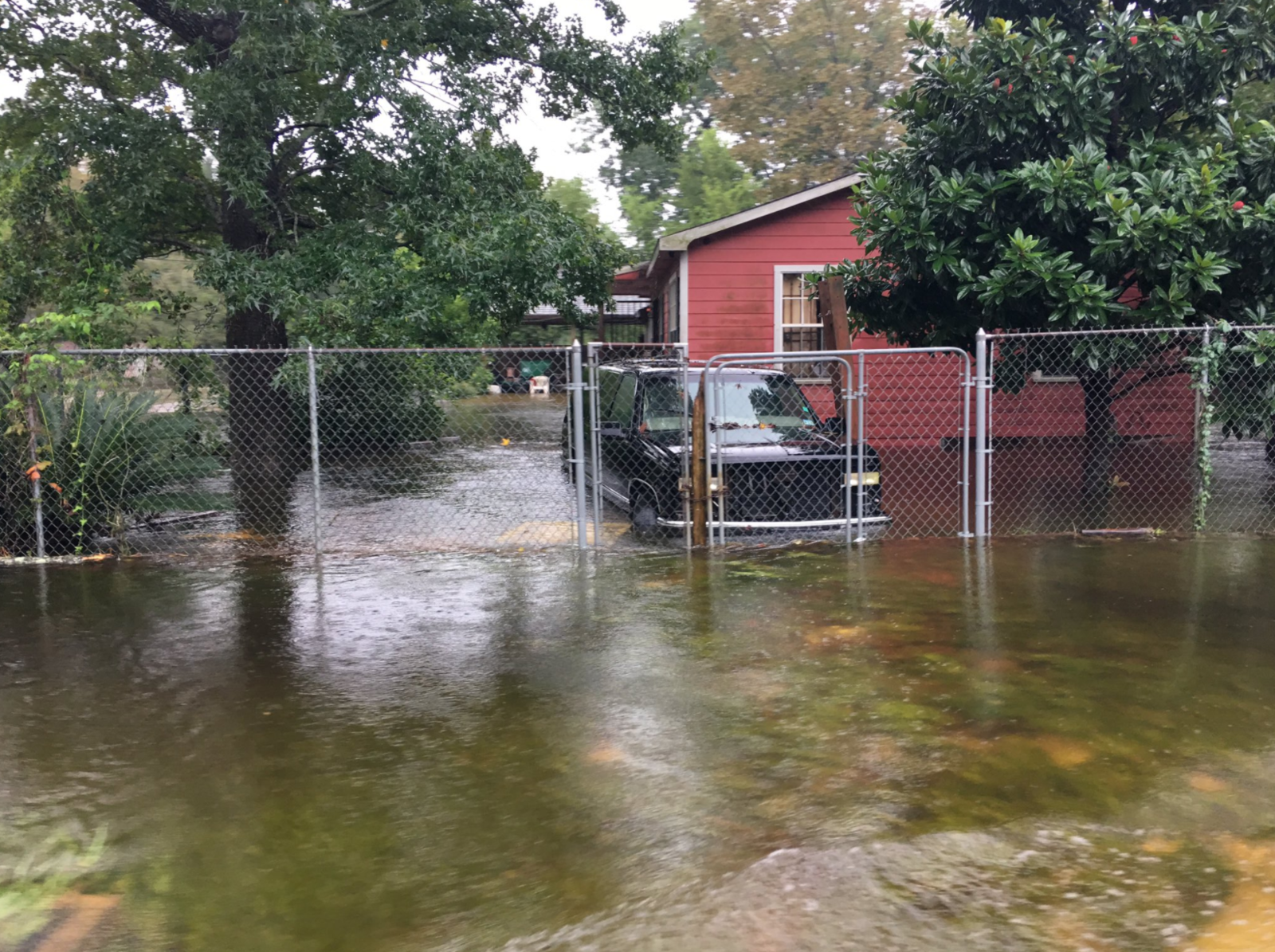 Like Guy, though, Edmonson was prepared to weather the storm alone, and she's confident that people in the neighborhood would look out for one another. Already, she said, residents with trucks had been making the rounds in Glen Lee Sunday to check in on people.

"They were going around, riding around, making sure everybody was OK, getting those [people] out that couldn't get out," Edmonson said. "This amount of rain is making it bad."
"You know there's nothing we can do — you either ride it out or sit in a shelter," she added. "I'm gonna ride it out."
If you've been impacted by the storm in Texas or have a tip about rescue, relief, government, or aid efforts, call the BuzzFeed News tipline at (646) 589-8598. Find us on Signal, email, SecureDrop, and more here.