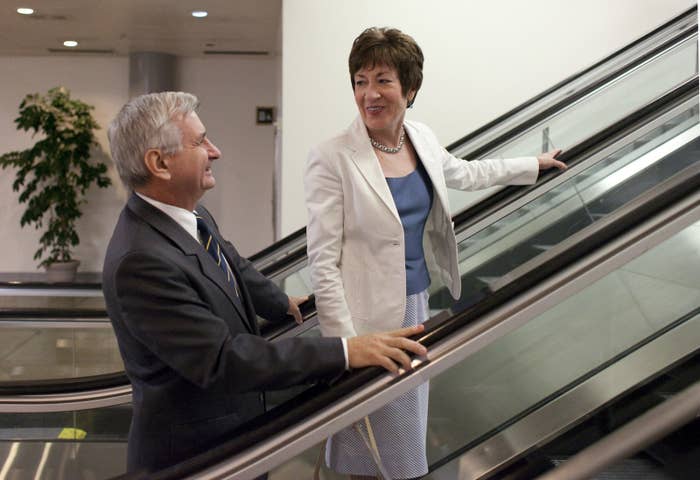 A live microphone in the Senate on Tuesday caught two senators responding to comments made by a congressman frustrated over the delay in repealing Obamacare, saying he'd challenge one female senator in particular to a duel — if she were a "guy."
Rep. Blake Farenthold of Texas made the comments Monday during an interview on Keys 1440 AM, and was believed to have been taking aim at Republican Sen. Susan Collins of Maine, who has been a holdout on moving forward with efforts to repeal the Affordable Care Act.

"Listen, the fact that the Senate does not have the courage to do some of the things that every Republican in the Senate promised to do is just absolutely repugnant to me," Farenthold said before referring to the 1804 duel between then-vice president Aaron Burr and Alexander Hamilton. "Some of the people that are opposed to this — there are some female senators from the Northeast — if it was a guy from south Texas, I might ask him to step outside and settle this Aaron Burr-style."

On Tuesday, a microphone that was left on after a live stream of a Senate subcommittee meeting picked up audio of Sen. Jack Reed telling Collins she'd likely "beat the shit out of" Farenthold in a match up.
"You know why he challenged you to a duel? 'Cause you could beat the shit out of him first!" Reed told Collins as she laughed.
The hot microphone also picked up Collins telling her Democratic colleague on the subcommittee that Farenthold is "so unattractive, it's unbelievable."
"Did you see him in his pajamas next to this bunny, Playboy Bunny?" Collins asked, referring to a photo in 2010 showing Farenthold wearing a blue pajama onesie decorated with ducks while posing next to a scantily clad woman.

By Tuesday afternoon, Collins has released a statement, revealing that she had apologized to Farenthold, and he had also apologized to her in a handwritten note.
"Neither weapons nor inappropriate words are the right way to resolve legislative disputes," Collins' statement read. "I received a handwritten apology from Rep. Farenthold late this morning. I accept his apology & I offer him mine."
A spokesperson for Senator Reed confirmed it was his voice in the recording. The office of Collins did not immediately respond to requests for comment.
Republican Sens. Lisa Murkowski of Alaska and Shelley Moore Capito of West Virginia have joined Collins in holding their support for current proposals to repeal and replace Obamacare.