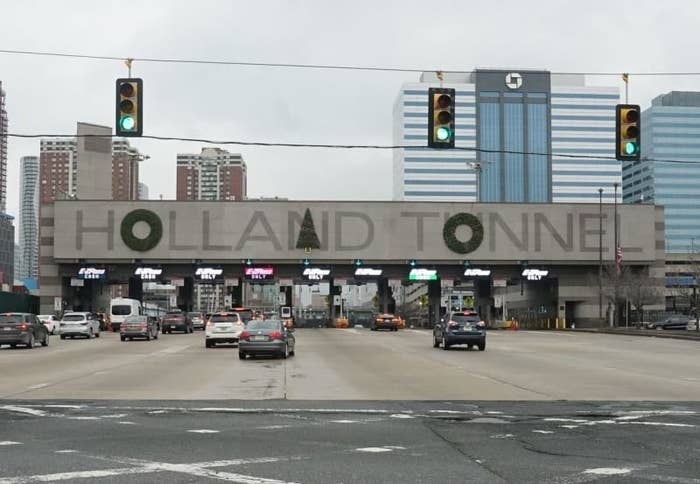 Sure, it's a Christmas miracle.
A petition from commuter Cory Windelspecht, a 38-year-old Manhattan resident who told BuzzFeed News last week that the Holland Tunnel's Christmas decorations have ruined his winter commutes for years, has prompted change.

Windelspecht was so fed up with the holiday decorations that he started a Change.org petition for them to be altered, and it garnered over 2,900 votes.
But most important, he caught the attention of the Port Authority of New York & New Jersey, which oversees the tunnel connecting the two states.
The agency decided to launch a public poll, with three options that would change the decoration setup and a fourth choice to keep it as is.

"Some have actually said to us it is a small miracle that the Port Authority has listened and responded," said Port Authority Executive Director Rick Cotton announcing the winning choice on Monday at a press conference outside the tunnel.

"More than 80 percent voted for change, so change there will be," Cotton said of the poll, which received 21,500 votes.
"The winning option is to move the Christmas tree in its triangular form over to the 'A'...congruent to the 'A,'" he said. "And the option that won will also take down the 'O,' the wreath over the 'N,' and that will be repurposed to the Journal Square Path Station."
The winning choice received 42% of the vote; the change will be made to the decorations on Monday evening.
"It just made my skin itch," Windelspecht, the commuter that started it all, said of the decorations that defied logic and basic aesthetic sensibilities.
"There's something about the symmetry of it that would drive me nuts," he said of the decision to put a triangular Christmas tree over the "N" and a circular wreath over the "U," spelling "HOLLAMD TONNEL."
In his petition, Windelspecht, who said he has obsessive compulsive disorder, wrote that this "one small thing triggers anyone with the slightest hint of OCD every time they enter the city."
"On top of that, it's just unsightly and ruins the holiday festivities for people to enjoy on such a great piece of architecture," Windelspecht wrote.