A high school teacher in Dewey, Oklahoma, has posted homophobic, anti-Muslim, and racist statements on his Facebook profile for years — all of which was public until members of the community started to complain around two months ago.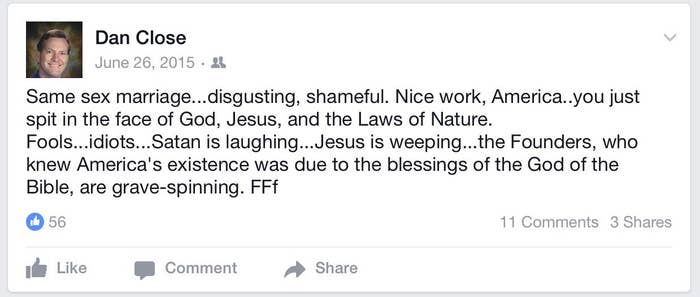 The offensive posts were allegedly made by Dan Close, who teaches American History and Government at Dewey High School in Dewey, Oklahoma, a small city in the state's northeast.
Over 100 Facebook posts, spanning several years, were given to BuzzFeed News by an Oklahoma resident who wanted to remain anonymous out of fear of being targeted by the "alt-right." The tipster decided to reach out to BuzzFeed News when they perceived inaction by the Dewey Public School system after they were alerted of Close's public posts.
Some of the posts on Close's personal Facebook page question Michelle Obama's gender, repeatedly refer to Hillary Clinton as the "Pantsuited Beast 666," and blame Democrats for the ambush and killing of five police officers in Dallas in July, 2016.

Some of the most offensive posts are about Muslims and Islam. One calls the religion of an estimated 1.7 billion people a "death cult," and urges people vote for Trump so that Muslims can be "butchered."

"Another Islam attack," Close wrote. "Happy Ramadan to everyone. Death cult. Vote for Clinton if you want to appease these dog pigs. Vote Trump if you want them butchered. Happy Ramadan to all infidels."
The posts also repeatedly refer to LGBT activists or LGBT people referenced in news stories as the "gaystapo."
Posts also contain insults or make fun of students in his classroom, once calling the "Youth of America" a "County Fair Freak Show."

Other posts called the White House the "White Mosque," and President Obama the "Imam-in-Chief," referring to the conspiracy theory that he is secretly a Muslim.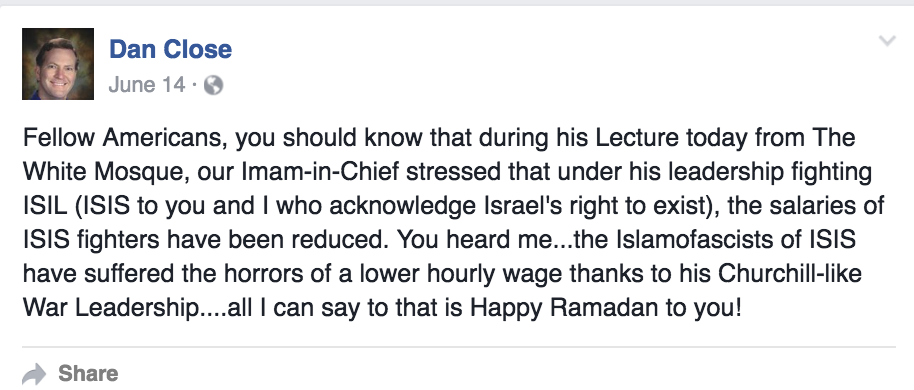 Yet another post suggested that Michelle Obama is not a female.
Close's politics, one former student told BuzzFeed News, also crept into the classroom. "I knew his political leaning and there was definitely a bias in that he made it very clear which political side he was on," said the former student, who wished to remain anonymous because of their current employment.
The "Standards of Performance and Conduct for Teachers" in Oklahoma state that teachers "shall not unreasonably deny the student access to varying points of view" and "shall not deliberately suppress or distort subject matter relevant to the student's progress."
Many of the offensive posts BuzzFeed News has included here were confirmed by a former student of Close, who was his friend on Facebook, and Paula Washington, a retired elementary school teacher who taught for 25 years in Oklahoma City. She said she came across Close's posts when they were public in November of 2016 and found the posts objectionable.
Appalled and "overwhelmed by the vitriol," Washington said that she called the Dewey Public School System's Superintendent Vince Vincent that month to complain.
"I told him how objectionable it was. I told him how a teacher has an obligation to express facts — especially a history teacher, to teach facts without opinion. The vitriol and the complete hatred that he had shown on his Facebook page had not only been seen by his students, but students all over the country," Washington told BuzzFeed News.
"Had it not been associated with his work, I would support his First Amendment rights, but I also know he represents the educational system for which he works, and I couldn't mesh the two," Washington added.
Washington said that while Vincent was "respectful" and "amiable," he regarded the matter a First Amendment issue, and a personnel matter.
Vincent did not respond to BuzzFeed News' multiple requests for comment. Dewey High School's Principal, Brent Duggar, also did not respond to requests for comment. BuzzFeed News left messages with their assistants at work and with the city's solicitor seeking comment.
Close didn't return BuzzFeed News' phone calls or email messages.
Close's former student said Close was an engaged and good teacher, who had a "political fire" in him that was "definitely skewed towards the right."
He and other students were friends with Close on Facebook, and over time he would notice "more racially charged stuff" on Close's page.
"As I grew older that noticed more racially charged stuff about the first lady, and bigoted things," the former student said. "I ended up unfriending him."