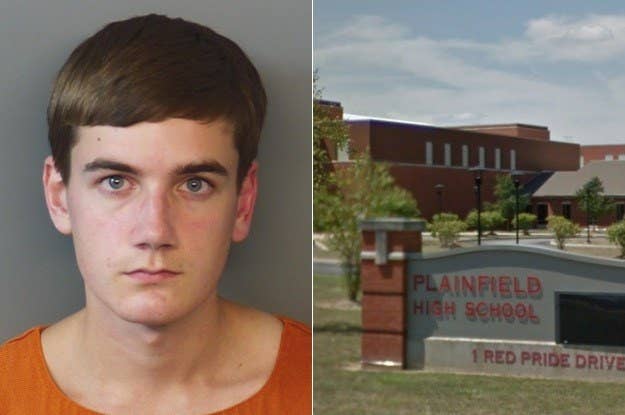 A 17-year-old high school student who allegedly forced sexual activity on and became violent with several classmates has been charged with rape and will be tried as an adult, according to documents filed with Hendricks County Superior Court in Indiana.
According to a probable cause affidavit filed with the court, Levi Stewart is accused of "threatening, intimidating and harassing young female students in his classes to engage in sexual activity with him."

Stewart was charged with two counts of felony rape Sept. 6 and has since been released on a $5,000 bond. The attorneys listed in Stewart's court records did not immediately respond to requests for comment.
The Plainfield Police Department interviewed four of Stewart's female classmates who said Stewart tried to pressure them to perform sexual acts.
The investigation into the allegations began Aug. 20, when Plainfield High School received an anonymous tip that another male student was going to fight Stewart because "he was tired of Levi putting these female students in fear so they would be forced into a sexual relationship with him," the affidavit reads.
In one case, a 17-year-old classmate alleges Stewart took her to a park and told her he wanted to "smash," and when she refused, he started yelling at her. At one point he said, "If you don't suck my dick you don't care about me," according to the affidavit.

He then forced her to perform oral sex. At first she told investigators she didn't realize the severity of what had happened and decided to "slap a bandaid on it and pretend it didn't happen."
In an interview with police, a different 17-year-old classmate stated Stewart, on multiple occasions, pressured her into sexual acts and "forced his hands down her pants." He allegedly told her to "just loosen up," "return the favor," and "this is what couples do."

When she tried to break up with him, he allegedly told her he would commit suicide, but she ended the relationship after a friend told her if he did, "that's not on me."
An 18-year-old interviewed by police said Stewart began to get "emotionally aggressive" in their relationship and would pressure her into sexual activity and would "force his hand into her underwear without permission and penetrate her vagina with his fingers."
In yet another instance, a 16-year-old told police that Stewart had become physically violent with her when she refused his advances. "She did say that when she said no to him, he would also hit her on her arms and slap her ... She stated that one time she told him no, he put his hands around her neck. She stated he didn't squeeze or choke her, just yelled at her."
Stewart's next court hearing is Nov. 14, according to Hendricks County Court.