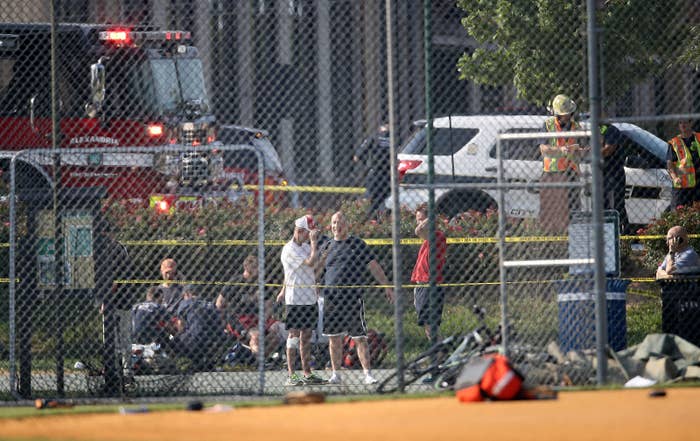 The man who opened fire at a Republican congressional baseball practice in Virginia on Wednesday identified by the FBI as James T. Hodgkinson of Belleville, Illinois.

House Majority Whip Steve Scalise, lobbyist Matt Mika, Special Agent Crystal Griner, and Zack Barth, a staffer to Rep. Roger Williams, were shot in the morning melee. Rep. Roger Williams and Special Agent David Bailey were also injured.
Hodgkinson, 66, later died at a hospital after he was shot multiple times in the torso.

"The FBI is actively investigating Hodgkinson to include his associates, whereabouts, social media impressions, and potential motivations," the agency said in a joint statement Wednesday. "This is an active investigation that continues to unfold."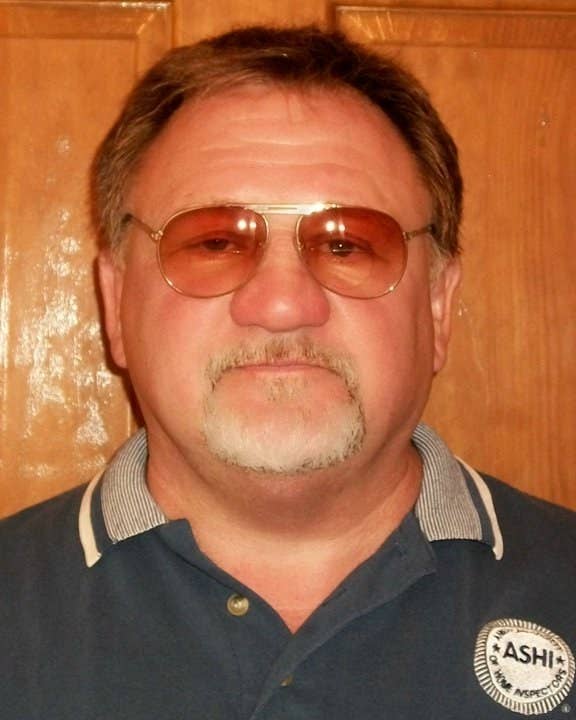 Hodgkinson was from Belleville, Illinois, but he left his home earlier this year. Special-agent-in-charge Timothy Slater said the FBI believes he had been living out of his white cargo van in the Alexandria area since March, and his wife told ABC he had been gone for months.
Rep. Jeff Duncan of South Carolina told BuzzFeed News the gunman asked whether those practicing on the field were Republicans or Democrats before opening fire. Shown an image of Hodgkinson from his Facebook page, Duncan said the photo matched the man he spoke to.

Facebook pages that appeared to belong to Hodgkinson showed multiple posts critical of President Trump and supportive of Sen. Bernie Sanders.

Hodgskin had an extensive history of encounters with law enforcement in Illinois, the Belleville News-Democrat reported, including arrests for domestic battery, driving under the influence, criminal damage of property, and eluding police.
He appeared to own a home inspection company, JTH Inspections, according to Yelp, his Facebook accounts, and online business records. The FBI does not believe he had been working in Alexandria, however.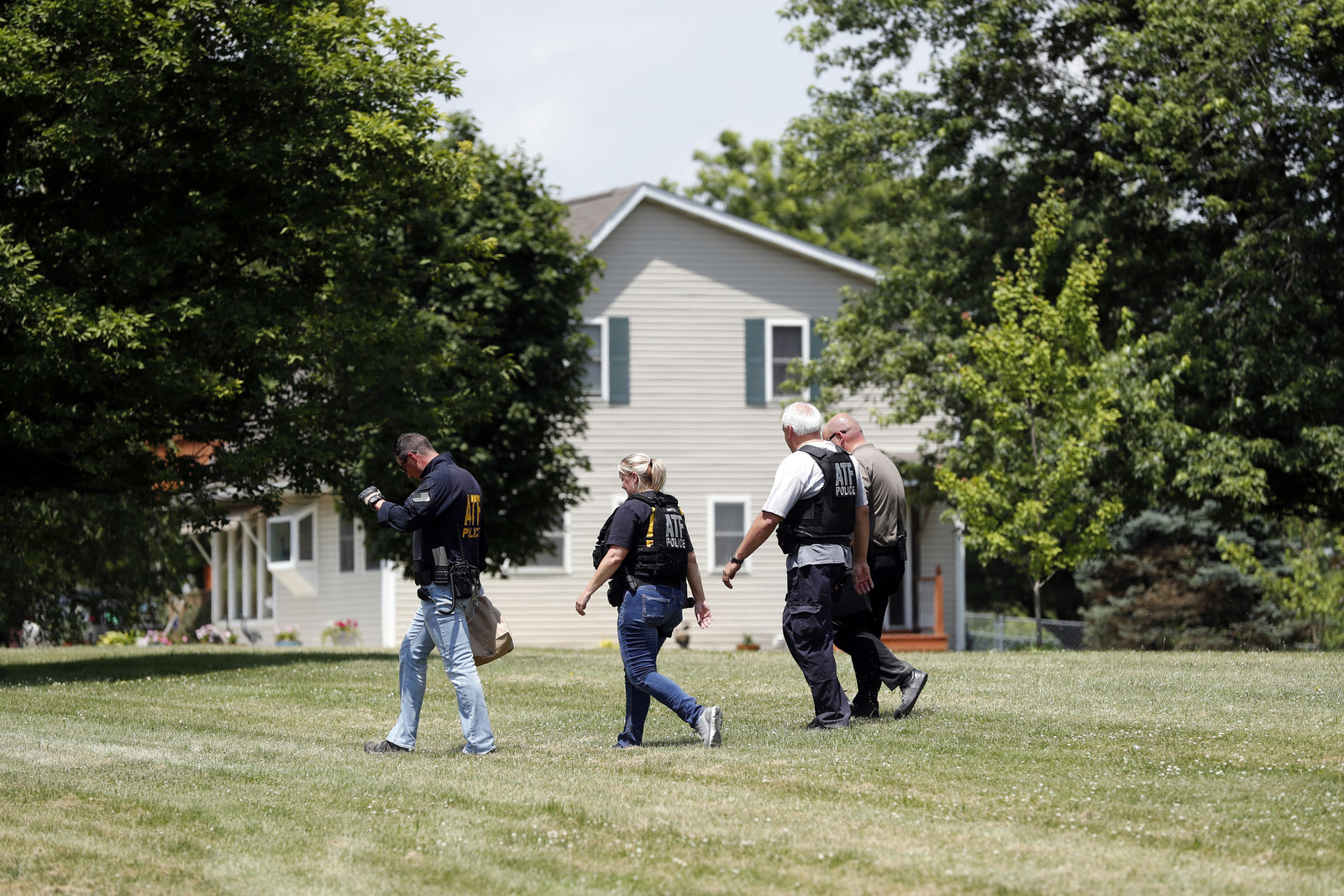 St. Clair, Illinois, County Sheriff Rick Watson told reporters that deputies had most recently been in contact with Hodgkinson on March 24, apparently not long before he left for Virginia. A neighbor had complained that he was firing a gun in an open area, but Hodgkinson appeared to be sighting in a deer rifle — not a crime since no one was injured and he was in possession of a valid firearm owners identification card, the sheriff said.
"We just made sure he know about the safety risks," Watson said, adding that he did not believe it was the same rifle Hodgkinson used in the Alexandria attack.
In 2006, Hodgkinson was arrested on suspicion of aggravated discharge of a firearm, according to a police report obtained by HuffPost. Watson described it as a dispute involving child custody, Watson said. At that time, one person said Hodgkinson had fired a gun during the argument, but the sheriff said he was not charged with a crime.

Hodgkins appears to have been active on political social media for years. One of his Facebook pages, which has been swarmed by users' comments after Hodgkinson was identified as a suspect, contains multiple posts dating back to at least 2014, that are critical of the Republican party.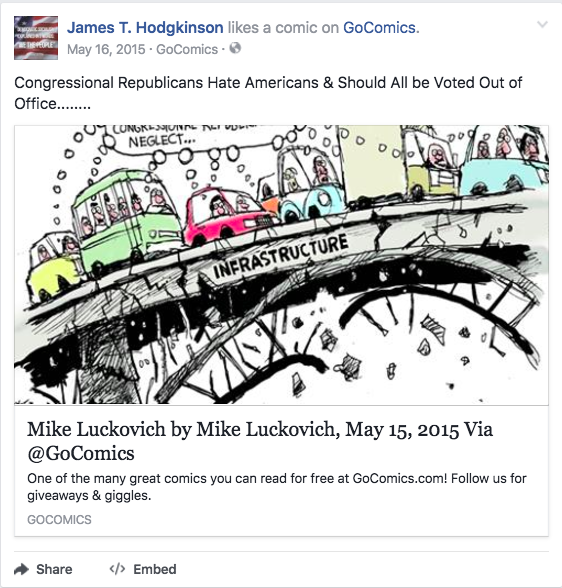 Hodgkinson appears to have a particular interest in political cartoons that took aim at Republican figures and their donors, as well as the politics and policies of the GOP in general.

In January 2015, Hodgkinson shared a cartoon depicting Scalise addressing members of the Klu Klux Klan with the caption, "Here's a Republican that should Lose His Job, but they Gave Him a Raise."
Hodgkinson wrote a number of letters to the editor of his local paper, the Belleville News-Democrat.

In these letters, he railed against Republican policies, conservative television hosts, and even advocated for the legalization of marijuana.
"One of my favorite TV shows is 'The Rachel Maddow Show' on MSNBC," he wrote in one letter about taxes.
Common themes in Hodgkinson's letters were income inequality and taxes — specifically, about how an increase in the number of tax brackets would fix the country's problem.
"If we had anything close to the way our great leaders of the past set up the tax code, we could eliminate 90 percent of the country's problems, pay down the debt and get the country back in the black in no time," he wrote.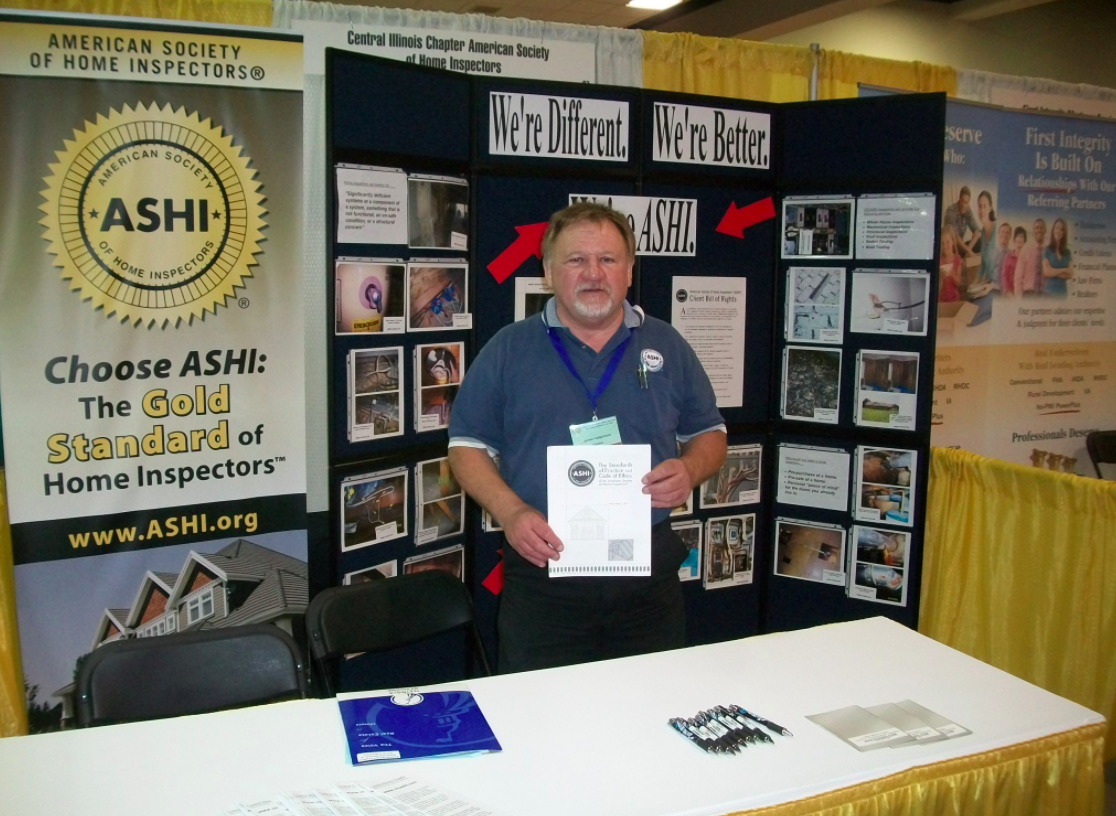 Hodgkinson's social media posts from the past year indicate that he was an ardent supporter of Sanders' presidential campaign.

Sanders said he had been informed that Hodgkinson volunteered on his presidential campaign.

"I am sickened by this despicable act," Sanders said in a statement. "Violence of any kind is unacceptable in our society and I condemn this action in the strongest possible terms."
Hodgkinson was active in political protests in his community for years.
A short clip of Hodgkinson at an Occupy Wall Street rally from a local news segment in 2011 surfaced on Wednesday afternoon. "Ninety-nine percent are getting pushed around and the 1% are just not giving a damn. So we have to speak up for the whole country," Hodgkinson said in the brief video.
A 2012 photo shows him holding a sign reading, "TAX the Rich" outside of the US Post Office in downtown Belleville.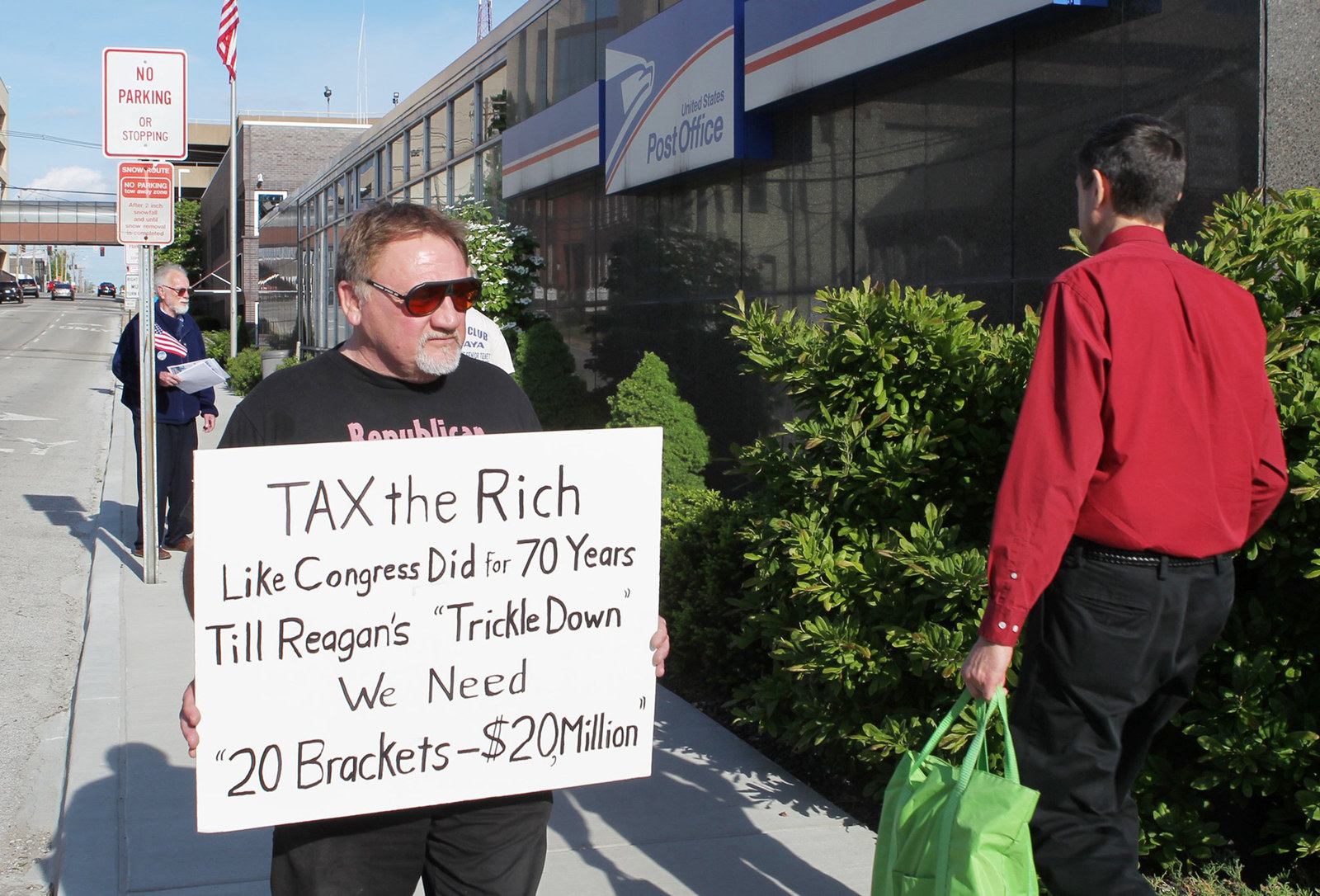 Hodgkinson's brother, Michael Hodgkinson, said he hadn't spoken to his brother in some time, but knew he wasn't happy with the direction of the country and the presidential elections.
"I know he wasn't happy with the way things were going, the election results and stuff," Michael told the New York Times.

Hodgkinson's congressional representative, Mike Bost, said Hodgkinson was "always angry," according to the Washington Post. Bost added that Hodgkinson had contacted his office on 14 occasions by email or phone.

"This one never crossed the line, but he was always angry," Bost said.

This is a developing news story. Check back for updates or follow BuzzFeed News on Twitter.