The Trump administration partly justified its new order suspending immigration from six Muslim-majority countries and the refugee program by citing two FBI sting operations and a vague statistic from the Department of Justice.
Banning immigration from Iran, Libya, Syria, Yemen, Somalia, and Sudan for 90 days and suspending the refugee program for 120 days, Trump said, will protect the nation from allowing terrorists in. It takes effect March 16.
"Recent history shows that some of those who have entered the United States through our immigration system have proved to be threats to our national security," part of the order reads. "Since 2001, hundreds of persons born abroad have been convicted of terrorism-related crimes in the United States. They have included not just persons who came here legally on visas but also individuals who first entered the country as refugees."
The heart of the order's justification — not included in the first order, which caused widespread chaos at airports worldwide — describes the two operations and the DOJ statistic. That's followed by: "Given the foregoing, the entry into the United States of foreign nationals who may commit, aid, or support acts of terrorism remains a matter of grave concern."
The first threat recounts the year-long federal government sting surrounding a 19-year-old Somali-American college student who eventually believed an undercover FBI agent to be an "al-Qaeda spotter." After nearly six months, the teen, Mohamed Osman Mohamud, believed he was planting a bomb at a holiday tree-lighting ceremony in Portland in 2010. Prosecutors said Mohamud "believed he was going to maim and kill thousands by detonating a bomb." Mohamud's defense lawyers argued he was an impressionable young man who had not been planning an attack until approached and entrapped by two undercover FBI agents. He was sentenced to 30 years in federal prison in 2014.
The other example — also part of an FBI sting operation — which recently made news in the form of the nonexistent "Bowling Green massacre," involved two Iraqi men who entered the country as refugees and were later indicted for allegedly admitting to using improvised explosive devices in Iraq, and providing material support to terrorists, according to the FBI. There was no plan for an attack in the US.
Michael German, a former FBI agent who is now a national security expert at New York University's Brennan Center for Justice, said the use of these two cases, which relied so heavily on FBI undercover agents, is evidence that there is a lack of data to support the purposes of the executive order.
"If you have two cases as your sole examples, that, in and of itself shows it's not a big problem," German said. "Especially the Portland case, where the FBI was the primary driver and provided all the weapons and resources necessary to accomplish the plot. It seems like a self-fulfilling prophecy. The Portland case was clearly a manufactured case."
Wadie Said, a professor of law at the University of South Carolina who has written a book on terrorism prosecutions, agreed, saying, "In both cases you have informants taking individuals down the road of very troubling activity. The problem is, of course — why is the government in the situation of setting this stuff up?"
"I suppose the idea or logic is, if you stop these people from coming here in the first place, you can stop this threat. But it's already so difficult to get into the United states, yet it's so tempting to use this construct of a terrorist using the [refugee] system, or beating the [refugee] system — I get that it has a powerful logic, but the statistics just don't hold this up."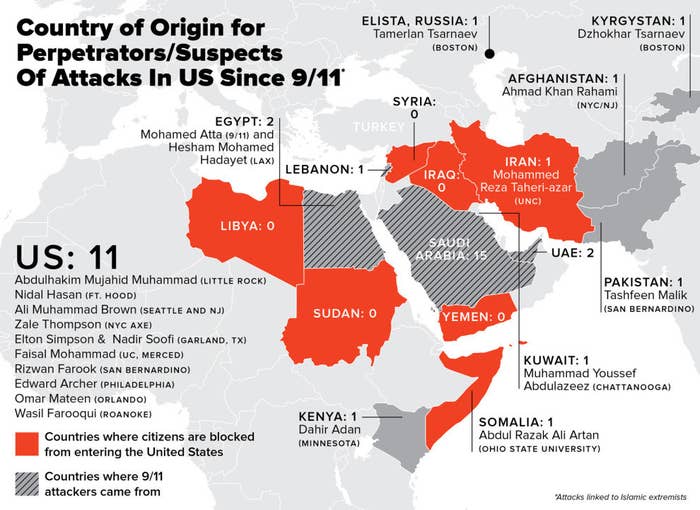 In addition, the new executive order states that "the Attorney General has reported to me that more than 300 persons who entered the United States as refugees are currently the subjects of counterterrorism investigations by the Federal Bureau of Investigation."
The number was reiterated during a briefing with reporters on Monday by a senior Department of Homeland Security official. "The FBI is currently looking and investigating active terrorism-related investigations into approximately 300 individuals who were admitted into the United States as refugees," he said, adding that it was, "not a small number."
When a reporter asked if the 300 persons were only individuals from the six countries on the travel ban list, the official said that it was "a global number across the United States" that "encompasses individuals from these countries and from others."
It is unclear what proportion of ongoing counterterrorism investigations relate to refugees from the list of banned countries, and what the level of suspicion surrounding these 300 individuals is.
German, the former FBI agent, said the number was meaningless, explaining that the threshold for the FBI to open an investigation is very low.
"There are probably tens of thousands investigations that don't result in any wrongdoing," German said, adding that the first level of an investigation is called an "assessment" and "requires no information, no factual basis."
German said agents can even make their own allegations to open an investigation against someone "to see if they can make them into an informant, and with a refugee population or immigrant population, the chances of this are high, as we've seen."
Said, who was also once an assistant federal public defender before becoming a professor, said the FBI's use of opening investigations as a tactic dates back to the agency's inception. "That tactic has been around since the FBI was set up," Said said.
"There are all sort of different types of activities that the word 'investigation' could be referring to. That's a malleable term that would be trotted out for many reasons."
A leaked Department of Homeland Security draft document obtained by the Associated Press in late February contradicted the first executive order's focus on seven banned countries — at the time it included Iraq — and found that "country of citizenship is unlikely to be a reliable indicator of potential terrorist activity." The draft also found that most people recently involved in terrorism in the US were not from the list of countries in the travel ban.
On the phone call with reporters, the senior DHS official said the "purported" leaked report was not "complete," "thoroughly vetted," or cross-checked with other agencies, and therefore not reliable.
Stephen Yale-Loehr, an immigration lawyer and adjunct professor at Cornell Law School who has written a 21-volume tome on immigration law, said in a statement that the new executive order "will not quell litigation or concerns."
"Overall, however, the revised executive order is essentially old wine in a new bottle. It assumes that travelers from the six Muslim-majority countries and all refugees are inherent security risks," Yale-Loehr wrote, citing the leaked DHS draft report.
A report by the CATO Institute in January found that "Foreigners from those seven nations [in the original executive order] have killed zero Americans in terrorist attacks on US soil between 1975 and the end of 2015." The report also stated that the "annual chance of an American dying in a terrorist attack committed by a refugee is one in 3.6 billion."
The White House and FBI didn't immediately reply to a request for comment.