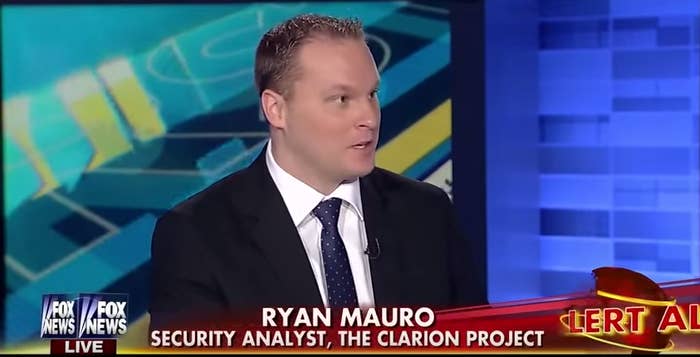 Civil liberties and advocacy groups have lashed out at a New York law enforcement officers association's decision to host a keynote speaker at its annual conference who critics say promotes anti-Muslim ideas and rhetoric.
Ryan Mauro is scheduled to deliver the address and conduct training sessions at the New York Tactical Officers Association's 10th annual three-day conference in Verona, New York.
The conference began Tuesday and Mauro's address is for the final day, Thursday. Around 800 tactical law enforcement personnel from the New York region reportedly attend the conference, which holds trainings, speeches, and a vendor show of the latest firearms, gear and military-grade equipment.
Mauro is a national security analyst at the Clarion Project — a nonprofit "dedicated to exposing the dangers of Islamist extremism." The group has been called anti-Muslim and has been criticized by left-leaning media for promoting Islamophobic material and views.
The Southern Poverty Law Center called Mauro an "extremist" who has "promoted the false narrative of 'no-go zones' for non-Muslims in Europe" and pointed to his comments that Muslims "create enclaves where they can begin gradually implementing Sharia law" in the U.S.
Mauro has previously asserted that Muslim enclaves exist around the country. Earlier this year, Mauro told Fox News that "civilians really need to step up" by reporting signs of radicalization on Facebook.
The New York Civil Liberties Union on Tuesday denounced NYTOA's decision to feature Mauro as a keynote speaker, saying it is "harmful to promoting common sense law enforcement." The Council on American-Islamic Relations has called on the NYPD and other law enforcement agencies to "investigate whether any officers" will attend the conference.
"We urge you to ensure that NYPD personnel are warned of the conspiracy theories promoted by the featured speaker, that no taxpayer dollars go to pay for attendance and that any officer who attends in his or her private capacity does not receive continuing education credit," CAIR director Nihad Awad wrote in a letter to New York City Police Commissioner William Bratton last week.
Mauro is scheduled to conduct two three-hour training seminars on "The Global Threat of Islamic Extremism (ISIS, Al-Qaeda, Iran)" and "The Threat of Islamic Extremism in America/New York State," according to the conference schedule.
"I believe it is necessary to focus on the Islamist ideology without painting all Muslims as a threat, just as it is necessary to discuss anti-Muslim sentiment without reflexively painting all who are concerned about the Islamist ideology as bigots or 'Islamophobes,'" Mauro wrote in an email to BuzzFeed News.
"An adult conversation can take place that appreciates these nuances, even when we disagree," he added.
The Third Jihad —a 72-minute film financed by the Clarion Project — was widely criticized as an anti-Muslim film which asserted "Muslims are seeking to dominate the planet, and in particular the United States, by covertly subverting the Constitution and implementing Taliban-style Islamic law," according to a 2012 Mother Jones article.
In 2012, the New York Times reported that the film was shown on "a continuous loop" where "at least 1,489 police officers" saw the film.
Larry Beresnoy, executive director of the non-profit NYTOA, defended Maurio's role at the conference in an interview with Alternet. "Ryan Mauro is a national expert on terrorism and Islamic extremism. His entire job is researching the issue. I've looked at Ryan's stuff, looked at Clarion's stuff. I've seen their videos Third Jihad and Obsession. There are many experts who believe that the information is accurate. He has good information to share," Beresnoy said.