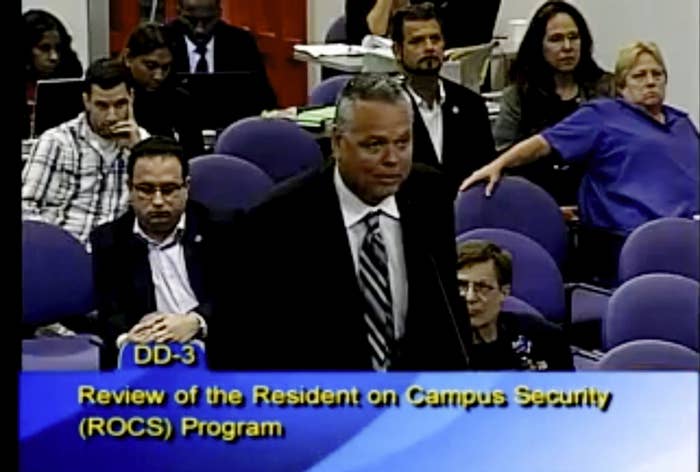 After President Trump said he lacked "courage," and his own boss said his inaction had made him "sick to [his] stomach," Broward Country Deputy Scot Peterson — the resource officer at the Florida school where a shooter killed 17 people this month — has released his own version of events in a letter on Monday.
A letter released by Peterson's attorney and addressed to the "South Florida Community & the American Public" states that the former officer "is confident that his actions on that day were appropriate under the circumstances" and that video and eyewitness testimony "will exonerate him of any sub-par performance."
After viewing security footage from the school last Thursday, Broward County Sheriff Scott Israel said Peterson was armed and in uniform but never went in to confront Nikolas Cruz, who killed 17 people on Feb. 14 during a mass shooting at Marjory Stoneman Douglas High School in Parkland, Florida.
"Devastated. Sick to my stomach. There are no words," Israel said at a press conference announcing Peterson's suspension and subsequent resignation last week.

"When it came time to get in there and do something, he didn't have the courage or something happened. But he certainly did a poor job. There's no question about that," President Trump told reporters last week. "That's a case where somebody was outside, they're trained, they didn't act properly or under pressure or they were a coward. It was a real shock to the police department."

In a meeting with governors on Monday, Trump continued to criticize deputies, reportedly saying, "The way they performed was really a disgrace."

The president added that he would have run into the school without a gun during the shooting.
"You don't know until you test it, but I think, I really believe I'd run in there, even if I didn't have a weapon, and I think most of the people in this room would have done that too," the president said.
But in Monday's letter, Peterson's lawyer, Joseph DiRuzzo, writes that Israel's comments were untrue and that he had omitted facts.
"Sheriff Israel's statement is, at best, gross over-simplification of the events that transpired," the letter states, before listing 12 points outlining Peterson's version of events.
In the letter, Peterson claims that he received an emergency "call of firecrackers," not gunfire, and responded by running hundreds of yards where he "heard gunshots but believed that those gunshots were originating from outside of any of the buildings on the school campus."
The letter goes on to state that Peterson "was the first BSO officer to advise BSO dispatch that he heard shots fired" and that Peterson had initiated the lockdown of the campus.
"Mr. Peterson had the presence of mind to have the school administrators go to the school's video room to review the closed-circuit cameras to locate the shooter and the [sic] obtain a description for law enforcement," another bullet point states.
The letter goes on to express dismay that Israel made a judgment about Peterson's actions when the investigation is still ongoing.
"Further, Sheriff Israel has made his accusations at a time when he has admitted that the Florida Department of Law Enforcement's investigation is on-going, in what Israel himself characterizes as 'a fluid investigation,'" the letter reads.
DiRuzzo, the lawyer, writes that Israel "jumped to a conclusion regarding Mr. Peterson's performance."
On Monday, citing Florida's public records law and "extreme public interest," CNN, the South Florida Sun Sentinel, and the Miami Herald filed a lawsuit with the Broward Circuit Court to release security video footage from outside the high school.