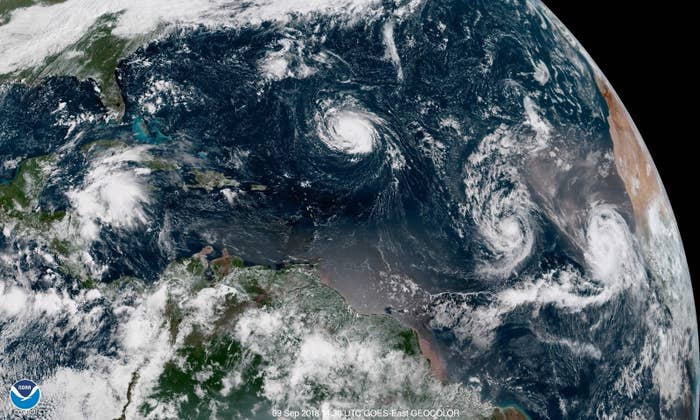 Florence, a tropical storm growing in the Atlantic Ocean, has become a Category 1 hurricane and is traveling westward, with North Carolina, South Carolina, and Georgia in its path, the National Hurricane Center said Sunday.
According to NHC reports, Hurricane Florence is "forecast to rapidly intensify" by Monday and continue its path westward, threatening to hit the US as a major hurricane.
The most recent projections show the storm traveling over the southwestern Atlantic Ocean at 6 mph, skirting Bermuda and the Bahamas on Tuesday, and possibly making landfall sometime Thursday.

The latest airplane data show that Florence currently has maximum sustained winds of 85 mph.
Though conditions could change through the week, both Carolinas and Virginia have already declared states of emergency.

"We are preparing for the worst, and of course hoping for the best," South Carolina Gov. Henry McMaster said.

McMaster said it was too early to declare any evacuations.

Apart from the usual dangers of high wind speed and rain, the threat of storm surges and major flooding appears to be a primary concern as models show the hurricane stalling over the Carolinas for days.
Authorities are asking residents in the projected path to begin taking basic steps toward hurricane readiness. These include preparing a disaster supplies kit, knowing the storm's location, and having an evacuation location and route planned ahead of time.
As hurricane season continues, Hurricane Florence is followed by two other storms. Tropical Storm Isaac and Tropical Storm Helene formed on the western coast of Africa last week and have also strengthened as they have moved westward. On Sunday afternoon, Helene was also upgraded to a hurricane by the National Hurricane Center.